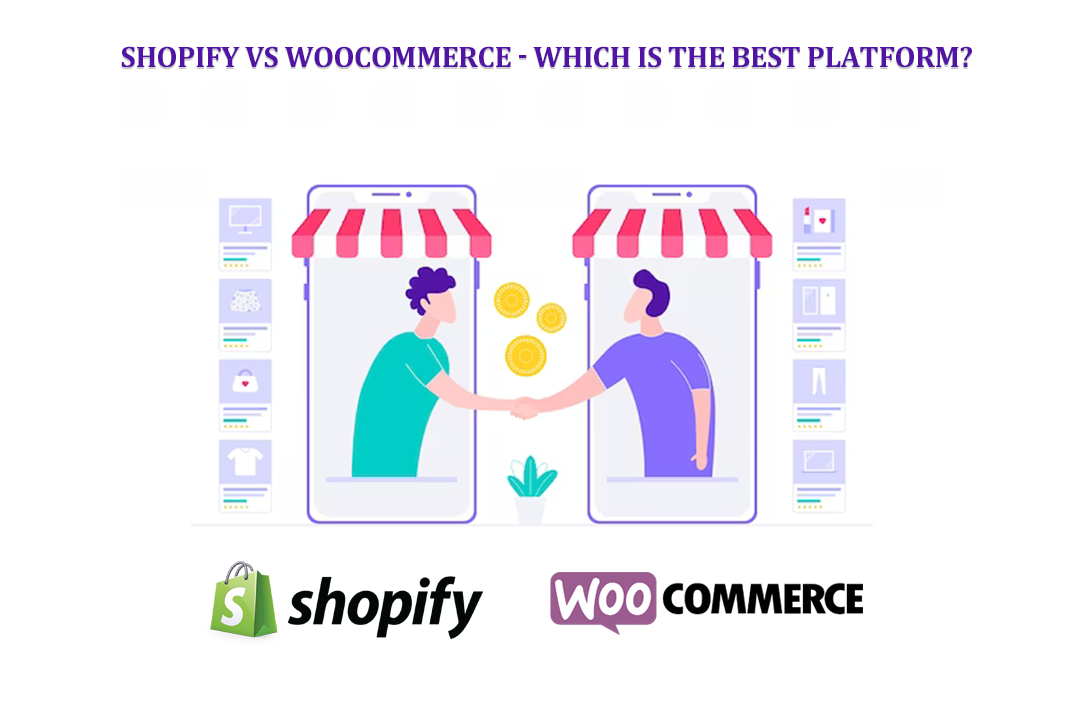 In the race to be the best in the online world, the first step is to choose the right platform for your business. There is a wide range of options you can choose from. This makes the choice difficult for beginners. In this article, let's discuss the two most popular options: Shopify and WooCommerce. Both platforms have pros and cons, making the choice between them challenging for entrepreneurs.
Shopify: A One-Stop Solution for All Your Ecommerce Needs
Shopify is known for its user-friendly interface, making it the number one choice for beginners. One of the best things about Shopify is that it is a one-stop solution for all your ecommerce needs. It offers hosting, security, as well as support. This means that you can focus on improving your products and services instead of worrying about nitty-gritty issues. Let's talk about each feature in detail.
1. Ease of Use
Shopify offers an easy-to-understand interface. The best thing about Shopify is that no coding is required. It is a hosted platform, meaning it will handle hosting, security, and updates.
The setup is also relatively straightforward. So, even if you do not have any technical expertise, you will be able to create and manage your online store. It has a drag-and-drop interface, which helps in customizing the store design according to your brand.
2. Hosting and Security
Shopify will handle all the technical aspects, such as hosting and security. It offers SSL certification so that the users' data can be safe. This also helps to build trust with the users so that they know that your business uses secure payment services to protect their personal data. This is especially important in today's online world, where cyber threats are common.
3. Designs and Templates
Another good thing about Shopify is that it offers a wide range of designs. The templates are mobile-friendly and easy to customize.
4. Pricing
Shopify gives multiple plans to accommodate different sizes of online businesses. However, you will need to pay for third-party apps and transaction fees separately. You must go through the additional expenses needed for third-party apps along with the Shopify plans before making your final decision.
WooCommerce: A Flexible WordPress Plugin for Ecommerce
WooCommerce basically works as a WordPress plugin. It adds e-commerce functionalities in WordPress. Many business owners like it for its flexibility and extensive customization options. Let's talk about the features of WooCommerce in detail so that you can easily choose between WooCommerce and Shopify.
1. Integrates with WordPress
If you are already familiar with WordPress, WooCommerce is going to be a gift for you. You will quickly adapt to its user-friendly dashboard, and managing your online store will be a straightforward task.
2. Customization
No one can beat WooCommerce in terms of customization. Because it is built for WordPress, it offers a wide variety of plugins and themes to choose from. So, you can tailor your online business according to your preferences.
3. Hosting
WooCommerce is a self-hosted solution, unlike Shopify, which also handles hosting. This aspect has its pros and cons. One of the main advantages is that the user has greater control over the hosting environment.
4. Design and Templates
Because WooCommerce is a WordPress plugin, you can avail of WordPress's extensive library of designs and templates. You can choose from a wide range of free and premium themes. For example, you can use WooCommerce banner plugins to add banner sliders to your online store.
5. Pricing
WooCommerce is a free plugin. However, you will have to incur the additional costs of hosting and domain registration yourself. Before you make the final decision, you should compare the final costs of both platforms and see what fits your budget.
Choosing the Right Platform: Shopify or WooCommerce
Now that you understand a basic comparison of Shopify and WooCommerce let's discuss your needs and preferences. The final decision between Shopify and WooCommerce depends on a few essential factors that you can consider.
1. Budget
If you have a limited budget and are looking for a cost-effective option, WooCommerce is the clear winner. It is a free plugin, and if you choose a free theme along with it, you are good to go.
2. Ease of Use
The next key factor is the ease of use. Suppose you lack technical knowledge and are looking for a quick solution. In that case, Shopify is the answer for you. It offers everything under one roof. So, you don't need to worry about SSL certificates, domains, and hosting.
3. Customization
If you are the kind of business owner who needs complete control over their store's design, WooCommerce is the one for you. WooCommerce offers extensive customization options. This will help you create a unique brand image to stand out in the crowd. So, from plugins to themes, you can choose everything according to your personal preferences.
4. Support
Another factor that you need to consider is support. Shopify offers official customer support 24/7. But if you like engaging with communities, you might want to avail WooCommerce's discussion forum as well. WooCommerce does not offer official 24/7 support, but it makes it up with its active community.
5. Scalability
Both Shopify and WooCommerce are scalable platforms. However, Shopify is easier to scale as compared to WooCommerce. It offers seamless upgrades if you are looking to expand your business.
On the other hand, WooCommerce is not far behind either. The only issue is that you will need some technical expertise to plan your online store's expansion. For example, you will need to upgrade your hosting plan separately.
6. Technical Knowledge
Shopify is the right choice for you if you have zero technical knowledge. As discussed earlier, WooCommerce does require some technical know-how. For example, you will need to set up and maintain your own hosting and security.
7. Ecommerce features
One final factor in comparing the two platforms is ecommerce features. WooCommerce has many built-in features that help run an online store. For example, it helps in tracking sales, products, and customers. You can also track your products, revenues, and stock.
Shopify also offers a range of ecommerce features, depending on the plan you choose. One of its best features is inventory management. You can keep an eye on your investor after every order. If you are setting up a dropshipping business, Shopify is the best choice for you.
Here is a table comparing Shopify and WooCommerce:
| | | |
| --- | --- | --- |
| Feature | Shopify | WooCommerce |
| Hosted | Yes | No |
| Ease of use | Very easy | Easy, but requires more technical knowledge than Shopify |
| Built-in features | Wide range of built-in features, such as payment processing, shipping integration, and marketing tools | Fewer built-in features than Shopify, but can be extended with plugins |
| Extensions | Limited number of extensions available | Wide range of extensions available |
| Cost | Paid subscription plans | Free plugin, but requires a paid WordPress hosting plan |
| Scalability | Highly scalable | Scalable, but requires more technical knowledge to manage as your store grows |
Conclusion
The final decision between Shopify and WooCommerce depends on you. We have explained all the factors that you need to consider before making the choice. One final tip is to try out both platforms and experiment before you commit to one.