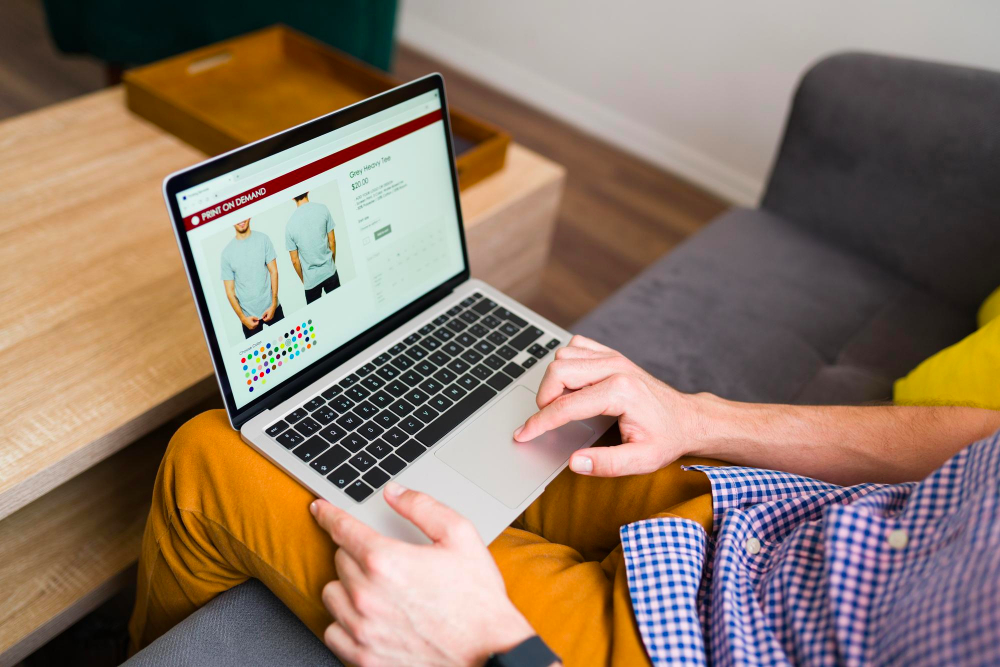 Managing an eCommerce store using WooCommerce always requires looking for ways to increase sales and conversions. That's how you succeed in the long run. It would be burdensome for you to manage everything without any technical assistance. This is why you need the best plugins to increase sales on your website.
It can be confusing when you're trying to find the right plugin for your website among many plugins in the WordPress plugin library and in Google results. That's why we have compiled this list of the best WooCommerce plugins to drive more sales and conversions on your website.
So let's get started.
1. WebToffee WooCommerce Gift Cards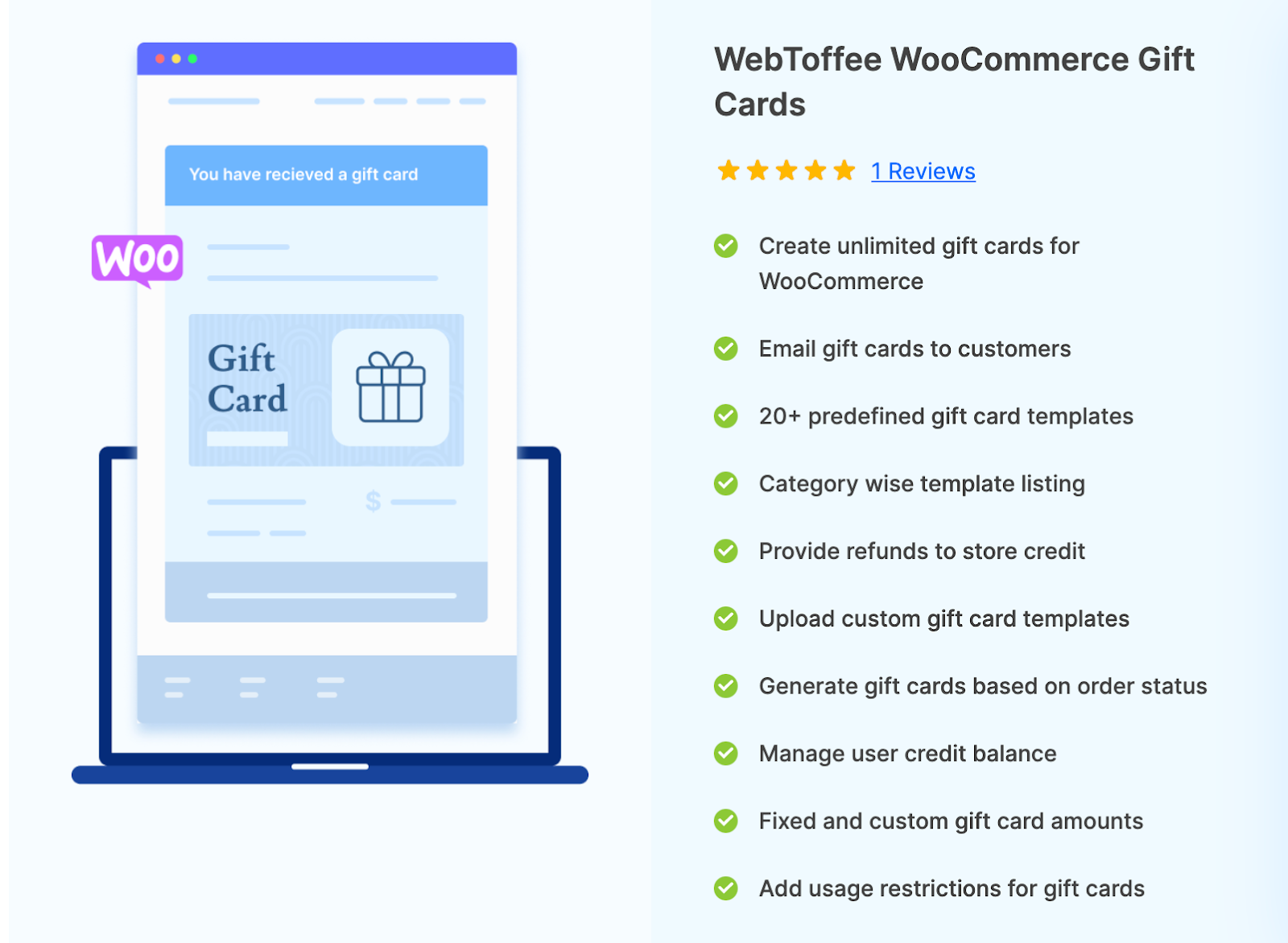 Gift cards are always welcomed by eCommerce customers. The WebToffee WooCommerce gift cards let you create and sell gift cards in your store. You can allow your customers to purchase gift cards for them or to send them to their loved ones. Gift cards can be scheduled to be automatically sent to the recipients. 
The plugin offers 20+ free gift card templates and allows you to add more from your local storage. Apart from sending gift cards, you can provide instant refunds to store credits using this gift card plugin.
2. Display Discounts for WooCommerce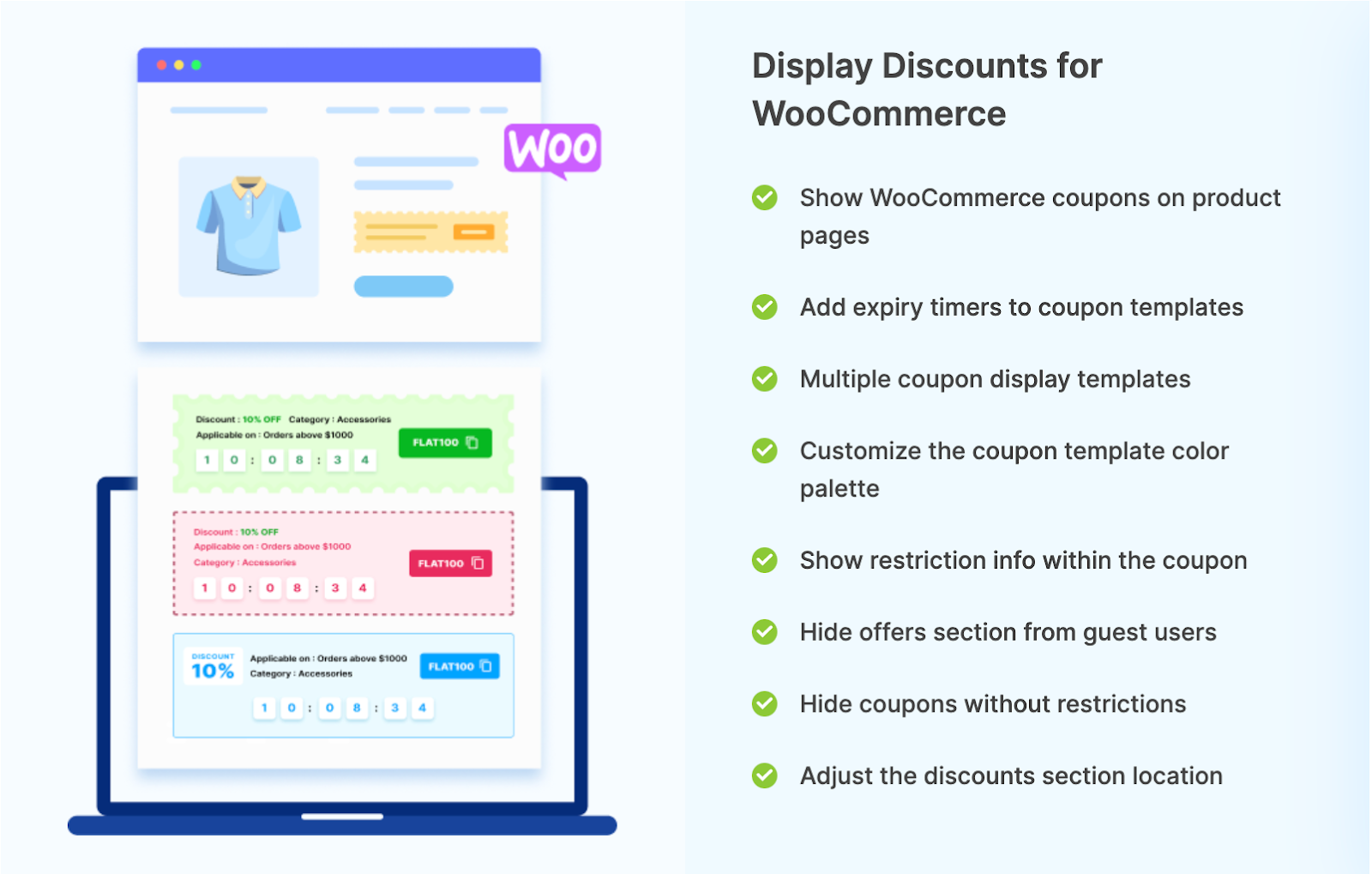 This plugin lets you show WooCommerce coupons and discounts on product pages. You can promote your coupons and promotional offers to push your customers to purchase the products. The plugin helps you to increase the visibility of your WooCommerce coupons. 
You can add countdown timers for coupon banners on your product pages to create a FOMO among your customers. Different templates are available for coupon banners, and you can customize these templates too.
The plugin also lets you show the offers only to logged-in users and hide coupons with restrictions.
3. OptinMonster

OptinMonster is one of the most popular pop-up builder plugins available for WordPress websites. It lets you create targeted popups for your website visitors. The plugin lets you create different types of popups, like exit intent popups, spin-a-wheel popups, floating bar popups, and more.
The plugin helps you get more email subscribers and increase sales and conversions on your store site. With this plugin, you can create mobile-friendly popups for your website. The plugin lets you show subtle popups without hindering the user experience on your store site.
4. WooCommerce Best Sellers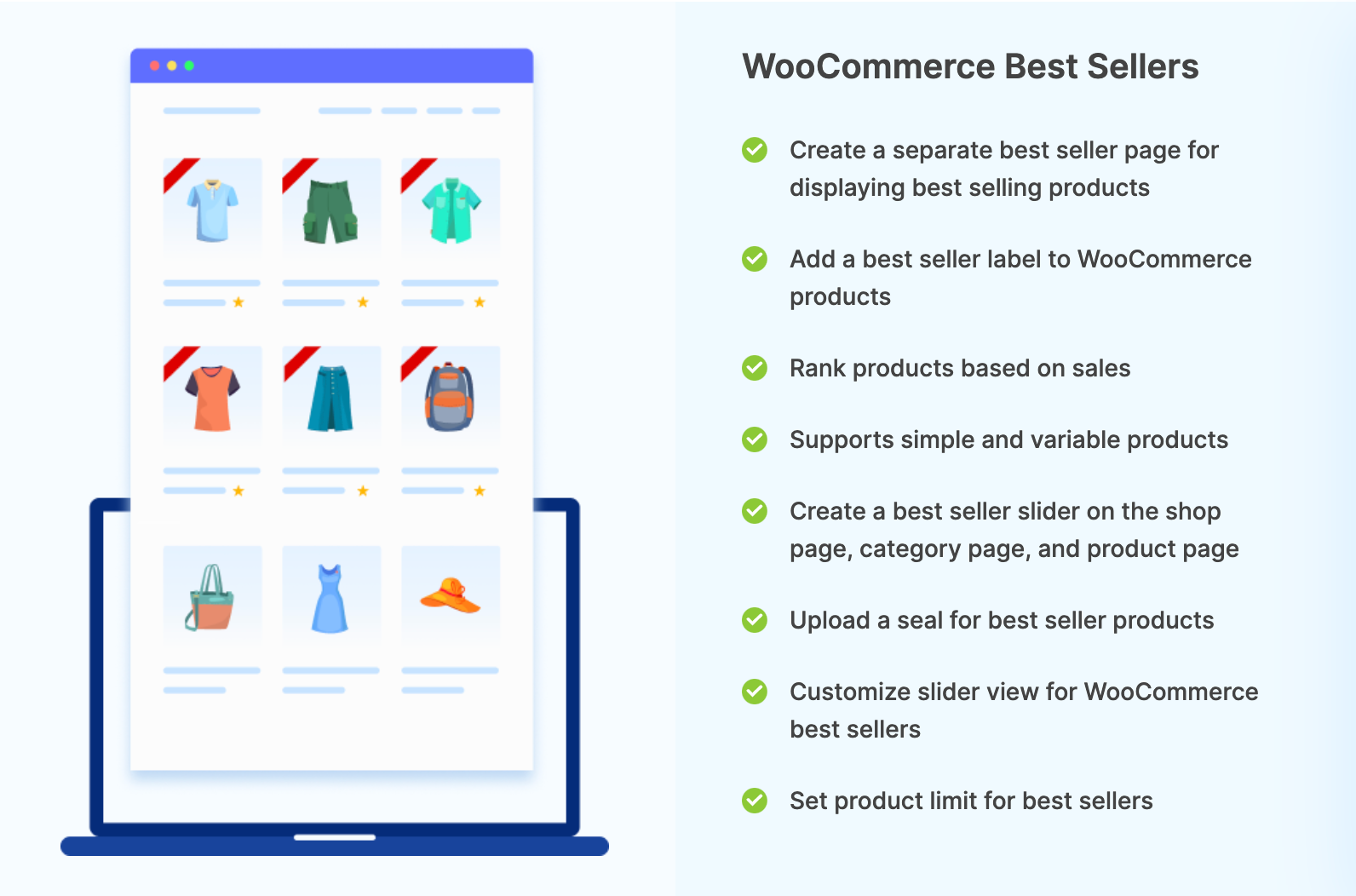 With this WordPress plugin, you can showcase the best selling products on your WooCommerce store. You will be able to highlight WooCommerce best sellers using best-seller labels, sliders, and seals. The plugin allows you to show best-seller rankings on the product pages.
You can show best-seller labels for simple and variable products and set a limit for the products to be shown as best sellers. The plugin also allows you to show best sellers based on total sales count or sales for a particular period. You can customize the best-seller label as per your requirements.
5. Smart Coupons for WooCommerce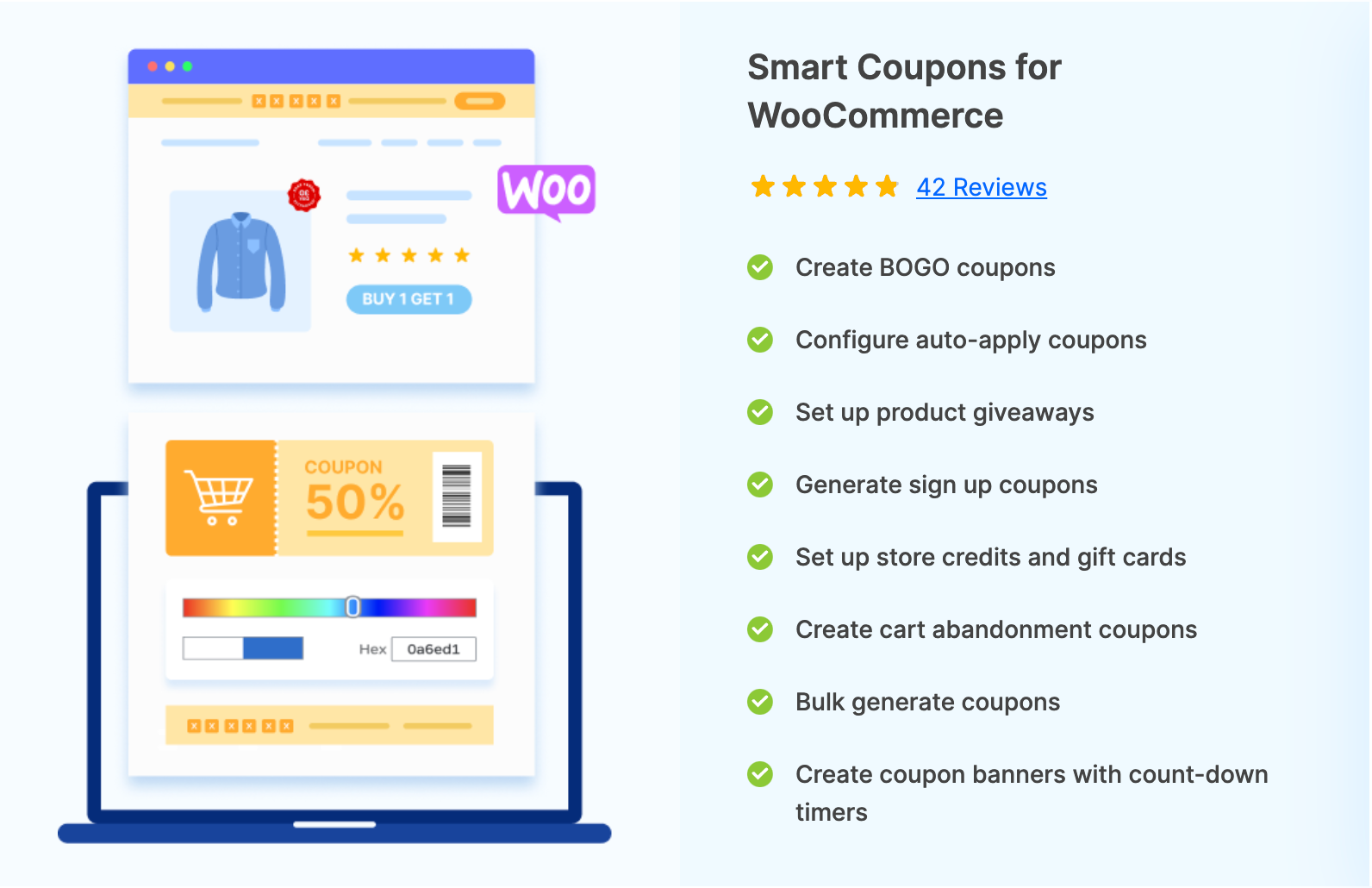 This is one of the most advanced WooCommerce coupon plugins available. The plugin lets you create different types of coupons for your store. You can create BOGO coupons, giveaway coupons, set up store credits, and do much more with this plugin. 
The plugin helps you build a coupon strategy for your WooCommerce store. You can reward your new customers with sign-up coupons and reduce cart abandonment with cart abandonment coupons.
Additionally, there is a free version of this WooCommerce coupon plugin that includes some of the major features you may need.
6. Yoast SEO

Yoast SEO is an SEO plugin for WordPress websites. It lets you easily manage SEO for your WooCommerce website. The plugin helps you to make your website content SEO friendly and rank better in search results. This will get more visitors to your product pages and increase organic traffic on your website.
Yoast offers a complete SEO suite for website owners. You can optimize the website content, SEO Title, and Meta description for your web pages. It also enables you to add schema markups for getting rich results in SERP.
7. Frequently Bought Together for WooCommerce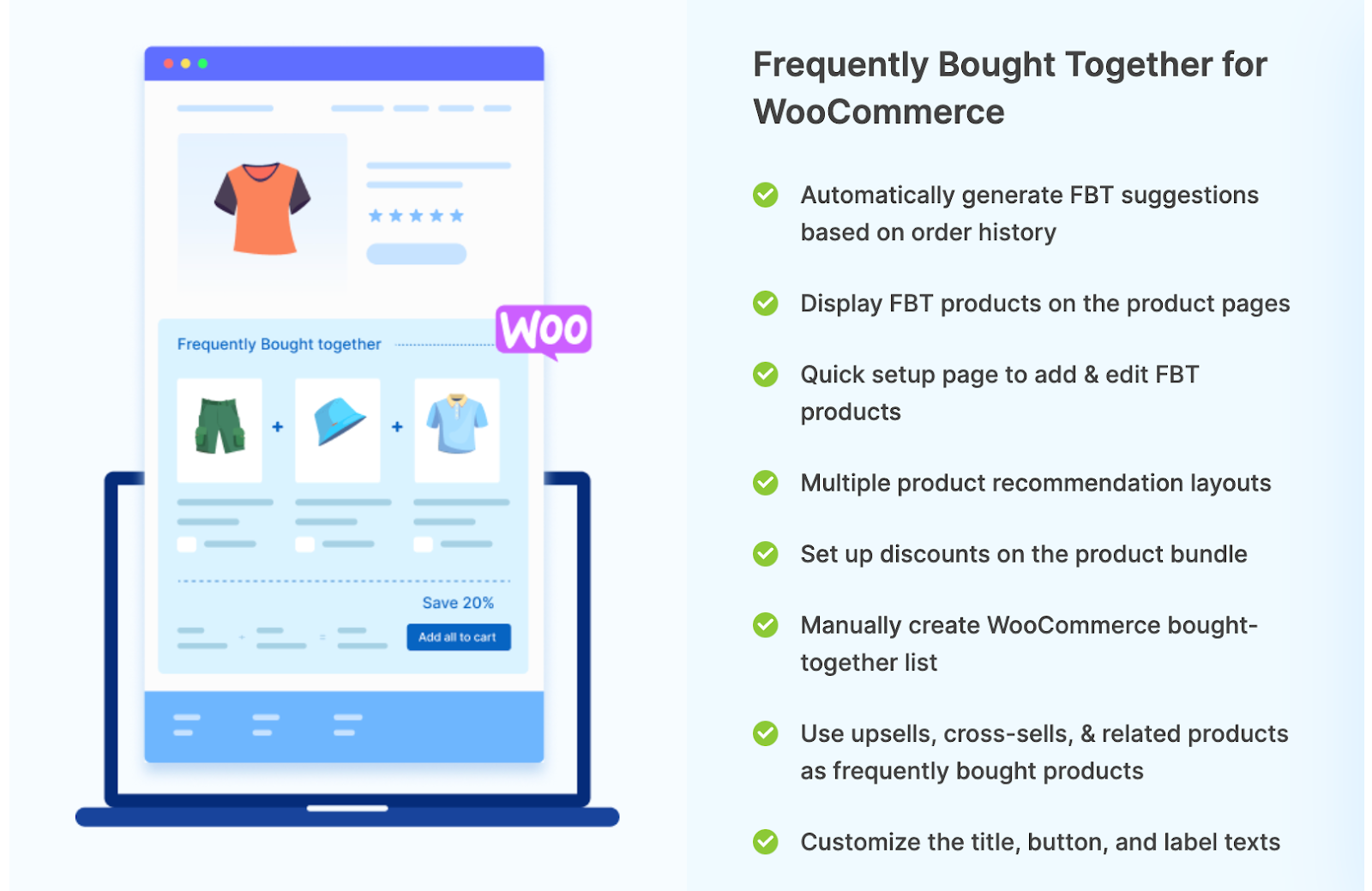 Recommending related products to customers is an easy way to increase sales figures on your website. This WooCommerce frequently bought together plugin is just made for that. As the name suggests, the plugin lets you show frequently bought together product recommendations to your customers.
This way, you can do upsells, cross-sells, and increase the average order value on your store site. The plugin works automatically without any manual effort, which means it shows the FBT product suggestions based on the order history. You can also add products to the recommendation lists manually, in case you need it.
The plugin also allows you to offer a discount for the product bundles in the recommendation table to push your customers to spend more.
8. MonsterInsights

This is the best plugin to integrate Google Analytics with WordPress. It shows you an advanced analytics report within your WordPress dashboard. The plugin is well-updated with Google Analytics and supports GA4 too. You can view actionable insights right from the dashboard. 
It shows you different types of analytical reports to help you make an informed decision for your business. You can easily analyze your website performance with this plugin. With this plugin, you will be able to view detailed eCommerce reports like total revenue, conversion rate, average order value, etc.
9. URL Coupons for WooCommerce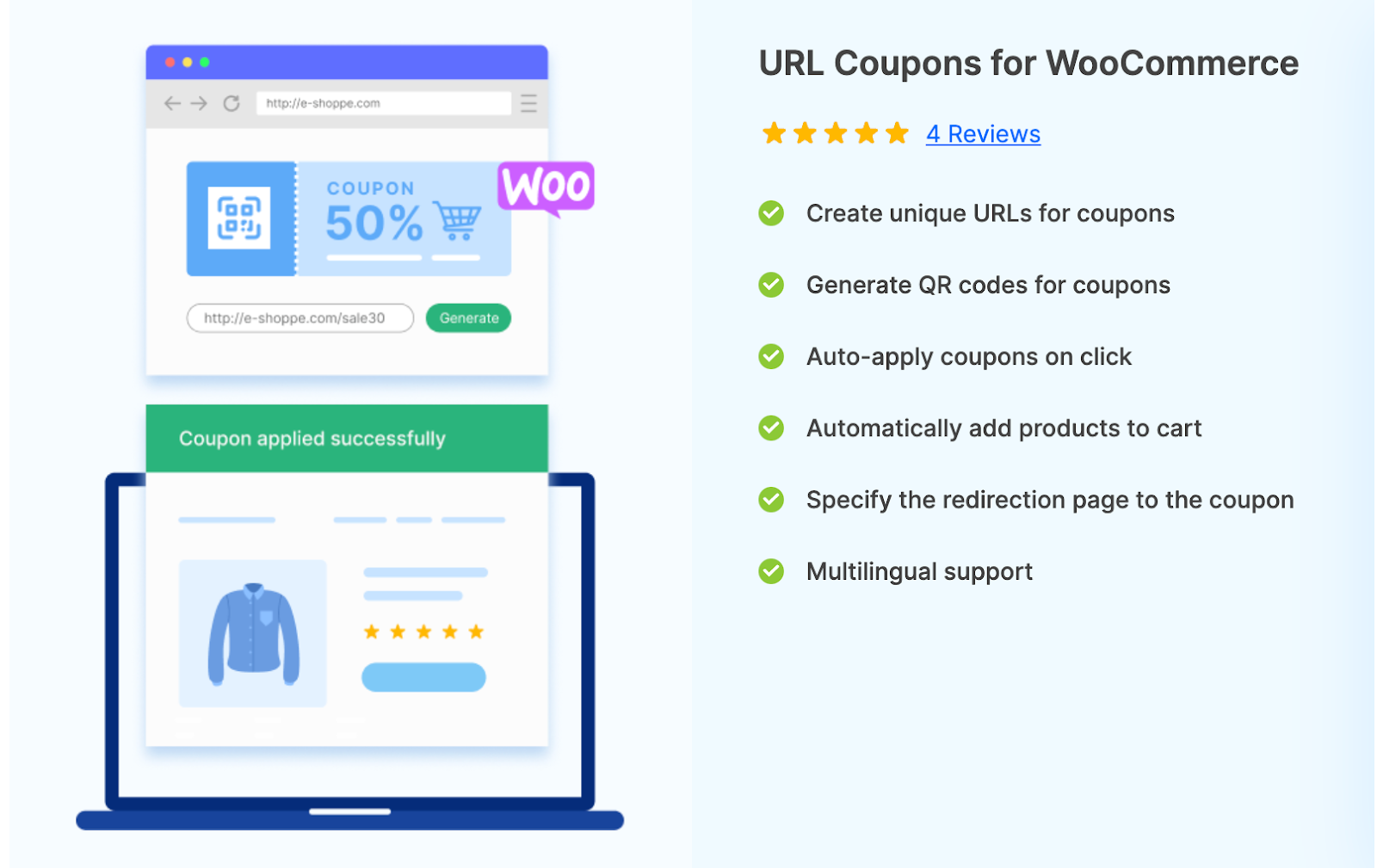 With this plugin, you can create unique URLs for WooCommerce coupons. This helps you easily manage your promotional campaigns. You can also generate QR codes for WooCommerce coupons. 
As soon as a visitor clicks on the unique coupon URL, the products will be automatically added to the cart, and the discount will be applied. This will reduce the hassles of adding the products and then entering the coupon code. Less hassle means faster conversion and a lesser chance of cart abandonment.
10. RafflePress

RafflePress is a WordPress contest plugin that allows you to conduct various contests on your website. The plugin helps you run giveaways on your website and incentivize your website visitors. This way, you can increase the website traffic and create more engagements on your social media.
The plugin offers a simple interface and pre-built templates to lets you easily set up the giveaway contests. You can also integrate with popular email marketing plugins like MailChimp, Constant Contact, AWeber, etc.
11. Jetpack

It is no doubt that you need a powerful WordPress security plugin for your WooCommerce website. The Jetpack security plugin by Automattic ensures that your websites are safer, faster, and more secure. With this plugin, you can protect your websites from spamming and other security threats.
The plugin lets you keep a backup of your website data in cloud storage. It has advanced features such as real-time backups and easy restores, malware scans, and spam protection. You can also secure your WordPress admin login with two-factor authentication.
12. Stripe Payment Plugin for WooCommerce

Having a faster and more secure payment gateway is always a plus factor in increasing your store conversion rate. This WooCommerce Stripe Payment Plugin by WebToffee adds the Stripe payment gateway to WooCommerce. Stripe payment gateway is not just faster and more secure but also adds a lot of convenience to your store payment experience. 
You can add 20+ payment methods to your store site. It lets you easily set up the Stripe checkout with 3D secure and SCA protection. The plugin supports recurring payments for WooCommerce subscriptions and is compatible with WPML.
13. Mailchimp for WooCommerce

Mailchimp for WooCommerce plugin helps you build your email marketing campaigns for your eCommerce store. You can create targeted marketing campaigns, set up automatic follow-up emails, recommend products, recover abandoned carts, and measure the ROI of your marketing efforts.
The plugin lets you track and segment customers based on purchase history and purchase frequency. It also helps you create optimized landing pages with higher conversion rates that make it easy to highlight your products, promote a sale or giveaway, and grow your audience.
14. Wishlist for WooCommerce

Wishlists are powerful tools for eCommerce businesses. It helps you remind your customers to purchase their favorite products. This free WooCommerce wishlists plugin helps you create a simple and functional wishlist for your customers. You can let your customers save their favorite products to their wishlists from the product page or shop page.
You can create a separate 'My Wishlist' page on your WooCommerce store website or use an existing page. It offers different customization options for the text, icons, and themes for the wishlist.
15. WebToffee WooCommerce Product Feed & Sync Manager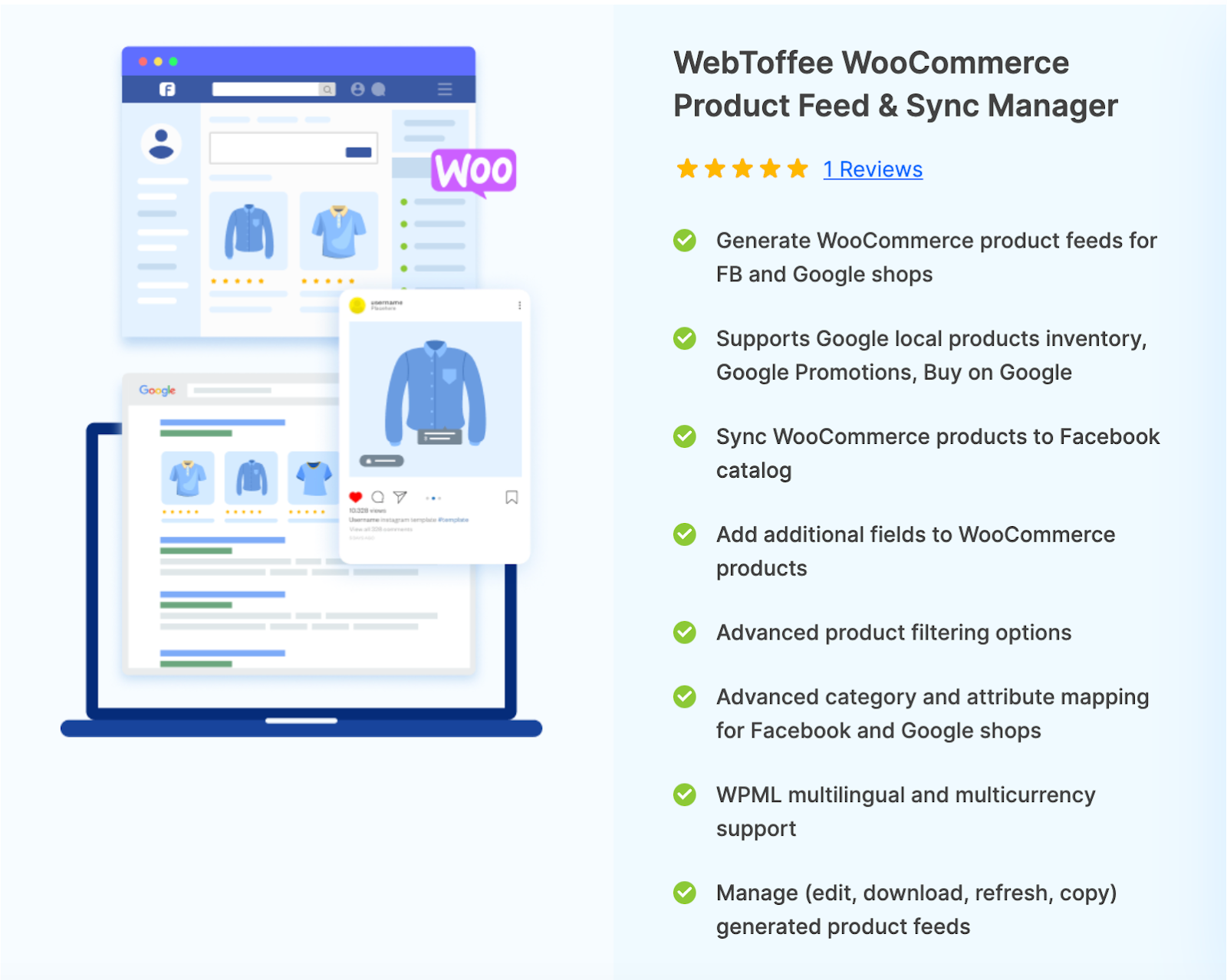 With this WooCommerce product feed plugin, you can promote your store products on popular sales channels like Facebook Shops and Google Shops. The plugin lets you generate product feeds and integrate them with Google Merchant Center and Meta Business Suite. 
It supports different Google merchant features like Google local product inventory, Google Promotions, and Buy on Google. The plugin lets you map categories and attributes manually to help you reach out to more potential customers.
Apart from the product feed method, the plugin also offers a catalog sync option to sync your WooCommerce product catalogs with Facebook.
16. Tidio – Live Chat & Chatbots

If you are looking for a chatbot feature for your WooCommerce website, Tidio can get the job done. It offers everything you need for a customer experience solution with features like live chat, chatbots, and multichannel communication.
Assist your customers with live chat support and assistance, manage pre-sale queries, and boost conversion rates on your website. You can integrate chatbots to make your service accessible to your customers 24×7.
The plugin offers a variety of templates for chatbots to help you recover abandoned shopping carts, give discounts to returning customers, and do a lot more. You can also set up smart popups for chatbots which can be set to trigger by defined actions on your website.
17. Checkout Field Editor for WooCommerce

Boring checkouts can really harm your store conversion rate. Worry not, Checkout field editor plugin by ThemeHigh can help you with that. This checkout field editor for WooCommerce lets you easily customize, optimize and manage the checkout page on your website.
It lets you add 20 types of fields to your checkout pages and remove unwanted fields from the WooCommerce checkout page. For faster conversion, it's ideal to have a less cluttered checkout page.
With this plugin, you can edit, hide, rearrange, or delete the existing fields, rename labels, set validation for checkout fields, and add custom CSS classes. This will give you more control over your default checkout page and helps you optimize your store checkout process.
18. WooCommerce Multilingual & Multicurrency with WPML

When selling internationally or expanding your eCommerce business beyond borders, you must ensure that your website supports multilingual compatibility and accepts multicurrency. This WooCommerce multilingual plugin can help you add multilingual and multicurrency compatibility for WooCommerce with WPML.
You can translate all your WooCommerce product pages, reviews, categories, etc., and display currencies based on the website language. The webpage content will be translated automatically using DeepL, Google Translate, and Microsoft. For multi currencies, you can set your own exchange rates or integrate your website with an automatic exchange rate service.
19. TrustPulse

TrustPulse plugin helps you set up social proofs on your website by notifying your customers when a new order is placed on your store site. This helps in creating a 'Fear Of Missing Out' among your customers and entices them to buy with social proof.
The plugin offers a handful of features to leverage social proof with honest marketing strategies. You can set up popups with real-time event tracking to show what live visitors are doing on your site. It helps show social proofs to targeted site visitors at the right time to effectively increase conversions on your site.
20. Customer Reviews for WooCommerce

Getting customer reviews and feedback is important in any eCommerce business. Customer reviews help improve your store performance and product quality and attract new shoppers.
The Customer Reviews for WooCommerce plugin by CusRev can help you get more reviews for your products and services. You can showcase these reviews on your website as social proof for new shoppers.  
The plugin can be configured to send automated and personalized email reminders to each customer after a purchase. You can provide your customers to instantly drop a review with Q&A and FAQs. You can also provide discounts for your customers in exchange for reviews.
Summing Up
In conclusion, as a WooCommerce store owner, your priority is providing an exceptional shopping experience for your customers while maximizing your store's conversion rate. By harnessing the power of carefully chosen plugins, you can effortlessly elevate your store sales to new heights.
To aid you in this endeavor, we have compiled a comprehensive list of 20 top-notch WooCommerce plugins, encompassing both free and premium options. Implementing these plugins will undoubtedly result in a remarkable boost to your store's conversion rate, effectively transforming potential leads into satisfied customers.