Nowadays, digital business is gaining popularity. It is probably because this approach allows reaching a large audience and getting a decent revenue. Therefore, owners of large and small companies, freelancers, bloggers, and many others are increasingly arming themselves with the necessary tools and resorting to creating websites. However, the question of what should be a web product to attract as many customers as possible is still relevant.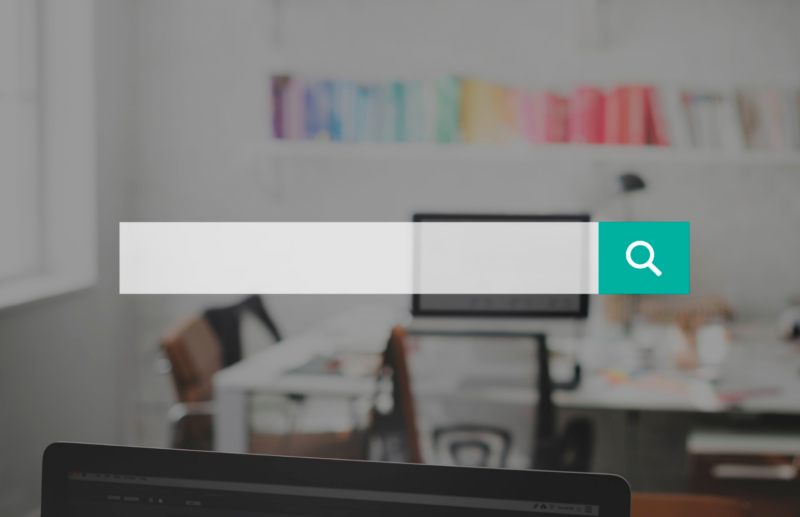 The statistic shows that users prefer convenient, fast and multifunctional pages. Moreover, people often choose those websites placed at the top of the search. How to ensure that your product was on the list of the best? SEO comes to the rescue. This feature provides a quick promotion of the company and helps to increase coverage significantly. What are WordPress SEO websites good for, and why is it important? It's time to figure it out.
What do you need to know about SEO?
SEO is a set of measures to increase the visibility of a website in search engines for targeted queries. The main task of this type of promotion is to create conditions for the web product to be as high as possible in the results. It is important because many users prefer to follow the first link instead
of scrolling down and wasting their time. Therefore, it is not surprising that pages placed at the top receive more visitors, hence more income.
The main benefits are:
Organic traffic – users independently looking for the necessary information in real-time, which means that the possibility of interaction is much higher.
Free referrals – search engines don't charge for clicks, so you don't have to pay for users coming from search.
Flexible choice of queries – you determine the list of keywords that you want to promote.
Increasing the level of sales and orders – if your site is convenient and has what the user is looking for, he will most likely place an order through your company.
Web resource usability improvement.
How to make your web resource SEO-optimized?
Are you impressed with optimization opportunities but still don't know how to apply this feature to work? There are hundreds of firms providing internal optimization. However, the companies' prices are high, and the service costs $500-$3000. Fortunately, there are more democratic solutions. One of the most powerful CMS, WordPress, offers a large selection of WordPress SEO plugins to optimize your web page without experts and experience. They provide the following features:
automatic addition of meta tags (title, description, keywords);
speed up page loading;
fix redirect errors;
setting up an XML-sitemap;
carrying out transliteration for automatic URL generation;
optimization of images and tags.
The advantages of WordPress SEO apps are significant and cannot but attract. How do you pick the best option among various ready-made solutions? One of the best applications is Rank Math. It is powerful and provides many unique features that make working easier. Let's get acquainted with its characteristics closer.
Rank Math: one of the most popular WordPress SEO solutions
There are many popular plugins on the market. However, some improvements partly interfere with getting the best outcome in all of them. On the other hand, Rank Math aims for perfection. Its convenience and functionality outshine any other solution. It is fast, powerful, and has all the necessary tools for top-level optimization. And most importantly, you receive excellent results, saving time and money.
Pay attention to the following features:
A built-in keyword rank tracker – analyzes in detail your post's position in search engines.
Advanced Analysis – the tool performs more than 20 web page tests to find the best solutions and increase traffic.
Easy installation and automatic customization.
Bulk Title and Description Editor – easy title editing and keyword set.
Advanced Redirection Manager – manage redirects with just a few clicks.
404 Monitor – provides the ability to recognize all broken pages and links.
Search Engine Verification – check the position of your site in different engines directly from the admin panel.
High-quality image optimization.
WooCommerce and Blogs support.
Step by step installation instruction for Rank Math WordPress SEO plugin
Even though Rank Math is easy to use, some questions still arise. Read the detailed instruction for setting up the option, and get started!
To install the app through the WordPress repository, use the admin panel. Go to the Dashboard through the Affiliate button.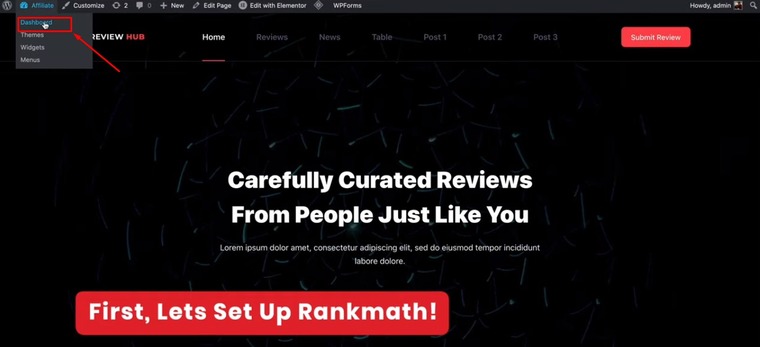 Find the Plugins column, and click the Add New button.
You see the Search bar at the top right. Use it to find Rank Math.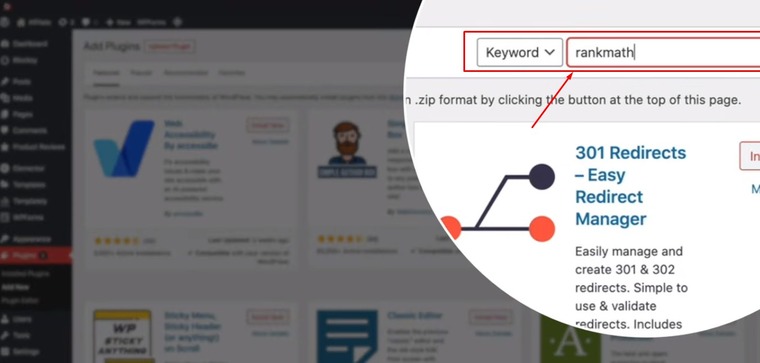 The search results are in front of you. Select the desired solution and click Install Now to start the setup.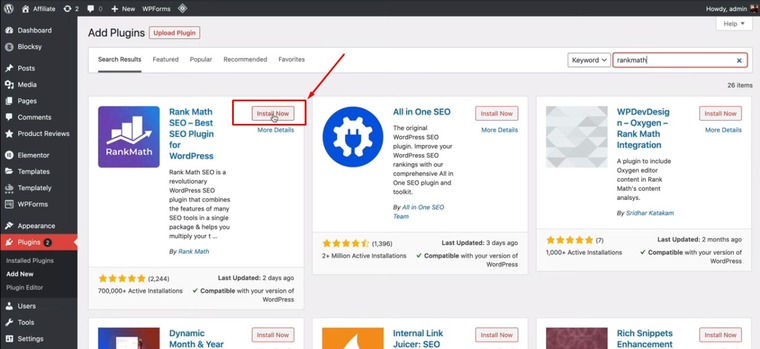 Once the process is complete, the Activate button will appear in front of you. Hit it to start working with the plugin.
Your plugin is now installed and ready for customization! Choose desired settings and enjoy working with Rank Math WordPress SEO plugin.
Wrapping up
As you can see, SEO is a significant part of a successful website. You may hire IT specialists to carry a high-quality optimization and develop the desired strategy. You may also choose a more affordable option and use the WordPress SEO plugin that provides powerful and productive solutions. Weigh all the pros and cons and see for yourself that the installation and operation of the program are easy and efficient.
FAQ
Do WordPress SEO solutions guarantee excellent results?
Yes. The apps offer all the tools you need to make your website optimized and get the first position in search engines.
Who can use SEO plugins?
The plugins are a great solution for anyone who wants to increase their web page reach and receive an effective promotion at a reasonable price. Moreover, Rank Math offers three Premium plans for different target audiences (from bloggers to large companies).
What is the difference between the Free version of Rank Math and the Premium one?
Both versions have powerful and useful features. However, Premium plans offer advanced characteristics such as priority support.
Is it possible to customize the Rank Math?
Of course! You may choose the features you need and make the app work optimally for you.