The need for cutting-edge web applications keeps rising as our society grows more and more dependent on digital technologies. Consumers and organizations alike will be on the lookout for innovative web app solutions in 2023.
As an entrepreneur, creating a web app could be the best approach to give life to your ideas in the field of information technology. To help you get started, we've put together a list of 9 web app ideas that could help you achieve success in 2023.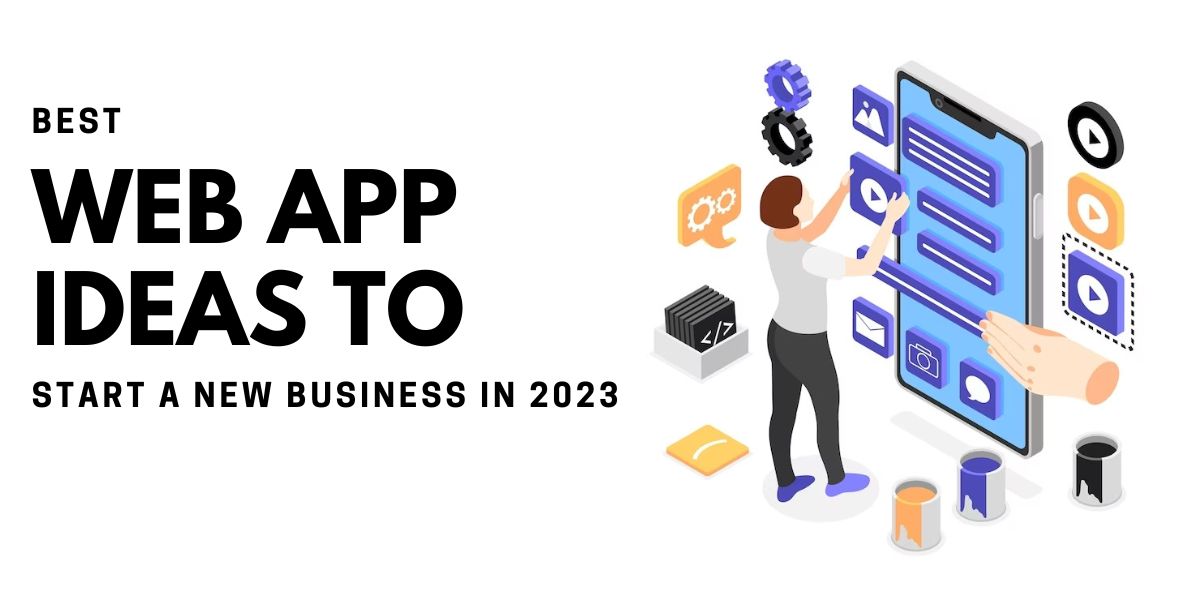 The Growing Demand for Digital Solutions
Web app development services have grown in popularity for a variety of reasons. Web apps allow users to access data, services, and other resources regardless of their location, which is especially useful as the need for digital solutions grows in all spheres of society. Furthermore, with the proliferation of smartphones, it is now essential for companies to provide their clients with a mobile-friendly web app.
Top 9 Web App Ideas to Start a New Business in 2023
1. Online Personal Stylist
An online personal stylist application is intended to provide users with customized fashion suggestions. It is possible to create this app with the use of machine learning and AI algorithms that take into account the user's desired aesthetic, physical characteristics, and financial constraints.
In order to help the stylist understand the user's taste, they can either complete a style quiz or upload images of themselves wearing their existing wardrobe.
Using this information, the stylist can give recommendations for the user's wardrobe, including shoes, handbags, jewelry, and even cosmetics or hairdos. The app can make it simple for users to go shopping for their new look by providing links to purchase products that have been recommended to them.
2. Virtual Interior Designer
Users may plan out their future homes with the help of a virtual interior designer app before making any costly commitments. With the help of 3D modeling and augmented reality technologies, the application can generate photorealistic depictions of the user's space. The app allows users to take pictures of their space, upload them, and then furnish and decorate them using items from a catalog.
The application may then render a visual representation of how the user's chosen furnishings would fit into their space, letting them try out various arrangements and color options. To help customers easily implement their design ideas, the app can also provide links to purchase the suggested products.
3. Online Tutoring Platform
A wide range of subject-specific tutors can be found through an online tutoring platform. Video conferencing, screen sharing, and whiteboard capabilities may all be integrated into the software to create a smooth experience for both students and instructors.
The app allows students to find tutors by subject and grade level, examine their credentials and ratings, and book a session with the tutor of their choice. To make sure that only the best teachers are offered to future users, you can hire dedicated developers and ask them to include a feedback system where students can rate their tutors.
4. Meal Planning and Grocery Delivery App
Users can save both time and money by using an app that helps them plan meals and has their groceries delivered to their door. The application can offer a variety of recipes that can be altered to fit the user's specific needs.
Users can plan their weekly meals and then create a shopping list based on the products they'll need to buy. Conveniently, the app may also provide users with the option to have their weekly groceries delivered right to their front door.
5. Social Media Management Tool
Businesses might benefit from using a social media management tool to oversee their social media profiles better. The application can assist businesses to organize their social media presence by allowing them to schedule posts in advance, monitor the audience's response, and control several accounts from a single dashboard. With the ability to pre-plan and schedule social media content, businesses can maintain a constant and interesting presence online.
6. Language Learning App
The convenience of a language learning app means that users can study a new language at their own speed. The application may include elements like gamification, personalized learning paths, and conversation practice with native speakers.
Users can choose their current skill level and target language, and the app will then generate a personalized study schedule. The app may also offer a subscription-based approach, with additional features and content accessible to premium users.
7. Online Therapy Platform
Remote counseling sessions with licensed professionals are now possible thanks to an online therapy platform. The app may be designed to offer users a safe space to open up about their mental health.
Users can browse profiles of licensed mental health professionals, check their availability, and book appointments without ever leaving the app. secure messaging, journaling, and self-care tools are just some of the functionalities that the app can offer.
8. Virtual Event Platform
Conferences, trade exhibitions, and webinars are just some examples of the kinds of virtual events that may be hosted with the help of a virtual event platform. Live broadcasting, video conferences, chat rooms, and virtual booths for vendors are all possible with this application.
Participants can join the event from any location and interact with organizers and other participants in real time. There is an analytic section of the app that can provide information on things like attendance, participation, and user opinion.
9. Smart Home Automation App
Users may manage and keep tabs on their home's various automated systems, from lighting and temperature to security and media, with the use of a single app designed specifically for home purposes. Voice activation, scheduling events, and personal preferences for each member of the household are just some of the essential features that may be implemented in the application.
Users can remotely operate their devices and receive alerts if any issues arise, such as a security breach or malfunctioning device. The app may also include analytics that indicates energy consumption and recommend adjustments to the user's smart home setup to maximize energy savings.
Conclusion
Beginning a business is never easy, but if you have a great idea and know how to put it into action, it may be quite successful. The web app ideas we've provided are only a few examples of the possibilities available in the tech industry.
Any of these ideas might be turned into a profitable business with the proper study, planning, and implementation. Thereby, whether you're an experienced business owner or just starting out in the IT industry, we hope you'll take a look at these web app ideas and get started to make them a reality.