SDLC, better known as software development life cycle. Basically, the estimated time incurred between designing and launching a product is called SDLC.
When it comes to developing a software application, building software requires extensive knowledge and expertise. Besides, the creation of software requires an in-depth understanding of libraries, functions, and operations. Thus, you should go for a reliable and trustable mobile app development company in order to create spectacular software for your business.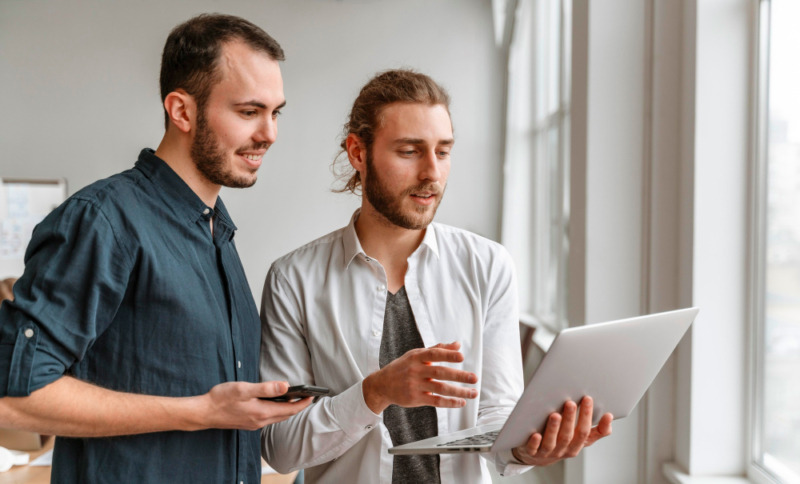 Below, we have listed down the top 7 phases that usually take place in the creation of software. Other than that, we have discovered the top benefits of creating custom software for your business.
Ready to explore? Let's get started.
Top 7 Phases that are Involved Behind the Creation of Developing a Custom Software
Generally, a custom software development company goes through the following stages in order to develop custom software.
1. Brainstorming
The planning phase comes first. IT managers and project developers have a discussion about technical advancements and generate ideas that will be used throughout the SDLC stage. Simply expressed, during the planning phase, the software team develops a road map for the software development process.
2. Viability Analysis
Conducting a feasibility analysis comes after the planning phase. Most organizations and corporations do a viability analysis to assess the long-term revenue the software is expected to produce. The technological and economic variables that contribute to the project's development are also covered in detail in this paper. Overall, the cost of software usually occurs at this stage.
3. Designing
On the basis of the previous two phases, designers and other architects conceptualize the program in this stage and construct the full-fledged software structure. Additionally, during the designing phase, the prototype is designed. Also, the front-end and back-end design has been created in this stage.
4. Coding
After the design part, the next phase is coding. Needless to say, coding is the most difficult and time-consuming stage. Developers are in charge of creating codes for various sections at this level. Project managers, in general, oversee the entire software development process.
5. Continuous Integration
The integration of all sources and environments at the appropriate moment in software is essential in order to ascertain how many challenges and problems are there. Continuous integration is typically used by the majority of software development businesses, particularly large ones. Additionally, at this phase, software engineers run unit tests and conduct multiple examinations as necessary.
6. Quality Assurance
QA engineers test and fix the codes that developers have written during this phase. In order to find any defects in a piece of software, these knowledgeable experts employ various frameworks and testing tools. If they discovered any malicious flaws or threats in software, they publish their findings in test reports and request that the creators fix the problem.
Additionally, QA engineers help software developers create a product with greater ingenuity.
7. Launching
The launching phase comes after the designing, developing, and testing phases have been finished. This stage includes the release of the program across a number of platforms as well as maintenance and support work.
How much does it cost to hire a custom software development company?
In general, there is no definitive cost mentioned anywhere in order to hire a custom software development company. Though, there are some factors that will be useful in estimating the price. For instance;
No of the functions and features in your app
Demographics, platforms, tools, and technologies used
Functionality and performance of an app
Challenges and technicalities involved
Stipulated time and your budget
Monetization programs and much more
The price also varies depending upon the developer's location, technical expertise, and skillset. We recommend you opt for a software development company to get impeccable digital services. Besides, development companies have a great talent pool and are certified and licensed.
Typically, most mobile app development companies charge between $70,000 to $90,000 or more based on numerous parameters. However, mobile app development companies in NYC are quite in-demand. The reason is that NYC offers incredible custom software development services. And, that too under cost-effective rates.
Benefits of Building Software Applications
1. Data-Driven Solutions
Addressing a company's precise demands and requirements is one of the main advantages of investing in custom programs. As a result, companies are no longer forced to work around pre-made software solutions' restrictions but may customize programs to meet their needs.
2. Unified Integration
Custom applications can be readily integrated into the existing third-party software programs that your company is utilizing.
Commercial off-the-shelf software tools tend to be standardized. As a result, it's difficult to incorporate them into your current system.
3. Reduces Hardware Expenses
Commercial software license purchases frequently need organizations to spend money on extra gear to make sure it functions properly.
When companies create their own unique software in-house, programmers can take into account the hardware capabilities of the firm.
The corporation avoids forced adaptation to what is available and makes significant financial savings thanks to this method.
4. Data Security
Data security is one of the crucial elements businesses mostly face. When using off-the-shelf solutions, the company's data is not secured, but with a custom application, there are no additional costs for security.
5. Reliability and High-end Security
When using a commercial off-the-shelf software solution, you are compelled to rely on the firm that created the program in order to get information about the product's terms and conditions, subscription fees, future, features, and functionality.
Your organization can encounter disturbance while it switches to a new product if the corporation discontinues the software product or files for bankruptcy.
Unless you specify otherwise, a tailored program is permanent. Therefore, even if you must take into account the additional expenditures of upkeep, you will ultimately have a lot less to worry about.
6. Consistent Support and Maintenance
Having a committed development team on board will assist guarantee that you get technical support whenever you run into a problem. Internal staff is also familiar with the software solution inside and out and can easily modify or upgrade the application as necessary.
Final Thoughts
In the preceding write-up, we have mentioned the seven phases that usually take place in order to develop software. Besides, we have jotted down the information regarding the cost of hiring a custom software development company.
We hope you may find our article useful and informative.