eCommerce benefited from the silver lining of COVID-19 despite a general global economic downturn. Online sales rose as consumers chose to shop online instead of in-person. In the US alone, 16% of all retail purchases were made online in 2020, the eCommerce market is predicted to grow by 16.5% this year, and average revenue per user (ARPU) is projected to reach $695.46.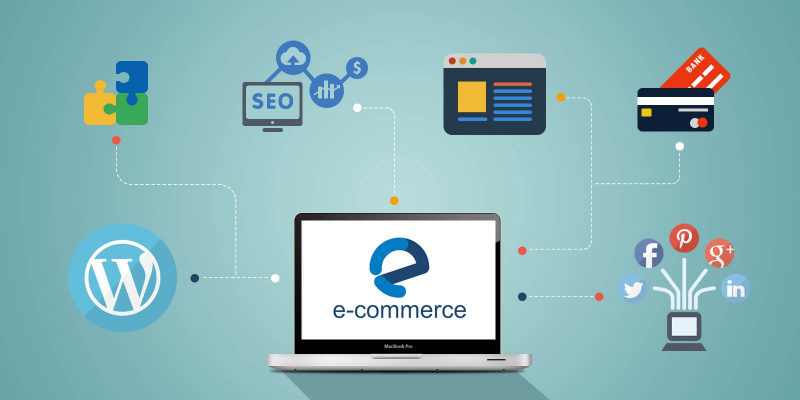 Although this is good news, it masks significant challenges. Competition skyrocketed as more businesses pivoted to sell online or ramped up their online stores to join the eCommerce bandwagon. Supply chain issues and surges in demand make it difficult to meet, let alone exceed, consumer expectations. 
eCommerce guides place a lot of emphasis on winning the competition for price and shipping speed, but web design is at least as important as both those issues. It's crucial to deliver a top shopping experience for visitors to your eCommerce site, yet research has found that 90% of consumers have left a website because it was poorly designed. 
We live with rapidly dwindling attention spans in an increasingly impatient world, and COVID-19 only shortened general tolerance for struggling through a hard-to-navigate site or deciphering low-quality images and poor copy. There are no second chances; your eCommerce web design needs to be excellent from the outset, and never let up. 
Be consistent at every turn
Consistent branding may seem trivial, but it makes your site look far more professional, which increases trust. At the same time, when your images, style, and other brand elements are consistent, it makes it easier for visitors to browse your site without getting confused. 
Streamlining your branding can increase revenue by 33%, yet 81% of businesses still struggle with it. Fortunately, ecommerce site builders offer shortcuts like preconfigured themes and flexible templates that make it easy to be consistent from page to page. 
Enable effortless online browsing
eCommerce stores with confusing hierarchies and cramped design make it hard work for consumers to find what they need, so visitors quickly bounce off. Instead, build intuitive hierarchies that flow naturally from one page to the next, and remove any confusion or friction that might obstruct the purchase journey. 
An eCommerce site is no place for cute or disruptive designs. Consumers want each site to meet their expectations so they don't have to think about where to find vital elements. For example, consumers expect to find the search bar in the top right corner, the cart button above it, and the brand logo to lead to the homepage. 
Add usable search functions and filters, and stop visitors from becoming overwhelmed by too much choice by grouping similar products or sub-categories together in logical categories. Consider using predictive search and personalized suggestions to upsell products and deliver better customer experience.
Create webpages that are easy to scan
Online shoppers are looking for information, so make it easy for them to find it. Use headings to break up the text and make it quickly scannable, and structure pages according to F or Z scanning patterns. A clear visual hierarchy guides visitors to the most important areas of the page, and helps them see which parts provide extra details which can be skipped in a hurry. 
Focus on readability first and foremost, applying accessible design principles like using contrast ratios that are easy to read on a mobile in the sun, fonts that aren't cramped, no more than 3 colors per page, and plenty of white space around your content elements. 
Meet image quality expectations
Online shoppers look to high quality product images to replace the in-store sensory experience. They want to be able to zoom in far enough to see product detail, view the product from all angles, and get a sense of what it feels like "in real life." Consumers are increasingly accustomed to high-resolution photos, 3D product images that can be turned and zoomed, 3D models, and product videos that include models walking down a catwalk. 
Low-quality images and insufficient zoom lead to cart abandonment. It's clear that online sellers are aware of the importance of image quality, since 93% of eCommerce sites allow some level of zoom, but 25% still serve up images of insufficient quality. Poor quality images disappoint and frustrate the visitor to the extent that they lose trust in your entire site. 
Choose colors carefully and opt for accessibility
The impact that color has on the brain is far more quick and visceral than we realize, so color choice does matter. Pick shades that work with your branding, like green for outdoors and nature products, primary colors for childrens' toys, etc, while bearing in mind that too many bright colors can be overpowering, not empowering. 
Whatever color scheme you choose, it's also important to realize some people can't see colors at all. The growing trend of web accessibility and the American with Disabilities act (ADA) dictate that websites must be accessible to people with disabilities by law. Ecommerce websites especially need to adhere to ADA compliance guidelines and maintain accessibility at all times.
Build trust with consumers
Today's consumers are extremely security-conscious, so it's important to build in social proof in the form of testimonials (ideally with images). Add icons and badges attesting to your security credentials, and triple-check your site for typos and basic errors; sloppy work is seen as unprofessional, which scares consumers away from sharing credit card details. 
Include links to reviews, too. 91% of consumers are more likely to use a business with positive reviews, and 76% trust online reviews as much as recommendations from family and friends. Consumers also trust companies more when they have easy ways to answer questions, get in touch, and receive a quick response, so build a FAQ page. If they can't find contact information, 44% of visitors will leave the site. 
Don't ambush the visitor
Keep your most important information front and center so that no one feels misled by false claims. This includes shipping information, payment options, and whether products are out of stock. Your checkout process should be friction-free, so don't allow visitors to reach the second-to-last payment page before surprising them with a registration form. 
Stand-out web design can be the secret to eCommerce success
Succeeding in the crowded eCommerce market means paying attention to all the moving parts, including web design. A consistently-designed website with intuitive navigation and scannable pages, high quality images, careful color choices, clearly presented information, and evident security measures can deliver an enjoyable, smooth purchase journey that boosts revenue and increases retention. 
Choose the Featured and Elegant Vendy Shopify Theme
It's really important to make an impact on your eCommerce site visitors. And, the Vendy Multipurpose Shopify Theme for Fashion is carefully designed to help you with this.
Minimalistic and multifunctional Vendy is a must for every modern online store. Based on the Shopify power, it comes to be very user-friendly due to the Visual Drag-n-Drop Builder. So, you won't need extra help, as this theme is handy and backed with detailed documentation. As well, there are guaranteed live support.
In short, rely on Vendy to develop a robust, fast, and mobile-friendly online business for selling any items you prefer. And, many of the attached page templates, sections, and web forms will facilitate this process!