Making it easy for your customers to pay for things may seem obvious, however many ecommerce stores only have one form of payment and do not accept alternatives. This is going to block you from all sorts of sales. In fact, according to creditcards.com, 12 percent of online shoppers prefer to use PayPal over credit or debit. If you don't even have that option, you are potentially eliminating significant portions of your possible profits.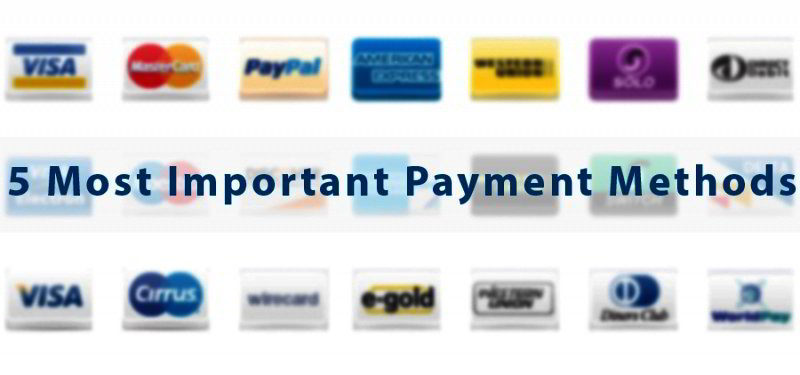 When it comes to payment options on your ecommerce website, more is better. Here are the leading payment methods to implement on your website:
PayPal
It has become pretty much synonymous with ecommerce, or just exchanging money online. PayPal is a great option for many ecommerce store owners because many people already have PayPal accounts connected to their banks- which makes checkout a snap. However, it does require a redirect away from your storefront to complete payment, which can lead traffic away from your page after checkout.
Authorize.net
While Authorize.net isn't as cheap as PayPal, it does come fully loaded with features and accepts not only credit and debit cards, but also eChecks, Apple Pay and even takes PayPal funds. The main downside to this platform is the cost, which might not make the features as great of an asset when compared to similar services.
Shopify POS
This method is most helpful if you're a mobile merchant, as it has full integration to be used on all of your mobile devices- available on iOS and Android marketplaces. One of the better features behind Shopify is that it isn't just a point-of-sale system, it will also show you how to create an ecommerce website. Shopify will help you develop a store front, if you so choose to take your wares to the internet. There is a monthly subscription fee associated with this service, but with all of the features you get, it's a hard deal to beat.
Amazon Payments
Of all the names on this list, Amazon is probably the most well-known and most trusted brand. Utilizing their payment method is a smart investment as it charges no monthly subscription fee (they just take a small percentage off every transaction). It also a very secure method for receiving payment which is backed up by their global operation. The main drawback to using Amazon Payments is that their branding will likely be front and center and may detract from any of your own site branding.
Stripe
Of the bunch, Stripe is relatively new to the game, but is great if you are dealing with international clientele. It has support for over 100 different currencies from all over the world. It is also a pretty simple addition to most ecommerce webpages, requiring a quick copy and paste of some code (and has broad support for nearly every WordPress theme). It's a great and tactile addition to any ecommerce page.
It's okay if you're still learning how to create an ecommerce website, most of these platforms will at least lend a hand in the implementation and deployment of their service.