Do-it-yourself web design platforms exist for two reasons. The first purpose is to provide a fast and easy way for non-developers to create a website. The second purpose is to make money.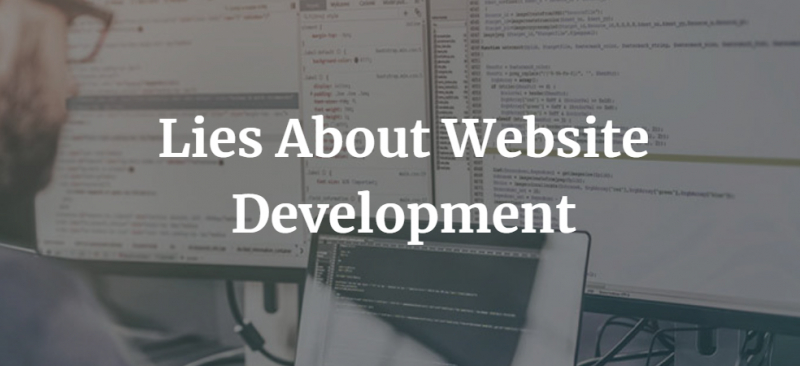 DIY platforms often charge double or triple the amount it would cost to host your own domain with a standard webhosting account. However, users don't really have a choice. Most people don't know how to build a website from scratch or even with a self-hosted template.
These drag-and-drop web building platforms sell their services by using myths in their marketing campaigns. These myths are designed to deter people from hiring a professional developer. However, hiring a professional developer is the only way to ensure your website is prepared for marketing and SEO. 
If you're serious about your website, it's time to rethink the following myths about web development: 
An easily customizable template is what you want
DIY platforms say it's good to have an easily customizable template because your site will be completed quickly. The problem with easy to customize templates is they're cookie-cutter themes used by hundreds of other people. The only elements you can customize are the colors, typography, and position of elements (to a degree). You can't change the overall structure or layout because that's hard-coded. In the end, every variation of a DIY template ends up looking the same.
Today, most websites look exactly the same except for swapped out stock photos. That's not what you want if you're trying to create a website that produces conversions. Templates don't always let you put email signup forms and other important marketing elements where they need to go. If your site doesn't stand out enough to capture attention, your visitors might bounce.
A professionally designed custom website gives you control over the placement of every element because it's designed from scratch. You decide where everything goes in the beginning, rather than having to rearrange elements that snap to a pre-designed grid.
Professional web design costs too much
Everything in this world costs money. We pay for houses, car repairs, furniture, water, and food. We buy items that sit on a shelf, and pay good money to be thrown around by amusement park rides. To say professional web design costs too much implies that the purpose of a website doesn't justify the cost. 
A website isn't just something you buy and forget about that depreciates over time. It's an asset to your business. It's an ever-evolving tool for marketing that serves multiple purposes including lead generation and sales through landing pages and sales pages. Unlike a glass statue that sits on a shelf, a website provides a return on your investment over time.
Professional web design is an essential investment, but it doesn't have to cost a fortune. It's perfectly acceptable to hire a Singapore website designer to save money. Don't feel guilty about outsourcing your website when you're on a budget. If you have a strong marketing plan in place, you will see a return that will be worth every penny you spent.
Building a website on a drag-and-drop platform is fast and easy
How many times have you either tried or witnessed people try to build a website on a WYSIWYG platform, only to be frustrated beyond belief? The appeal of DIY website building platforms is great, but so is the frustration when you realize the limitations and sometimes complexity of these systems.
You wouldn't think people would struggle with WordPress, but they do. People also struggle with popular platforms like Wix and Weebly. The reality is, at some point, you'll reach the end of the platform's limitations and you won't be able to do something important. For instance, your platform of choice might have a bad URL structure that will thwart your SEO efforts. Other common issues include an inability to define alt attributes and title tags. If that's how your platform operates, you'll need several add-ons to make your SEO efforts work. 
The biggest problem with DIY editors is that professional marketers and SEO companies despise working in those environments because they're too restrictive. They can't do a thorough job and you won't get the best results (but you still have to pay them).
Leave website building to the pros
Although it seems easy, don't build your own website. Hire a professional developer and get the website you want from the beginning. Think of your website as an investment and asset rather than an expense that needs to be justified.