If there's one advantage brick-and-mortar stores have over online stores, it's the human factor. In a physical store, a customer has the benefit of speaking with a trained salesperson. Someone who knows how to sell, but can also recommend a product, or simply help customers find something. Online stores are much more dependent on the customers' willingness to search for what they want.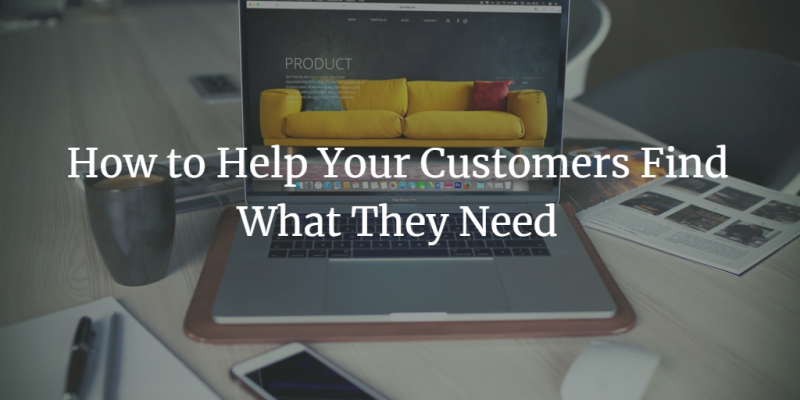 Then again, it's not like online stores don't have their ways to provide help when help is needed. In the last couple of years alone, we've seen a lot of exciting technological advancements. Things like AI and Big Data are becoming more commonplace in retail. Surely there's a way they can help you help your customers find what they need in your store, right?
Starting with the Basics
Don't start with thinking about how to leverage the latest tech advancements. Begin with looking back at the good old basics of website design. One of them, website navigation, has a big influence on the number of customers you have. Bad navigation can chase away your customers like nothing else. It's common sense — people don't like to shop where they can't find anything.
You need to remember that the navigation has to be clearly visible, intuitive, and accessible. If a customer lands on a page that doesn't contain the product they needed, it should be obvious to them how to move on from that page. Make it easy for them to move on to another page on your website. Otherwise, they'll move on to a different website. The navigation should work on any type of browser. With the increasing number of mobile shoppers, you have to make sure that your navigation works well on both desktop and mobile devices.
Recommending Products
If you made sure that it's possible to find products the old fashion way on your website, you can move to advanced techniques. When they're in a store, people will find things they didn't know they needed until they saw them. Even if they came with a clear plan to buy one item, they can walk out of the store with another item that caught their eye.
In the digital world, you can do this by providing recommendations. And you can provide recommendations using Big Data. You can add a custom site search for e-commerce to your website. It can crunch the data you gather about the shopper to offer recommendations based on their previous behavior. It's not that different from having the people who work in a physical store remember regular customers and what they like.
Offering Faceted Search
The initial instinct that a customer needs help finding what they need is one of the things that make for great salespeople. There's no "I'll just let them choose" in sales. But there is "how can I help you." One of the best ways to help people find what they need is by using something that's called faceted search. And it's something that more than a half of online retailers are yet to discover.
With faceted search, you're allowing the customers to apply a set of filters to the products you offer. By doing so, they will narrow down their choices until they reach the products they are interested in. For example, instead of looking at shoes, you let them choose the type of shoe they're looking for. They choose ankle boots. Next, you allow them to choose by color. They choose black ankle boots. You can also add manufacturers, sizes, and materials as filters. Anything that helps zero in the right choice.
Providing Chat Support
The closest thing you can get to having a store clerk on your website is to have a real person offering to help the visitors through chat. Chat support can mean a great deal to customers who are having trouble making a decision.
Many businesses, especially those with high volumes of customers, force their customers to wait in a line for chat support. But if you find a way to solve this problem, and you train your staff well, chat support might be a game-changer for you.
In retail, you're in the business of giving your customers what they want. Sometimes, that means helping them make decisions. Other times, it means helping them discover something new. At its core, however, it's about being respectful of your customers' time. If they're having trouble finding something they need at your store, the very least you can do is show them where it is.