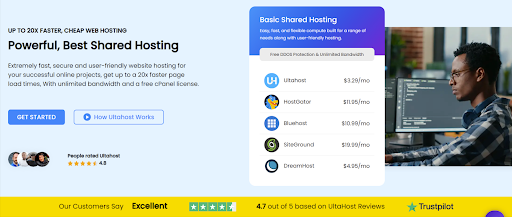 A website is crucial to establishing an online presence for your business, and ensuring reliable hosting for that website is equally essential. However, finding a dependable hosting provider can be a daunting task. That's where we come in. We've hosted our site and crafted this comprehensive UltaHost Review guide to simplify your search. UltaHost distinguishes itself with its user-friendly interface and impressive hosting features. It's not limited to individuals; even large organizations trust it for their websites.
In this Ultahost review, we'll explore in depth what Ultahost offers. We'll look at their price plans, features, performance, customer service, ease of usage, security measures, and the benefits and drawbacks of using Ultahost. 
By the conclusion of this review, you'll know whether Ultahost is the ideal choice for your website hosting needs.
Let's get in!
Ultahost Overview
Ultahost, an esteemed web hosting provider founded in 2018 and headquartered in Middletown, USA, has garnered a strong reputation for its swift and cost-effective hosting services, boasting an impressive 4.7 star rating. They offer a comprehensive range of hosting services like shared hosting, dedicated hosting, WordPress hosting, reseller hosting, and virtual private servers (VPS), as well as various other specialized web hosting solutions., and support for essential technologies like MySQL, FTP, and PHP.
As a leader in the industry, UltaHost prioritizes delivering fast hosting solutions specially tailored for mission-critical websites and applications.
Ultahost's Strategy
To provide top-notch website hosting services, they leverage cutting-edge equipment and partner with large data centers renowned for delivering high-quality service and robust communication channels. Moreover, their servers have modern system software, helping you save on project development and maintenance costs.
UltaHost also allows users to quickly deploy popular web applications such as WordPress, Magento, PHP Stack, WoWonder, Playtube, OpenCart, and Drupal. Most actions on their platforms, including server deployment, deletion, app deployment, and free SSL installation, can be accomplished with just a single click, streamlining the hosting experience for our customers.
Key Features of Ultahost Hosting Services
Server Uptime and Downtime
UltaHost has a remarkable server uptime, with data showing that their servers are primarily operational. This implies that your website is more likely to be available to visitors when needed.
Downtime, which refers to periods when your website is unavailable, is minimal with UltaHost. This reliability can be crucial for businesses and individuals who rely on their websites for various purposes.
Website Loading Speed
When it comes to website loading speed, UltaHost performs admirably. Websites hosted with UltaHost tend to load quickly, providing a smooth and pleasant experience for your site's visitors.
Fast loading times are essential for keeping visitors engaged and improving your website's search engine rankings.
Redundancy and Data Backup
UltaHost takes data protection seriously. They have robust redundancy measures in place to ensure that your website remains operational despite unexpected hardware failures.
Additionally, UltaHost provides data backup options, giving you peace of mind knowing that your website's data is secure and can be restored in case of any unforeseen issues. These reliability features make UltaHost a dependable choice for web hosting.
Types of Hosting and Services Offered by Ultahost
When considering a web hosting provider like UltaHost, understanding the pricing structure and available hosting plans is crucial. In this section, we'll take a closer look at how UltaHost fares in terms of affordability and its various hosting options.
Overview of UltaHost's Pricing Structure
UltaHost offers a straightforward and transparent pricing model, making it easy for users to choose a plan that suits their needs and budget. Their pricing typically includes monthly and annual payment options, allowing flexibility for different customers.
The basic hosting plan often includes essential features like web space, unlimited bandwidth, and email accounts. This makes it a suitable choice for beginners and small websites. As you move up the pricing tiers, you'll find more resources and advanced features catering to businesses with larger websites or more demanding requirements.
Analysis of Different Hosting Plans Offered by Ultahost
UltaHost offers various hosting plans to accommodate various needs:
1. Shared Hosting
Ideal for beginners and small websites, this plan provides a cost-effective way to get started online. UltaHost offers shared hosting, where multiple users share server resources. Here's what you need to know:
Resource Allocation: While multiple users share a server, UltaHost imposes restrictions to prevent one user from monopolizing resources. This ensures fair usage and prevents one site from affecting others.
Ideal for Small Projects: Shared hosting is ideal for small projects like business card sites, promotional pages, portfolios, personal blogs, and small online stores. Most small websites don't require the resources of a dedicated server.
Pricing Plan:
2. VPS Hosting: 
A step up from shared hosting, VPS (Virtual Private Server) hosting offers more resources and control, making it suitable for growing websites. It provides isolation and control similar to individual houses in a neighborhood. Here's why VPS is valuable:
Isolation: Despite multiple virtual servers residing on the same physical server, each VPS is isolated from the others. If one VPS consumes many resources, it won't impact others.
Versatile Use: VPS hosting is suitable for online stores, high-traffic forums, applications, or corporate sites where customers and employees have accounts or personal email.
Pricing Plan:
For Hestia & CyberPanel – Free Panels
3. Dedicated Hosting
For businesses with high traffic and resource demands, dedicated hosting provides a dedicated server, ensuring maximum performance and control.
Full Control: Users have full access to both software and hardware, allowing them to manage operating and file systems as needed. Additional hardware can also be purchased if required. 
Resource Intensive: Dedicated servers are essential for resource-intensive applications such as game servers, social networks, banking sites, large online stores, or complex applications that demand substantial resources.
Pricing Plan
For Hestia & CyberPanel – Free Panels
4. WordPress Hosting
Specifically tailored for WordPress users, this plan includes optimizations for the popular CMS, making it a breeze to manage your WordPress website.
Pricing Plan:
5. Secure Sockets Layer (SSL) Certificate
UltaHost provides an essential security feature – the SSL certificate. This certificate safeguards user data and online transactions. Recognized by a green lock and HTTPS protocol in the browser's address bar, SSL ensures secure browsing.
Pricing Plan
6. Domains
Ultahost provides a convenient domain registration service, ensuring your website's domain name aligns with your product or service. They offer helpful tools like WHOIS checks to verify domain availability, simplifying the process of securing the perfect domain for your online presence.
How is Ultahost Different from Other Hosting Providers?
UltaHost stands out among hosting providers due to its exceptional transparency. Unlike others, it offers genuine, no-hidden-cost services. Focused on speed and security, UltaHost ensures your website excels.
They provide free migration, NVMe SSD storage, DDoS protection, and more. With dedicated resources and an impeccable uptime record, UltaHost prioritizes your website's success while backing it up with a money-back guarantee.
This commitment to transparency, speed, and security sets them apart in the hosting industry.
Pros and Cons of Ultahost
| | |
| --- | --- |
| Pros of UltaHost | Cons of UltaHost |
| Reliability: UltaHost boasts impressive server uptime, ensuring your website stays online when it matters most. | Limited Data Storage: Some plans may restrict storage space, which may not suit data-heavy websites. |
| Affordable Pricing: UltaHost's cost-effective hosting plans make it accessible for businesses and individuals on a budget. | Overwhelming Options: The abundance of hosting plans and features might confuse newcomers. |
| User-Friendly Control Panel: The intuitive control panel simplifies website management, even for beginners. | |
| Good Customer Support: UltaHost offers responsive customer support through various channels, helping users with their hosting concerns. | |
| Scalability: You can easily upgrade your hosting plan as your website grows, ensuring flexibility. | |
Conclusion
In conclusion, UltaHost offers reliable web hosting services with competitive pricing. Its strong performance, user-friendly features, and robust customer support make it a solid choice for both beginners and experienced webmasters. 
While it has some minor limitations, it remains a recommendable hosting provider for various website needs.
FAQs
1. How reliable is UltaHost in terms of server uptime?
UltaHost is highly reliable in terms of server uptime. They offer a 99.9% uptime guarantee, which is consistent with the results we've verified through extensive uptime tests. Some of their plans even provide a remarkable 100% uptime, ensuring that your website remains accessible to users around the clock. With UltaHost, you can trust that your website will be available and operational whenever your visitors need it.
2. Can I register a domain name through UltaHost, and what additional domain-related services do they offer?
Yes, UltaHost provides domain registration services, and they offer domain-related features like WHOIS checks to verify domain availability.
3. Can I transfer my existing website to UltaHost, and is there a cost for this service?
UltaHost offers free migration services to help you transfer your existing website to its hosting platform.
4. Does Ultahost provide a website builder or support for popular content management systems (CMS)?
Yes, Ultahost often offers support for popular CMS platforms like WordPress and provides user-friendly tools for website building and management.