BuiltWith's recent research reveals that Magento and BigCommerce are ranked in the Top 5 ecommerce platforms. Magento accounts for 7% of the market, while only 3% belongs to BigCommerce.
So, based on the above diagram, should you decide that Magento is better than BigCommerce as more people prefer it? Maybe yes, maybe no.
Another scenario worth considering is that Magento might have invested harder in their marketing and promotion than BigCommerce.
To help you decide, we've gone through the main features that usually interest online store owners when buying an ecommerce platform.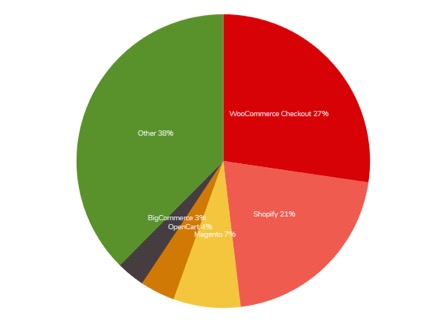 BigCommerce vs. Magento overview
What's your top priority when choosing an ecommerce platform?
In this regard, there is no absolute winner in the Magento vs. BigCommerce battle, as both give you one key benefit. You can integrate an all-in-one marketing platform to both that will allow you to construct your ecommerce email marketing effectively, implement campaigns, increase conversions, and many more.
Keep that critical point in mind and follow us to a deeper comparison between the two platforms.
BigCommerce
BigCommerce is an open SaaS platform, which is loved for low maintenance and high level of security. One of the key features of the platform is its flexibility and scalability. That's why BigCommerce is often considered a good option for growth-oriented companies. Whether your business grows fast or moderate, you can always switch to a more appropriate pricing plan.
It might inspire you to know that BigCommerce is preferred by companies like Toyota, Kodak, and other global giants.
Magento
Magento is another open-source platform. It's more accessible as there are plans with no monthly fees. Magento is an excellent choice for businesses that go for diversity. A vast pool of apps, extensions, and customization themes allows you to improve your ecommerce shop's appearance and UX/UI. Magento mostly suits mid-size businesses, and it's more challenging to use than BigCommerce. To utilize all the platform's features, one needs to have some coding knowledge.
However, Magento enjoys wide popularity among global leaders as well. Brands like Nike, Coca-Cola, and others prefer it.
A closer look at BigCommerce vs. Magento
Features
When it comes to features, you can do most of your things with BigCommerce and Magento. However, the question here is which extra add-ons you need to perform certain activities within the platforms.
BigCommerce can be considered an absolute leader in this case, as it has the largest pool of built-in features. Generally, BigCommerce has more in-built features than any of its other competitors.
Magento, on the contrary, offers limited opportunities by default. You can perform the same activities in BigCommerce and Magento; however, you will need many extensions for the latter. According to different estimations, Magento has around 3,000 available extensions.
A key thing worth noting is that you can sell physical, digital, and service products with both platforms.
The features of BigCommerce
Customers can have an abandoned cart recovery feature and recover the items they left in the cart without checking out.
Store owners can connect your BigCommerce platform to different online shopping channels like Amazon, eBay, AliExpress, etc., and control all the product flows from a single dashboard.
There is also a feature to connect a BigCommerce account to social media platforms, which are also a powerful tool for online selling nowadays.
The BigCommerce powered ecommerce platforms have in-built analytics to track the sales and overall company performance.
Last but not least, users can choose different currencies and freely switch between them when needed, organizing multicurrency sales.
The built-in features of Magento
As discussed earlier, the in-built features of Magento are pretty scarce. There are only a few key features you can utilize within the platform without extensions. These include providing customer logins and staff accounts, organizing gift card payments. Also, Magento has the same abandoned cart recovery as BigCommerce.
Though Magento does not have the built-in features that BigCommerce has, it has superiority in inventory management. Particularly, with Magento, ecommerce business people have larger opportunities to implement inventory control than the same opportunities of BigCommerce.
Magento has excessive features, including bulk product imports, stock management, multiple product variants, revenue reports, etc.
Pricing
We've probably reached what you are looking for the most; Magento vs. BigCommerce pricing comparison.
You will be presented with the pricing of two platforms shortly; however, you should consider a key point.
Purely mathematically, BigCommerce costs less than Magento. However, it would help if you looked at what you get in exchange.
BigCommerce is significantly cheaper, but many users claim they are more than ready to pay extra for Magento, as it offers the flexibility and scalability that BigCommerce does not provide.
So, look at the prices below from the mentioned prism.
BigCommerce will give you a free trial first; then, it will charge you around a $30 monthly fee at a basic level. We mean a certain amount of income that BigCommerce considers starting by saying basic level. Once you reach that amount, you will have to pay more, as the platform will automatically switch you to a more expensive package.
Also, the caveat of BigCommerce is that aside from paying for the platform, you should also cover domain, hosting, SSL certificate, and similar costs.
Magento technically has another payment method; however, the logic is similar. You can use the free version of Magento forever. However, the free Magento Open Source is not enough for a business with a healthy growth rate. So, you will need to switch to the Magento Commerce edition ($22,000 yearly) or Magento Commerce Cloud ($40,000 annually).
So, at this point, you've got who is the winner in the Magento vs. Bigcommerce pricing battle. Both are affordable to some extent; however, they become costlier as you grow.

Ease of Use
After figuring out the features and pricing, which is easier to use between Magento vs. BigCommerce?
There is one issue with both: they use complicated terminology in the interface. So, even if the platform layout is designed conveniently, you may need to Google most function names to understand what you should do.
Further, both come with their advantages and drawbacks in terms of usability.
So, BigCommerce has a convenient layout. However, it works like the backend/frontend of the website. You should work on two separate areas in BigCommerce; one for uploading your products at the backend and another to display them to customers. That's a hassle.
Magento does not have such an issue. Besides, it's worth mentioning that Magento continuously improves its interface so that Magento 2 is a lot easier to use without the help of professionals than Magento 1.
Anyway, by weighing up both platforms in this regard, there is no winner. Both have complicated tech terms, and both try to offer a convenient layout. So, you should probably look at which platform is easier for you personally.
App/Plugins/Integrations
Magento has significantly more extensions and plugins than BigCommerce. However, it's because of Magento's scarcity of internal resources.
Anyway, both have the most necessary connection opportunities with plugins and apps.
We don't want to go into detail here, as you will quickly find any plugin once needed. However, we recommend installing an SMS and email marketing plugin for Magento and BigCommerce.
Themes and templates
Which tool provides you with greater customization? The answer is both. The more detailed explanation is both allow you to customize your store. However, it will result in different costs and require various resources from you.
BigCommerce offers 12 free and over 100 paid themes. Using them alone is significantly easier than doing it with Magento.
The latter offers 14 themes, both paid and free. However, without professionals' help, using them alone is quite a challenging task. It's even more complicated if you want to build a theme design from scratch. If you are not a tech-savvy person, chances are high you can't do it without a professional.
Security
The difference is insignificant if we compare the safety levels between Magento vs. BigCommerce. Both can be PCI compliant, which means your customers' payments are secured.
But, BigCommerce automatically creates your platform with a PCI certificate. However, for Magento, you should manually install the security patches.
Final thoughts
Well, you have collected tons of information on BigCommerce vs. Magento before reaching this point, and it's OK if you are still two-minded.
As those two are included in the list of the best ecommerce platforms, their main features are very close to each other. However, now you know which one to choose based on your priorities.
For example, you should choose BigCommerce if you are limited in budget, but you can go with Magento if you prefer a more straightforward layout.
Generally, you never know until you try it yourself. So, maybe trying a free ecommerce marketing integration to both will give you a better idea of which one is easier for you to work with.