If you're hosting an event that requires paid registration, your diligence in coordinating registration is vital. People expect a seamless experience when signing up for events. Here are five items to accomplish so they'll be back for more: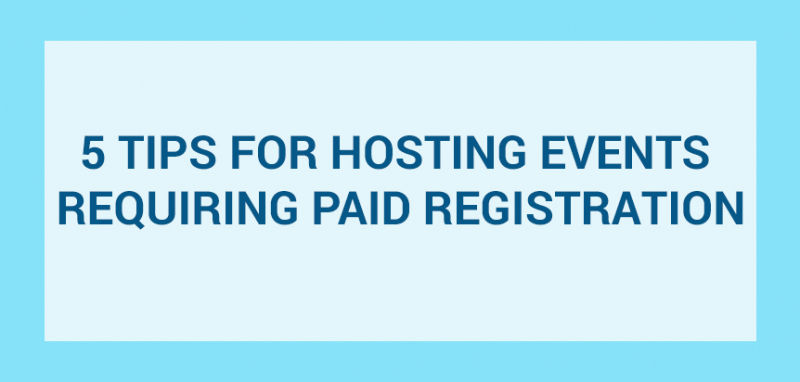 Find a way to accept credit cards at the door
Every event brings last minute people to the door. Don't expect everyone to bring cash, even if that's what you've requested. People will expect you to take their credit card at the door so you need to find a way to accept credit cards.
When people show up without cash, and they will, you'll have several options:
Direct people to the nearest ATM. Unfortunately, if it's not within walking distance and parking is scarce, they might go home instead.
Let them in for free. This isn't the best idea because you could get even more people claiming to not have cash.
Send them an invoice. Depending on what type of event you're hosting, this may or may not be appropriate.
Be ready with mobile payment options. This is your best bet. Bring your laptop, your smartphone, and even a mobile hotspot if you have to. Find the right payment processor. Create a Paypal button on an unpublished webpage that you can pull up on your laptop. Paypal is an easy and cheap way to accept credit card payments online.
Create clear, relevant signup forms
The clarity and relevance of your registration form can make or break your signup rate. Asking for irrelevant information will turn users off and might make them abandon their registration, as will using the wrong type of input fields. For instance, when asking for a date, the input field should be in MM/DD/YY format rather than a plain text field that accepts letters. This also ensures you collect correct data.
Your signup form does more than collect data, though; it's an opportunity to market the relevance of your event and get people to register without abandoning their signup form.
Forms should be embedded
Your registration form should be embedded on your website, not a link that takes visitors away from your website. Asking people to click away from your website is an invitation for them to get distracted and abandon their registration.
Forms should be personalized
You don't have time to hand craft custom signup forms for every person in your database, but when you use event registration software like Regpack, the conditional logic engine does it for you.
User groups like exhibitors, vendors, and attendees separate the forms each user is shown so they don't have to go through the arduous task of skipping questions that don't apply to them.
Your signup forms will dynamically display further questions relevant only to previous responses. Attendees will only be shown options relevant to them while exhibitors won't see what attendees need to see.
You can also make certain questions irrelevant to returning attendees. For example, they won't be asked how they heard about your event because they already answered that question with their first signup.
There are other reasons to use Regpack, including the trigger-based communication that automates personalized email reminders for dates, deadlines, and outstanding balances. Just like a CRM, you can send emails to groups of people based on the data they've provided.
User accounts are created with every signup, making it easy for attendees to update their information anytime, including their payment method on file.
Use one system to track registrations
When you choose a system to register your guests, stick with it, and don't start using another one halfway through. If you do change systems, you'll face several problems:
Combining databases may not be possible (or easy, but expensive).
If you manually add registrations to your new registration database, users will get unexpected notification emails and become confused.
If you delete registrations from your former database, users may receive account cancellation emails. They might call you, or get mad and skip your event altogether.
There are plenty of reasons to switch up your event management software.
For the sake of your attendees, even if you chose a bad registration system, unless it absolutely doesn't work, or you've just started, don't switch it up. Stick with what you've got and use a better one next time.
When you're sold out, update your website immediately
Your event registration process needs to be flawlessly executed. Keep track of where you post your event notices so you can update them with changes. Don't make the mistake of thinking you won't need to make amendments.
If tickets are limited, your website should be updated immediately when your tickets have sold out, or if you've canceled your event.
Some event management software provides a waitlist feature that will add a guest to your list if someone cancels their registration.
Don't have too many cooks in the kitchen
The information published in all of your marketing materials need to match. This is easily accomplished by limiting the number of people creating the materials.
It's fine to have several people contributing to the ideas, design, and content. Ideally, only one person should prepare printable and emailed materials.