Common myths about WordPress have made large business organizations shy away from using it for their website. Well, it is important to note that WordPress is not just for blogs and could be used for even the biggest enterprises you can ever think of. All you need is to buy themes & Plugins that will match your enterprise needs and uses.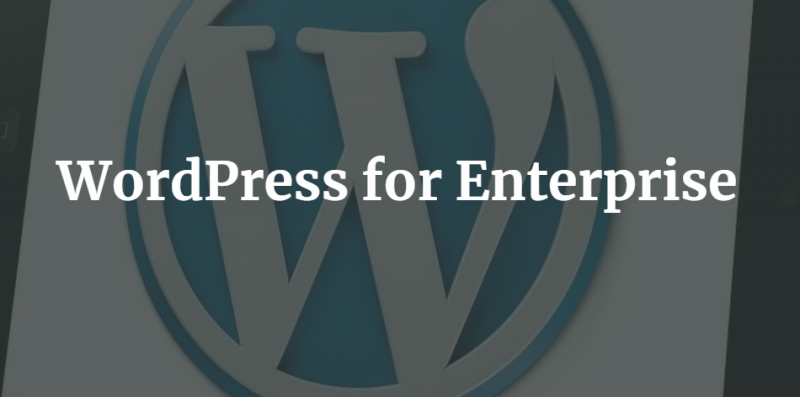 Enterprises seek to maintain a web presence that is reliable and scalable at the same time. This is important if they are to stay competitive in the market. All these aspects can be realized with WordPress. Over the years, the WordPress content management system has enhanced its capabilities and can accommodate needs for both small and large enterprises seeking a reliable online presence. So, why WordPress for Enterprise? Here is what you need to know…
WordPress is Affordable
Even large businesses are looking for opportunities to save money. For that reason, WordPress has some of the most affordable plans that anyone can use. The most important thing note is that it has various themes and plugins suitable for different users. Cost is always a big concern in the choice of a CMS. Therefore, big enterprises should consider WordPress for a reasonably cheap CMS solution yet with high value for their operations.
WordPress offers Flexibility and Expandability
Some of the main concerns of Enterprises when building their websites have to do with the ability to expand their sites and things to do with the flexibility of designs. With the capacity to change and develop further in the future, enterprises want a CMS that will help them incorporate changes in a seamless manner. This is one of the benefits that you will find with WordPress.
With various plugins, WordPress is an extensible platform factoring in the need for expansion in future. It meets the demand for growth through a list of dedicated plugins.  Users have complete control over additions to the base platform. Since it is easily understood, this framework helps them create custom codes should they need it.
Responsive Development Support
The creation of responsive designs for websites is very vital for businesses today. This is definitely of key concern for enterprises that want to keep in touch with their target audience. For that reason, WordPress is designed to make sure that these goals and objectives are met. Today's audience is largely using mobile gadgets hence the need to have mobile-ready designs, which are offered via this framework.
Scalability of Website Designs
Enterprises need content management systems that can be scaled up, something that is very possible with WordPress. This platform is built using core web technologies with a good reputation on grounds of scalability. This includes all aspects of web server optimization, advanced caching strategies, database tuning among other technical abilities. A good thing to note is that scaling can be done in a direct manner without the need for coding expertise.
SEO Friendliness
Optimization for SEO is a great plus to website design and this is one of the benefits that WordPress offers to its users. Users have the chance to install the on-page SEO plugin to make this work. It is a streamlined procedure that yields a lot of benefits in the efforts to have a remarkable online presence. Therefore, enterprises have a lot to learn from this excellent feature available in WordPress.
Frequent Updates on WordPress
The security features of WordPress are greatly enhanced with frequent updates on the CMS. Users can expect to have frequent updates of about twice a month. This is good for your website stability, security and a good ranking online. These are much-needed aspects of websites for enterprises. This makes WordPress a perfect match for big organizations and enterprises.
Final Thoughts
WordPress is no longer a platform for startups and small businesses alone. They are not solely dedicated to bloggers. Today, big organizations and enterprises are now using WordPress as their CMS because it provides them with flexibility, ability to scale up and expand as they grow. With its continued use across the industry, there is a growing community of users, materials, tutorials and videos to guide users on how to use WordPress for their benefit. There is no reason as to why you cannot use WordPress for your enterprise!