Though it's easy to panic when you start losing customers, it's important to keep your cool.  In order to stop the exit flow, you will need to take a careful look at the state of your business to determine where your weak points lie.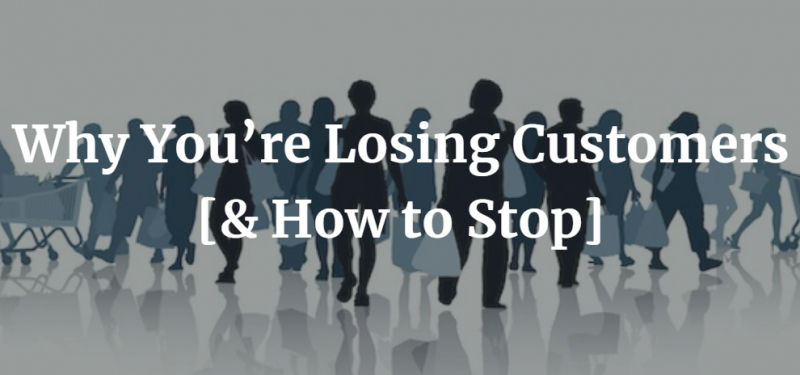 Reason 1: Your Customer Service is Poor
Nothing turns customers away like poor customer service.  Even if you offer the lowest prices in the market, you're still likely to lose customers if your employees are unfriendly or poorly trained. 
Solution: Tune up your hiring practices, let go of poor performing employees, and improve your training. Invest well in your customer service. It's an essential part of building customer loyalty.
Reason 2: Your Brand is Confusing
If you don't know what your brand stands for, your customers won't either. Make sure your brand messaging is clear and consistent. When customers purchase from you, do they know what to expect? With so many options available for shops and services these days, customers won't stick with you if they can't understand what you're about.
Solution: Are you youthful and fresh? Stoic and reliable? Wallet-friendly and no-frills? Determine what your brand stands for and stick with it. Make sure your branding is consistent throughout all levels and all departments of your company.
Reason 3: You Create Customer Roadblocks
Many business owners and managers make the mistake of choosing solutions that are simple for them, but make things hard for the customer. A common example of this would be a local restaurant that only accepts cash or a small retail shop that has no address on Google.
Sure, you have to pay to accept credit card services for your restaurant, but if you don't accept cards, you will certainly miss out on a large customer base.  Many millennials and Gen Zers don't carry much cash if any.  And, yes, it takes time to create a Google MyBusiness page. If you don't do so, however, how do you expect new customers to find you?
Solution: If you are unsure what roadblocks your business has, ask your customers. Is there anything about your business that makes it harder for them to purchase from you? Once you have your answer, take steps to amend the issue, even if it means a bit of extra time or money invested on your part.
It's not too late to stop the outward flow of customers from your business. Take action today. If you'd like to upgrade your payments systems while you're at it, visit Agile Payments.  We offer solutions for complex payment processes for SaaS providers.