Digital marketing has risen to prominence in an age that's driven by technology, and though conventional marketing methods can still be effective, in some cases they have been rendered useless.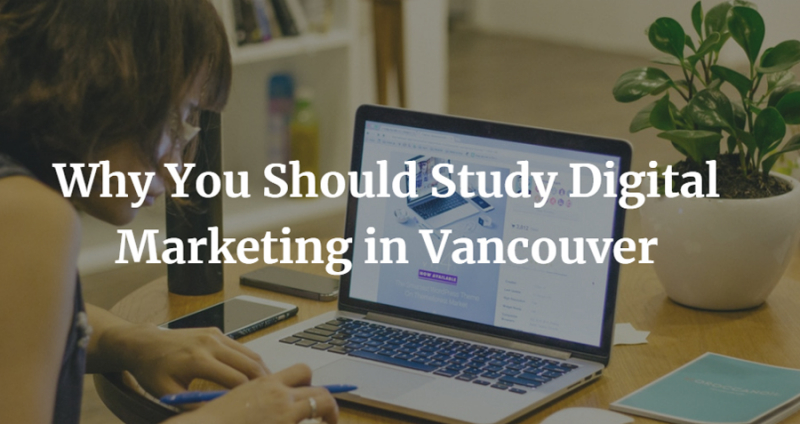 Canada is emerging as one of the most popular places to study digital marketing. This article has collected points of inspiration that will encourage you to study there, helping you align with societal trends and unlock your true potential. Before we get to the nitty gritty, let's start by looking at what digital marketing is:
What Is Digital Marketing?
There are various branches of digital marketing, but from a broad perspective digital marketing entails online marketing efforts. It is an umbrella term which refers to the following forms of marketing:
Search Engine Marketing (SEM)

Search Engine Optimisation (SEO)

Content Marketing

Influencer Marketing

Email Blasts

Websites

Social Media

…and everything in between
With the internet at the forefront of everything we do, the way people interact with companies has drastically changed. Consumer spending has doubled in ten years due to online marketing initiatives. Since most activities are channeled through online portals, the emergence of digital marketing is a logical one.
Why Study Digital Marketing in Vancouver?

Growing Demand
Companies in Canada are acknowledging the importance of digital marketing, in an economy that's thriving. The digital marketing industry is positioned to grow exponentially, and the demand for digital marketing experts is at an all time high. A recent Canadian survey revealed more than 90% of digital marketing experts studied in Canada, where there is an increasing demand for employees with digital, artistic, business, and creative skills. There is a growing demand to study in Vancouver because it's overflowing with culture. 35% of the population originates from overseas, meaning it's a very welcoming country for international students. The City's appeal ranges from having the largest aerial tram system in North America to an incredible national park that is actually bigger than New York's Central Park.

Robust Programmes
Vancouver priorities a unique focus on digital media solutions to real problems, and promotes courses where you can obtain first-hand knowledge while working in close liaison with industry professionals. There are various opportunities to acquire the knowledge you need to become a digital marketing professional, and many educational establishments specializing in digital marketing. The city itself is robust too, with a revolution dedicated to sustainability. Vancouver's 2020 green initiative intends to limit the carbon output in the city, promoting sustainable living.
Flexible Career Paths
Digital marketing evolves at warp speed, so there are always new technologies to harness and new things to learn. New roles are being created by the day, and you can choose to specialize in an area of interest. Become a social media marketer or an SEO specialist, the possibilities are endless. Various industries demand digital marketing, meaning there's no shortage of industry positions. Vancouver is a growing hub for innovation, because the technology industry is the second-fastest growing sector in BC. If you're passionate about a career in IT, the city perfectly suits your aspirations. Vancouver continues to attract talent from across the world. You'll definitely have an advantage when it comes to finding jobs in the technology industry.
Jump Start Your Career in Vancouver
Canada welcomes foreigners, so if you don't live in Vancouver you can relocate and appreciate new culture and education. This is a great opportunity to kick-start your career, where your skills will be highly valued and you'll have a great chance of reaching employment. If you're intrigued to study a course in Vancouver, you can study various courses by conducting a simple Google search, with the keywords Digital Marketing Course Vancouver. The region has a niche economy which perfectly suits specialists in growing sectors like digital marketing. There are many grassroots DIY movements to discover, it's simply a matter of finding them.  It's important to not be dismayed if you don't find a job immediately. With persistence you'll find the perfect opportunity for you in a thriving economy.