Have you been thinking about having a website for business or personal use? Maybe you've toyed with the idea of building your own but can't decide if you should start from scratch or use a template. Building your own website is a great way to make sure your site is exactly the way you want it to look and you have complete control.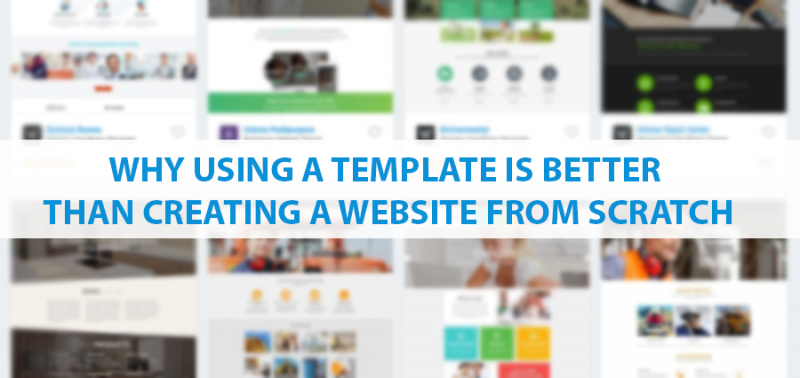 Here's why we recommend using a template rather than starting from scratch when creating a site:
Saves Time
When you use a template to build a website you are saving yourself loads of time, allowing yourself to focus on other aspects of the business. Creating a good, properly functioning website takes a lot longer than you may think.
A template will speed up the process, without sacrificing quality, so you don't lose customers, traffic, or your presence online.
Easy to Use
You may be an excellent business person, but you may not be tech savvy. One of the benefits of using Wix templates is that they make site building easy and you don't need to know the ins and outs of website building, just the important stuff like your content and products.
It's also easy to make changes as often as you would like and it doesn't take much time so you can get back to business quickly.
The Cost
Every business should expect to invest in creating a website, but one of the major differences between starting from scratch or using a template is the cost. A small business website can end up costing thousands of dollars if you build it from scratch or hire someone to do it for you. A website built with a template can cost you little to nothing.
Using a template is one of the most cost-effective options for a startup or if you simply don't have a large budget devoted to a website. In case you're searching for premium themes to build a website from scratch, look through small business WordPress themes.
Less Upkeep
When you use a template, you spend less time making sure your site is working properly and fixing glitches you didn't notice the first time around. Another plus of using a template is that it's backed up by 24/7 customer service so you can get help rather than trying to figure out how to fix it on your own.
Helping You Make Decisions
A template can be helpful if you are indecisive and can guide you through the whole process of selecting color schemes and background designs to the placement of content. When creating a site from scratch, you may have to do a lot of work before seeing a preview, and if you don't like it, you're back to square one.
SEO Support
Just because you're good at what you do, running your business, you may have little to no knowledge when it comes to search engine optimization (SEO). SEO is important as it will increase traffic to your site and draw in your target audience but can be tricky to figure out. Most templates offer SEO support, so you don't have to second guess what you're doing.