Not sure what stock images are? Relax! We have gathered all the important information in this article to provide the essential knowledge related to stock images. It will help you understand how you can enjoy awesome, quality visuals within your budget. So, want your project to be colorful and attractive for the audience? Dive in!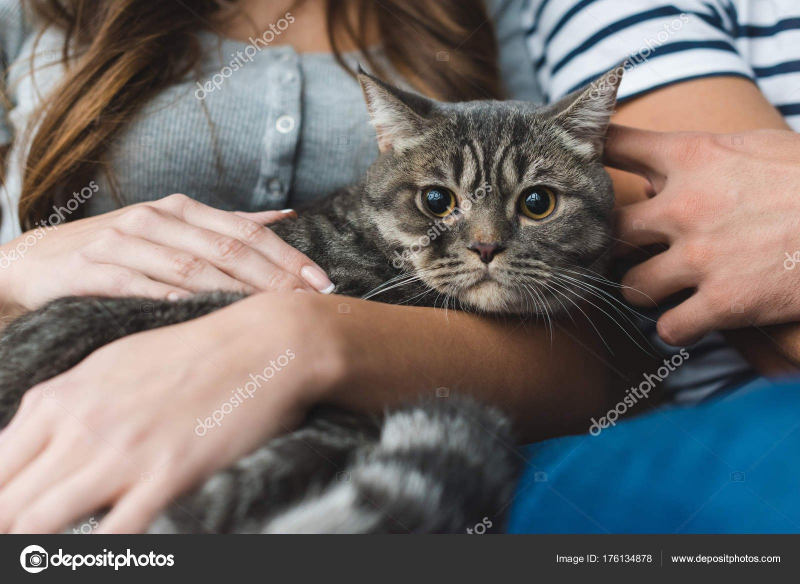 What Are Stock Photos?
So, what is the meaning of "stock photography?" By the simplest definition, stock photography is the name of a gigantic industry that produces and sells a variety of imagery. These images could be in the form of illustrations, photos, or videos, which can be purchased to use through numerous licensing models.
Customers get these images by paying a certain price to gain the right to use stock photos and videos legally. They consume these pictures for personal and business projects to make their text, story, or charts engaging and understandable.
The fee is divided among the creator of the image or footage and the service or agency that sells the visual to customers.
And within a few clicks, you can download the image and start using it. Photographers continue to preserve their rights while agencies work as an intermediate in facilitating each purchase.
4 Reasons to Use Stock Photos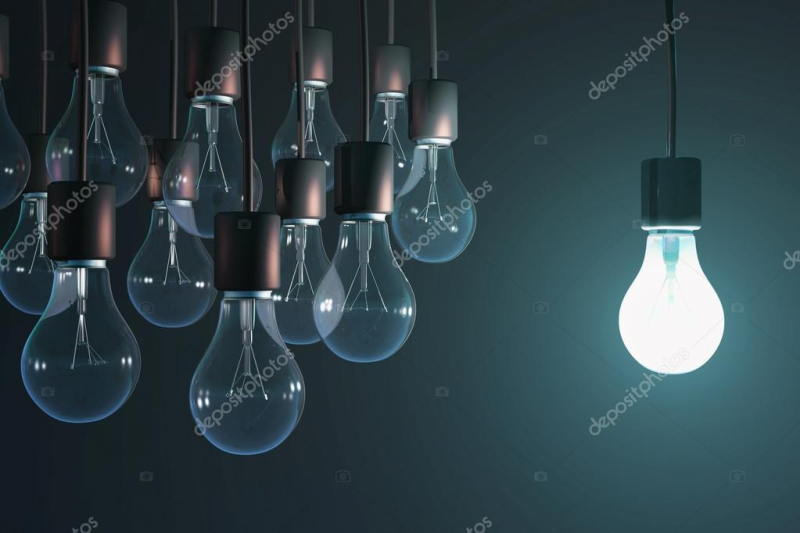 It Saves Your Time
Stock photography, vector illustrations, and photos are ready for an instant download and usually demand two steps to get it done. So, in case you're not registered with any stock photo service, you can get a free membership immediately, and then the subscriptions or credits can be obtained in a heartbeat.
Moreover, if you're running out of time and looking for fast stock photos to be used urgently, then a stock photo is a good option. With a database's help searching, purchasing, and downloading the material, the process is simple and quick. Whether you need travel photos, nature images, unique model photography, or specific-location shots, you can grab all of them via online photo banks to make sure the job gets done in the easiest way possible.
It Offers You a Variety of Choice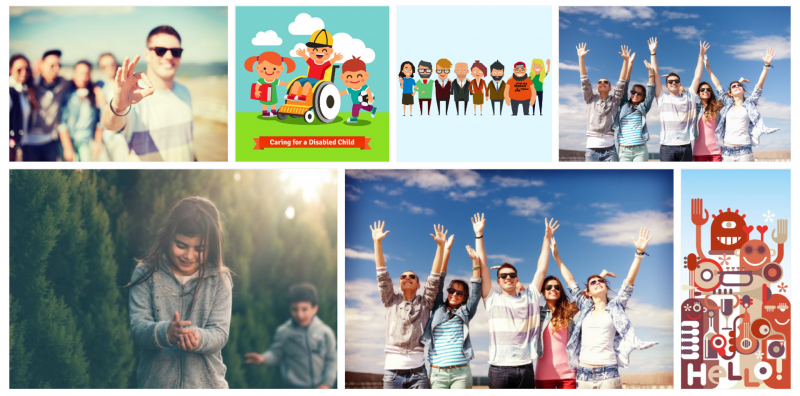 Did you know that top-notch stock photo agencies have a minimum of 8 to 13 million stock images in their databases? That means you can get anything you want. Where else can you find such a huge collection like this?
These powerful databases use different search engines. So, you need to enter the right keywords in the search bar and let them find the accurate images in a few seconds. And with enormous collections, now you can easily get visuals related to any subject, emotion, color, or location.
However, it's recommended to get yourself a membership at multiple stock image agencies to widen your search results. Why? Because each agency offers personal collections with noticeably unique photos. So don't miss out on the opportunity; having multiple memberships allows you to get great images as per your requirements and desires.
You Avoid Problems with Licenses
Remember, the whole world is keen on protecting intellectual property rights. Violating these rights can cost you a hefty price later. It's especially easy to get in trouble by using pictures from a Google search. 
It's good to have access to extended licenses or rights-managed and other numerous licensing options, as you feel safe using the images in your projects. In general, whenever you download an image, it comes with an explanation of how you can use certain visuals to assure your and photo creator's rights are sheltered through the terms and conditions of that particular stock photo service. 
You Get Property Releases
Confused by the term "releases?" Let us explain. Releases are contracts from the models and owners of the images, which clarify that they have no issues if the images are being utilized for any general purpose.
These releases are important, as they give protection to any organization that wishes to use the images for advertising and promotional campaigns.
So, when you purchase standard license (or royalty-free) photos, you basically receive the consent from the creators and models to use their faces and work on your projects.
What Types of Stock Photos Exist?
Royalty-Free: You can implement all stock images multiple times after purchasing the license without worrying about the time limit or license expiry. However, in general, stock photo agencies allow buyers to use these images with limitations. 
For instance, an individual might be permitted to use a specific image 1000 times. This is how the license works, and it's called a print run. Also, the royalty-free materials are free from any use restrictions.
Rights-Managed: Depending on the exclusivism, size of image, usage, and other circumstances, rights-managed photos come with some limitations. For example, the buyer can use these images only for certain projects or a limited number of times.
Public Domain: These are free-to-use images, which require no license. Also, there is no limit on the repetition. That means anyone can use public domain photos, for different reasons, and for countless times.
How Depositphotos Works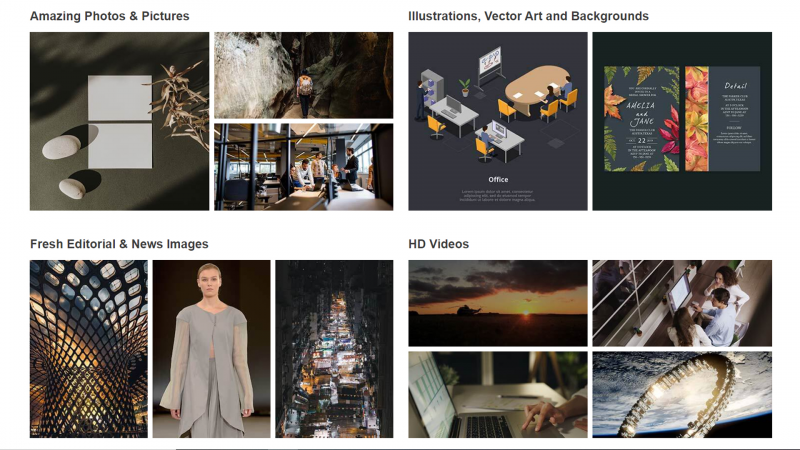 Depositphotos is an international stock photo agency that has been working tremendously to provide high-quality stock visuals since 2009. It's a well-established platform counted amongst the top-most companies in the stock photo market.
With more than ten years of successful history with amazing customer support, this company possesses and provides an immense library of royalty-free images, along with flexible pricing options to make sure it fits into everyone's budget.
One of the best things about Depositphotos is that they sell on-demand photos on credit packs starting from $2.99 to $4.90 per image. Besides, their subscriptions are quite attractive and affordable with both monthly and annual options. Moreover, several volume plans let you relish high-definition images at a price of around $0.21 to $0.99 on downloading each image.
How It Works
All available stock on Depositphotos is thoroughly picked. Each file's quality is evaluated using AI-based technology and expert content curators.
It is an extremely trustworthy and handy stock photo agency, so don't miss the opportunity to learn more about it.
You can discover many mind-blowing images, and all you need to do is to write your desired topic in the search box and hit "enter" to get mesmerized with thousands of relevant images from Depositphotos!
Key Benefits of Depositphotos
       

Get exactly what you're looking for through advanced search filters.

       

Download 100% genuine material from featured and carefully-selected photo collections.

       

Budget-friendly and economical pricing starts as low as $0.25 per photo.

       

Visualize your Favorites before choosing the top picks.

       

The built-in photo editor (Crello) creates captivating designs.

       

Enjoy tips to enhance your visual communication skills from the Depositphotos blog.
Subscription Plans
Depositphotos has different subscription plans to meet the needs of each customer.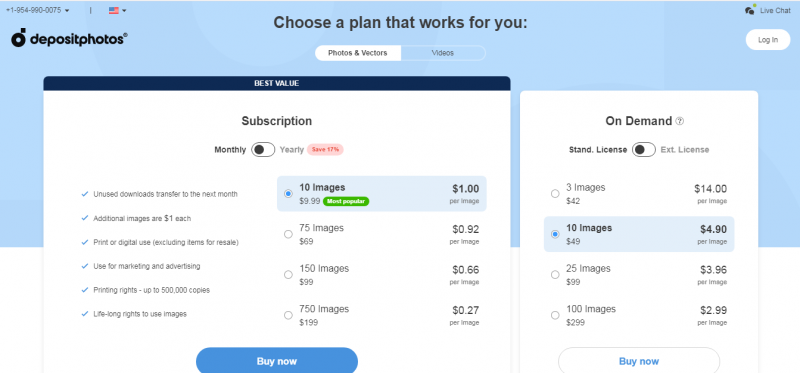 The Best Value monthly plan offers ten images for $9.99 and 75 images for only $69. Likewise, you can get 150 photos for just $99. And if you think you need more, enjoy 750 images at $199.
Best Value comes with some more benefits, including:
       

Unused downloads are automatically added to the next month

       

Additional photos available at $1

       

Allowed to be used for print media and digital platforms (except for second-hand/used items for reselling purpose)

       

Each image can be used 500,000 times

       

Lifetime rights
You can also go for the On Demand standard license and extended license plans to customize your photos according to your projects' needs.
So, if you opt for the standard license, you get three images for $42 or ten images for $49. Also, if you wish to have 25 photos, you can have it at $99. Similarly, get 100 images for $299.
Conclusion
Stock images are ideal to increase the visual attraction of your personal, editorial, and commercial projects at an inexpensive cost. So don't think twice — begin licensing some high-quality, compelling, and cheap stock photos fromDepositphotos to add meaning to your work!