You won't always get along with everyone you work with. That's life! It's important to know when enough is enough. If you are a business owner or manager, it can be difficult to make the decision to get rid of a problem client. Here are five obvious signs you should relieve them of their duties immediately.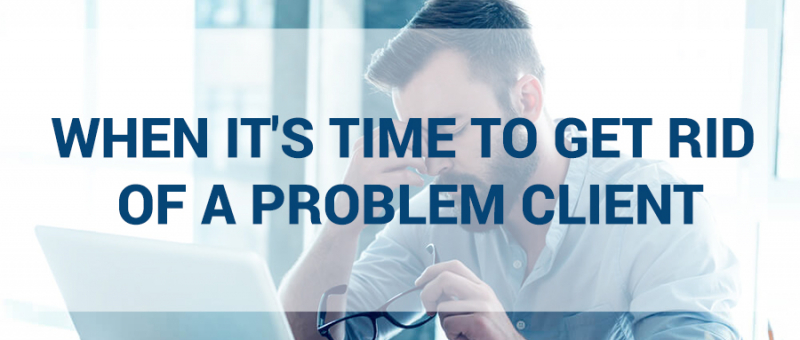 There is no respect or communication.
Respect and communication are keys to completing projects successfully. If your client is not respectful to your or others, and they're more trouble than they are worth, let them go. Communication and respect are both important to making sure a job gets done correctly and efficiently for the good of the business.
If you dread having to speak with them, it's time for them to go.
No one wants to dread going into work and dealing with a problem client, especially one that has a bad attitude. If every conversation you have with them leaves you feeling defeated, that is a sure sign that it is time to get rid of them. If you hide in your office so you won't have to run into them, which is not healthy for you or your business.
They never take your advice or constructive criticism.
If someone refuses to take constructive criticism, they will never grow as a person or an employee. Taking criticism and making oneself better is important to getting better at what they do. Having a fixed mindset will not get a person very far in life because they are stuck in their own ways. If they don't take your advice or constructive criticism now to improve their work, chances are they won't learn how to do it in the future either.
Nothing is getting better, no matter what you've tried.
If you are concerned that it is time to get rid of a problem client, chances are, you have done everything you can to try and fix your working relationship. It is important to know how to fire a client. Never do it when you're angry with them. Wait for things to calm down. Be honest and let them know what has led to this decision. If you've tried to fix the problem and are still unsuccessful, then you must do what you need to in order to protect your business.
If they make the whole office miserable.
It's not just about you and your relationship with the client. If they are affecting everyone else as well, then this is not good for business. Employees that are happy and comfortable will be more productive. If you are imagining how much calmer the office will be without them, don't hesitate to let them go.
Remember you are running a business, and for a business to be successful, working relationships should be positive. While it will not always be easy or pleasant working with everyone, you must know when it is time to make a workforce imbalance correction. If you have recently noticed any of these signs and are considering firing a client, perhaps it is time.