For those who wish to make their own business cards, the process is relatively easy nowadays. There are services that allow you to design and then print giving you instant access to professional looking business cards. If this is the first time you've designed your own business cards, you will want to be sure you take the time to think about what should be included.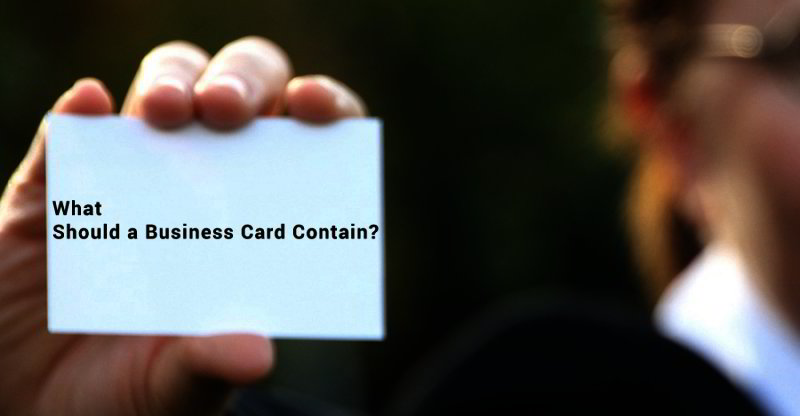 Here's a look at what a business card should contain in order to be effective, plus a few things you'll want to avoid doing.
More Than a Contact Tool
Because people hand out business cards all the time, it can be hard to create one that stands out and actually gets noticed. A good tip to keep in mind is that you want to look at it as more than just a tool for contacting you. This is your chance to connect with people face-to-face, on a personal level, which means it needs to convey your brand and what you represent.
A great way to represent your brand is to include your company logo and its tagline. Make sure it is consistent with your brand in that it can be found on your website, marketing material, and other information.
A Twist on Your Website
Another piece of information that people include is their website. Everyone expects your business website to appear, so this isn't anything interesting. Not only that, they could find the website on their own through an Internet search.
Instead you can add a weblink that takes people to a special page on your website. You can make it a "welcome" page for new customers/clients, and give it purpose. A client is much more likely to remember that experience than just a general homepage link.
You Contact Information – Including Social Media
Of course, your business card needs to contain your name, job title, address, phone number, and email, but there should also be space given to your social media channels. Most businesses have Facebook pages, Instagram and Twitters accounts, and possibly a YouTube channel. These should be included on business cards as people tend to flock to the social media links more so than a traditional website.
Use Visuals for Interest
There's no reason you can't add uniqueness to your business card. Instead of just your company logo you may also want to use a relevant visual. You can even use a different visual on each card to make things really interesting. Again, it's all about drawing attention to your business card and helping it to be remembered and reached for. Your visual could even be items that you sell from your product line.
Get Noticed with your Card
Your business card is a great opportunity to get noticed, connect with people, and make it clear what you and your company stand for. As long as all the pertinent information is included, there's no reason you can't get a little creative when it comes to your business cards.