Aesthetics and functionality – are the primary factors that you need to focus on while designing a webpage. Web designing is inseparable from e-commerce. Whether you own a big organization or a small one, web pages are crucial for the functioning of your online services. It is interesting to note how web designing has changed over the years. From simple HTML webpages with hyperlinks to advanced responsive websites, web designing has gone through a massive makeover.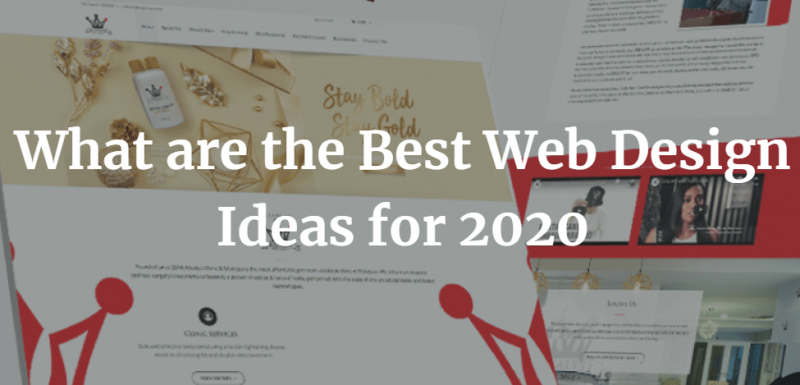 The World Wide Web came into existence 30 years ago. Since then, there have been extensive upgrades both in terms of technology and graphics to give users what they want – content. That's the primary purpose of websites to provide useful information to viewers without making it difficult for them to focus.
What makes a great webpage?
During the initial days, web pages contained text-only info with blue underlines for the hyperlinks. Those were simple, but you had to scroll across a lot of texts to find what you were looking for. Also, the vertical arrangement was visually unappealing.
The mid-90s saw the rise of Flash, a tool that let you create visually flashy graphics to lure customers into buying your products. It led to cluttering, and customers felt lost with the graphics. Off late, webpages have gone a full circle by adopting the old principles of web designing – showing what is required.
Modern-day websites have a minimalistic design with beautiful graphics and an uncluttered user interface. You get a few seconds to make a lasting impact on the viewers. Customers have become fickle and extremely choosy. So, to ensure that they select your products and services, you need to up your game.
How to design the perfect webpage?
To begin with, you need to think about how you can interact with your customers. Responsive webpages are some of the best designs. To do that, create a story in your head and think of how you can integrate that into your webpage.
There are some principles of web designing that every web developer adheres to. Here are some web designing principles that you need to keep in mind.
Send a loud yet subtle message to your viewers about the purpose behind your webpage. Cater to their needs and show them exactly what they are here for. Each page should maintain the overall theme of the entire website.
You have to give information in the shortest time possible. Customers have a limited attention span, and you need to use that to your advantage. Use headlines and bold graphics to let them know which section contains what.
Make the font easy to read
Using fancy fonts will lead to your customers going away because of a lack of readability. Make sure that your font is simple yet effective. Some of the best fonts for web pages are Sans Serif, Verdana, and Calibri.
Be careful of the font size
A font size of 16 is ideal for web pages. No content should have a font size less than 14, or your viewers will have to squint hard to see what's written. Keep the sizes and patterns of fonts similar.
If you want to use bold and vibrant colors, limit them to one or two areas. Using soothing and light colors for the background will let the users focus better on the products you are trying to sell. Don't divert attention by using flashy colors everywhere.
Make use of pictures to communicate easily with the customers. Even if you can't click HD photos, use stock photos from online sites. Infographics are another way to enhance the visuals of your website.
Make your webpage easy to navigate
The purpose of your website will be lost if you make it difficult for the users to navigate across it. Use simple scrolling for more straightforward navigation. Remember that different devices show different forms of webpages. So, customize websites for all devices.
What are the trending webpage ideas for 2020?
Modern web designing is all about minimalistic designs and responsive web pages. You don't have to do much with the webpages, that's the key to a good webpage. By keeping things simple, you can help users navigate easily and find what they are looking for.
Here are some amazing web design ideas to get you started.
Responsive webpages for increased usability
Pick any successful website; you will find that their pages are responsive, and they help the company interact with the customers. Accessibility is one of the biggest areas that you need to focus on while designing a webpage.
Create a striking concept
Everyone loves a good story. Create a unique story in your head and integrate it with your website. Make your users go through the story behind the creation of your company. It will build connections and trust.
Use subtle colors for the backgrounds and make your products the sole focal point. Flat backgrounds with no accent work best. Don't confuse the users with multiple graphics and flashy colors.
Images speak a lot of words. Instead of throwing words at the users, you can help them out with beautiful pictures. A web design agency can help you with this aspect of web designing by taking your products and creating beautiful photos with them.
Instead of vertical scrolling, you can introduce side transitions. Play with different modes to finally select the best one for your company.
Creating a beautiful yet functional website is easy. Hire the best web design agency to make the best use of digital platforms. Remember, your webpage is the strongest link to your customers.
Perfect Web Design for any Business Niche
Just look at how excellently all the wildest design ideas can be realized in the Mysterio Shopify 2.0 theme. Here you get a lot of opportunities to create the website of your dreams. In addition to creative design, Mysterio has great tools to promote your website and business in general. You will greatly facilitate the task of working with customers and sales.
As one of the best multipurpose Shopify templates, Mysterio is worth working with. This responsive Online Store 2.0 theme already has a lot of pages that are 100% ready to use. For example, among them, you will find portfolio pages, blog pages, store pages, etc. Such a variety of pages can easily make your site more informative and attractive.