Before starting a blog, you should find your topic for it. Marketing specialists write blogs to promote businesses, other people create blogs about their favorite hobbies, and someone shares their personal stories and experiences there. If you want to start a blog and turn it into a source of the financial incomes but can't choose a topic, PaperCheap writers have some ideas to inspire your mind.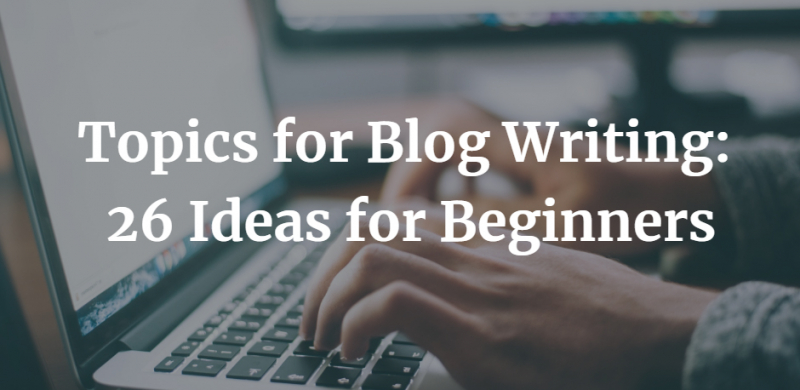 1. List Articles
List articles as any other content-marketing form have their pros and cons: people like reading them, but many websites just "stamp" simultaneous rankings. Lists like "the best ___ of 2018", "this century", "2000's", "all times" and other "the best" topics are to be mentioned separately. Who didn't read about the list of the best movies or photos that have changed the world?
2. Practical Guides
Most people hate reading instructions. When did you read an instruction for your toaster last?
Then, how do people find out the way to do something? They google. WikiHow became popular thanks to guide articles only.
You'd wonder if could know how wide are the audience's interests? If you will be able to find your niche audience and satisfy their curiosity, your blog will definitely become popular.
Write different kinds of practical guides. Step-by-step guides for beginners are always wanted.
If you are an expert in some field, you can share your personal experience and create more full guides for advanced users. By the way, you can write a guide on how to write guides too.
3. Politics
Politics is always a popular topic, especially during years of elections, on both local and state levels. Find an interesting political topic and offer to discuss it on your blog. But be careful: political topics are always reasons for hot debates between supporters of different parties.
4. Cookery
Recipes are good to increase traffic on your website. New extremely popular diets appear on purpose, so recipes will always be wanted.
The topic of cookery, in general, is very famous. Video blogs are the most popular here due to their visibility. They are often devoted to a certain topic: vegetarian food or a "brutal men's cookery" with a lot of meat, for instance.
5. Frequently Asked Questions (FAQ)
Be ready for people asking you frequent questions even if you answer them all in advance. The FAQ page is usually a must-have part of commercial websites, but it is rare to be seen in blogs.
This page is very important and the "Google" algorithm accounts FAQ and other popular topics in its ranking statistics. So, you can be lucky enough to get much higher in search results after publishing an FAQ article.
6. Interviews
A good way to add some style and authority to your blog is to invite certain people: clients, professionals, experts, managers. A periodic usage of such personal info like photos, interviews, and quotes helps you establish a more private connection with your audience. The best way to stand out from the crowd of other bloggers is to publish interviews taken from field experts of both your team and representatives of other companies.
7. Charity and Social Activities
Any of your charity or social activities should be mentioned in your blog. People like crowdfunding platforms like Kickstarter and Indiegogo. By placing your programs on such websites, you can show your leadership qualities.
8. Reviews
If you want to monetize your blog as fast as possible, this post topic will suit you. You can monetize a blog by just publishing product reviews thanks to partnership programs like Amazon Affiliates. Post your reviews on resources trusted by the audience only.
9. TV-Series
Watching TV-series stopped being an entertainment for housewives long ago. Nowadays, movie series are not only filmed on a completely other quality level but gather crowds of fans around. Can you argue about which of two "True Detective" seasons is better? Are you "Breaking Bad"? Do you know why the owls are not what they seem? Great! Write about that in a blog!
10. News
News from original sources is a great way to attract the audience's attention. They were popular long before the age of the Internet when newspapers ruled the world, and news admirers still like them. But there is a thing for you to remember: the competition in this field is very high, so you need to select and serve news right by adding your comments. News blogs are often represented as the whole portals on the Internet.
11. Personal Experience
Did you move to another country? Have you decided to start breeding horses or lose 100 pounds? Share your experience in a blog. This kind of blogging is interesting for readers because events are happening there almost in a real-time mode. In this particular case, the author is an actual person who makes mistakes and reaches successes while telling the audience about the process.
12. Health
A healthy lifestyle is a real trend nowadays. Sports, healthy eating, illnesses' prevention: these are relevant search requests today. But if you are going to write a blog about health, don't forget about the main rule of medicine: "First, do no harm".
13. Myth Busting
Every field has its facts and fiction. That is why shows like "MythBusters" are so popular. People like denying their own delusions about things, so famous bloggers often write buster-posts on some topics.
14. Virtual Reality
The VR popularity will only grow with time. So, posts about virtual reality can attract its fans into your blog.
15. Internet of Things
Smart devices connected to each other are everywhere nowadays, and expert articles on the Internet of things attract the attention of readers. If you decided to write about this topic, keep in mind a high competition: you need to know the field excellently.
16. Automatization
Automatization is a very "fashionable" word in a B2B field, so posts on this topic are the gold mine for the Internet. Automatization is a wide field. You need to choose which types of automatization can bring you a really valuable traffic.
17. Tips and Lifehacks
These websites gained popularity due to different useful tips published there. No matter what the topic of tips is, such articles are valued by readers.
People want to do more for less time, so they always look for instruments, methods, and lifehacks that will be able to help them. Practical hints are reasons for many blogs to be famous.
18. Traveling
No matter how close people become due to the Internet, traveling will always remain a popular topic for search requests. People travel a lot or want to do that. And if you can give a recommendation about visiting interesting and exotic places for cheap, your readers will definitely appreciate that.
19. History
History lessons are great to fill your blog with an interesting and useful info. Many bloggers who have written for long already are too concentrated on current events. So, it is useful to go in for history sometimes to create a consequent material.
20. Beauty
Beauty blogs become more and more popular. They include reviews of new products, makeup lessons, and tips on body care. Brands like to promote their goods by sending them for reviewing to popular bloggers and even involve them to create limited collections.
21. Funny Stories
Humor is always a hot topic. Funny posts are what is shared in social media most frequently. Such websites widely use memes and gif-videos.
22. Tips for Parents
Parents will always be interested in tips written for them specially. Moms-bloggers organize discussions and conferences, share their experience and create a separate stably developing blogging field.
23. Upcoming Events
News about an expected upcoming event always causes a high level of interest and numerous discussions in blogs. No matter whether it is about the Olympic Games followed all over the world or a local concert, the Internet will be full of search requests about that event.
24. Internet Stars
Cooperation with other bloggers attracts new readers, so many content creators join each other to stay competitive.
25. Gift Ideas
Before holidays, there always appear guides helping readers to choose suitable presents for colleagues, friends and family members. Partnership links help increase incomes from such articles. For instance, flower delivery service can write a blog with articles telling about choosing presents.
26. Pets
Blogs about pets have a huge audience. The brightest popularity example is a cat known as the Grumpy Cat who became a real star in the Web. A grumpy animal not only became an Internet meme but was filmed in an ad and had two books released about it which were sold in huge numbers all over the world.
What to Choose?
In this article, we showed 26 examples of topics to start writing a blog. But the list of ideas for a blog or a separate post can be endless. Just think, use some imagination, and you'll find the blog topic you like.