WordPress is one of the most popular content management systems in website building. It has lots of fans both among professionals and newbies in web development. Users love it for its simplicity, comfort, and modernity. Building websites with WordPress, you can save your time, easily edit the content, and protect your data from disappearing with backups.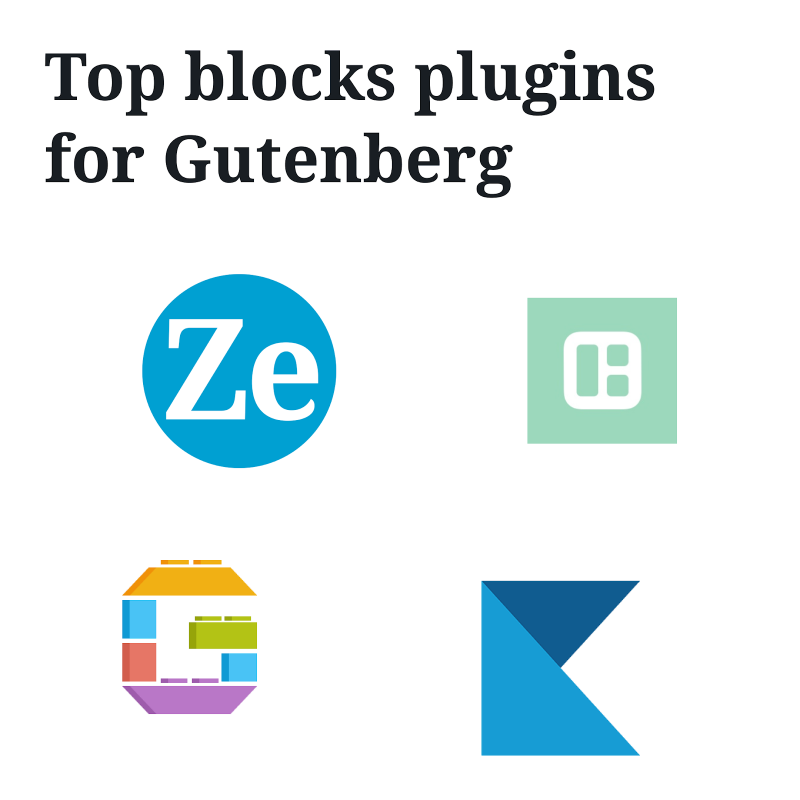 From v.5.0 WordPress includes a native Gutenberg editor that is famous for its block system. In most cases, these blocks are enough to create basic content. More specifically, you will be able to add media, links, listings, embed content from social networks to your pages, etc.
However, if you need more professional and powerful content you can't do without add-ons. 
Fortunately, there is a bunch of tools and plugins on the web created for WordPress and its native editor.
In this post, we are going to show some of the most useful block plugins that will help you build a great website and add more functionality to your pages. Let's overview the key features of ZeGuten, Getwid, and CoBlocks plugins. All of them are Gutenberg-ready and don't need coding knowledge.
How many blocks can you get with each plugin?
Let's start with ZeGuten plugin. The blocks collection of this add-on now consists of 14 elements, but thanks to the regular updates, their number grows with each month. With ZeGuten package, you will be able to create attractive content and structure it in wonderful listings, columns, or grids. Find there the best decisions for your business and services presentation. The plugin is compatible with the latest WordPress versions. Moreover, ZeGuten is Retina ready.
ZeGuten includes such blocks as:
Section block that organizes your content in columns and allows to set video, image, color, or gradient backgrounds; 

Animated box, Carousel, Banners, and Blurbs that are useful in creating advertising content; 

Countdown timer, Circle progress, Icon list, Pricing table, and Progress bar to add statistics, showcase business offers, and progress; 

Advanced map, Image comparison, Posts, and Headings will be great blocks for building attractive and engaging content.
Getwid blocks plugin for WordPress is aimed at building attractive pages. The tool will help create well-optimized content. Keep the website visually astonishing and highly performing even with dozens of multifunctional blocks. Wonderful portfolios, testimonials, team members, and more blocks are at your service.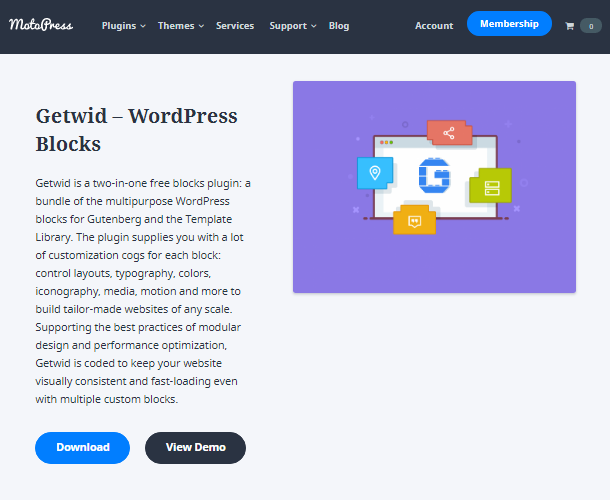 All in all, there are  40+ Getwid blocks:
Try Custom Post type, Post Carousel, Post Slider, and Recent Posts blocks for your blog page;

Image Hotspot, Media&Text Box, Image Stack Gallery, Image Box, and Media&Text Slider for great visual content;

Content Timeline, Testimonial, Tabs, Toggle, Accordion, Google map, Price List, to introduce the business offers;

Video Popup, Mailchimp, Contact form, Instagram, Person, Social links, etc.
CoBlocks is a set of professional elements for page building created for Gutenberg editor. With its help, you can structure your content in rows or columns and regulate the paddings for a better view. Grab this innovative collection to make your web pages look beautiful and engaging.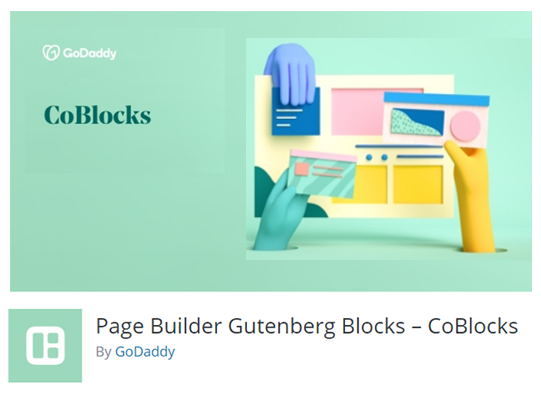 The plugin consists of blocks for various purposes:
Accordion block, Alert block, Author Profile block, Buttons block, Events block;

Features block, Food & Drinks block, Form block, Gif block, GitHub Gist block;

Hero block, Icon block, Logos & Badges block, Map block, Media Card block; 

Pricing Table block, Services block
Customization properties of Gutenberg add-ons
One more advantage of Gutenberg plugins is that they have a lot of customization options for each block. You can attune every element according to your needs and website design. 
Inside ZeGuten plugin you will find a bunch of features for block stylization. You are free to set any color you want. The wide palette is at your service. For certain blocks, there is an ability to add attractive gradients.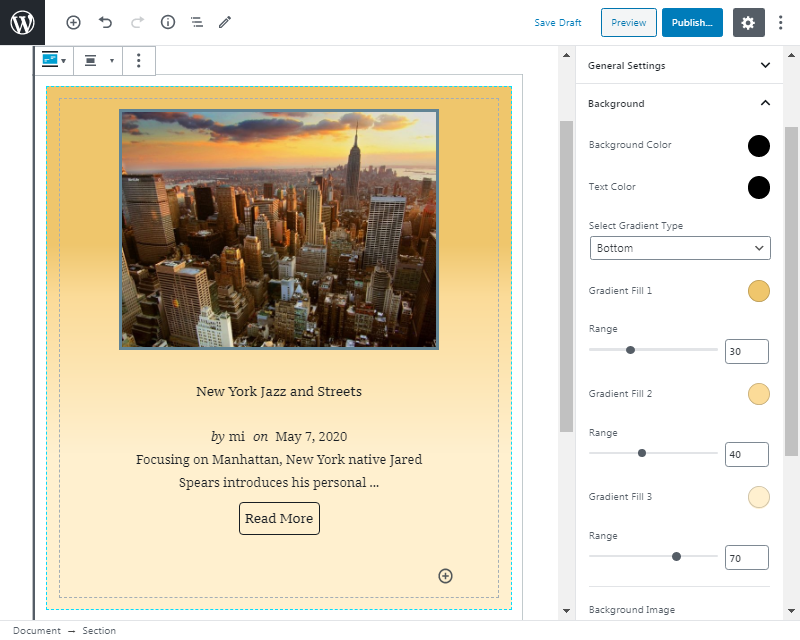 For each paragraph of your block, you can choose the typography. You can choose a proper HTML tag, set the font size, text transform, weight, and subset. Find your favorite font from Google fonts collection and use it with the needed element of your website.
Apply borders to split off the elements from the main body. You can use rounded corners if you want. Moreover, setting paddings and margins it is possible to align the content.  
You'll also get the border, border radius and shadow settings – both for inner and outer shadow. 
The stylization settings repeat for each of the elements in the block, allowing you to make it look exactly as you want.
With Getwid plugin you can improve the settings of each block thanks to its large customization panel. It will be useful for stylizing and customizing the elements directly from the Gutenberg editor. You can always add your own CSS styles. Modify fonts, shapes, colors,  spaces, add animation effects, or use ready-to-use designs.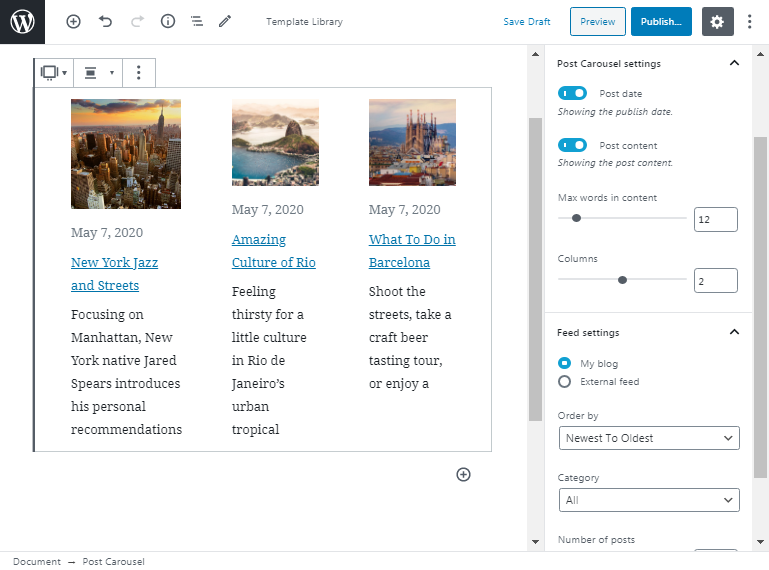 The CoBlocks plugin is very technically oriented. It offers a wide range of custom properties for changing background, colors, and typography. But the plugin is more oriented on the number of blocks and includes only three sections with customizing settings. However, you can design the text with alluring typographic elements.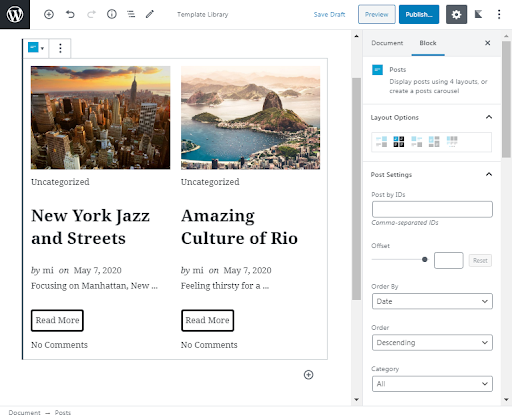 Responsiveness and performance optimization
A lot of users utilize not only desktop devices but also mobile to check the websites. That is why it is so important to make the design fit in with the screen properties. Responsiveness is one of the most important features of each plugin and tool.
ZeGuten plugin allows you to customize each element according to the different device type. Above several tabs, you will notice three icons: desktop, tablet, and mobile. Click on them to attune the block for each of these devices. You are able to set margins and paddings, icon and box sizes, border properties and the font size for different gadgets. With ZeGuten, you may not worry about losing the loading speed, the blocks are optimized for the best performance.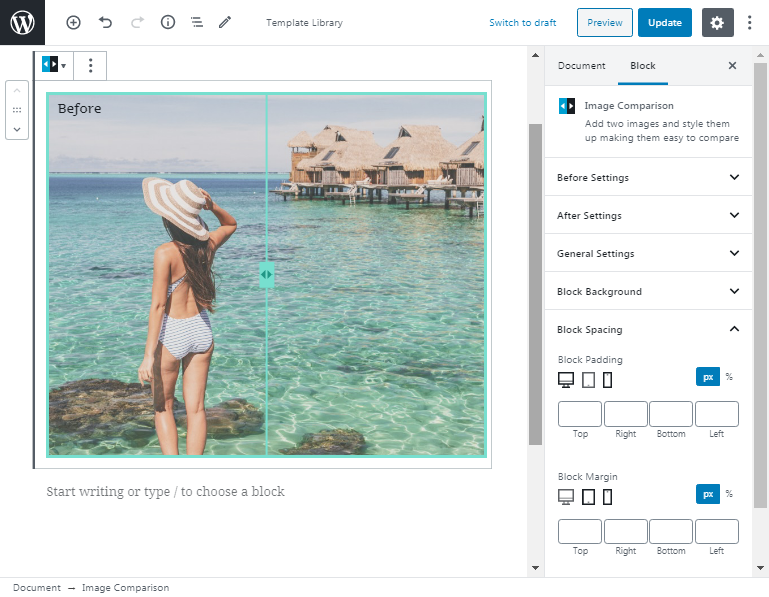 Getwid blocks collection is very powerful. They were built with performance in mind. You may add any number of blocks and they won't slow down your website. The add-on doesn't overload the site and allows to gain better ranking. Reach the top of search thanks to the SEO optimization.
Style the pages based on a responsive grid system of CoBlocks plugin using its Row block. Select the number of columns you need, choose a layout, drag the borders to resize, and set paddings and margins.
How to choose the best blocks plugin suited for you
Here were some of the best WordPress blocks plugins you can use to modify your pages. You can choose which one to use, or use them in a combination. They are simple in use and will be a good addition to your website.
Moreover, if there are some problems or difficulties while working with the plugins, you can reach out to support teams for help. ZeGuten and Getwid have their own support teams and Facebook chats. Coblocks is scant inch back providing only basic support. Feel free to write to them.