E-commerce stores and platforms are increasing each day, resulting in the nip and tuck competition in the market. For which, the entrepreneurs are in dire need of some marketing trends to outsmart their competitors and have a large audience at their end, which leads to increased sales.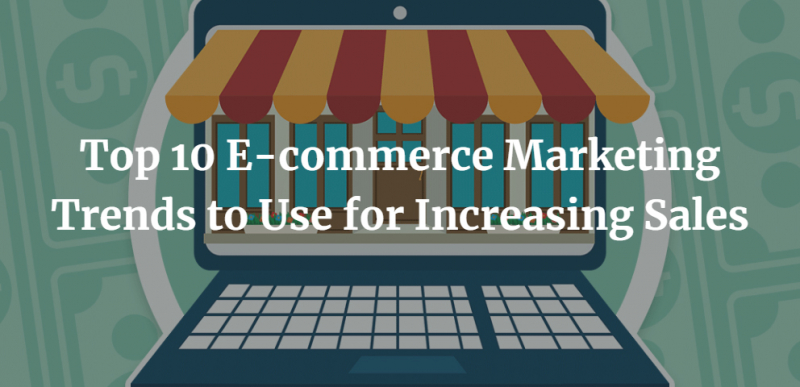 Here we provide you the top 10 proven marketing e-commerce trends in the year 2018 to attract traffic and increase sales.
1. Optimized Contents
Optimized contents are the soul of e-commerce, as 75% of the people get lured into the website or get attracted to it through the quality of the content and for that they use attractive e-commerce templates for their creative e-commerce store development.
The rich content posted on different websites or social media posts makes a way for huge traffic to your store resulting in increased sales.
2. Advertisements
Advertisements are a way of showing and attracting traffic. Google and Facebook advertisings are the best ways to grab traffic towards the websites.
Visual advertisements displayed on sidebar's and on other websites are proven to attract 60% traffic to the target website and contributes substantially to increasing online sales.
3. Personalized Emails
Personalized emails are one of the most trending marketing strategies implemented by many e-commerce platforms. Emails with a personalized subject line are 26% more likely to get opened.
Well-executed and flair messages containing emails give you an opportunity to show off your brand's personality and increase sales.
4. Surveys
Knowing how your customers liked the product they bought recently or what they want to buy in the future or what they like in a particular product will help you grow and also in making enhancements if necessary.
The Surveys are an alternative way to know where to aim right to get the audience attracted.
5. Push Notification
Push notification is another way to have people on your end. These push notifications are the messages that pop up on the devices sent by the App publishers, and for these, the user need not have to be theApp user.
You can get the detailed push notification explanation online that can help you understand the use of it to increase traffic and sales.
6. Video content
Videos posted on the e-commerce store page are one the best ways customers find to study the product at every angle. The video content to the audience seems more alive and realistic, for which they get attracted to the most.
A short yet detailed video content can be a way to successfully attract the audience and increase online sales.
7. Influencer marketing
People buy your products based on your reviews and ratings. So, influencer marketing will help you attract the traffic and increase sales by having some genuine product reviews and experiences posted on your store, which are acquainted by surveys of previous customers.
This helps you in making a connection with the large audience and will eventually increase online sales.
8. Speedy shipping
Cheap but takes long, fast but expensive can be the factors to lose your customers.
So, try working with fast delivery services everywhere; and if you can't find one, work with several delivery services.
The shipment of the product and the quality of the product are the twomost important aspects, a customer judges you on.
9. Social Media
A social media setup is very much necessary if you want your e-commerce store to reaches a culminating success, as 80% of the customers that visit the e-commerce stores are attracted through the Social media.
Facebook likes, Instagram followers etc., are a few aspects of the social media where people will judge your popularity.
Since popularity is the make or breaks factor, you can buy Facebook likes and free Instagram followers for your page to increase sales of your product.
10. Discounts and Contests
A Cashback, offer, coupon or a discount tag on the image of the product proves to attract 70% of the traffic and listed are among the latest trends of attracting traffic.
Contesting on the social media setup or on your e-commerce also helps you in keeping your customers engaged and preserves their love for your product.
Contests and "giveaways" are also the best strategies to attract the traffic and increase sales.