Growing consistently in the online market is the toughest challenge that every business person and the marketer has to face. From evolving technology to changing search engine algorithms, to increasing social media networks, digital marketing is a way more vast landscape to stay updated with. But, that cannot be a reason to lag behind if you are really adamant to reach your marketing goals.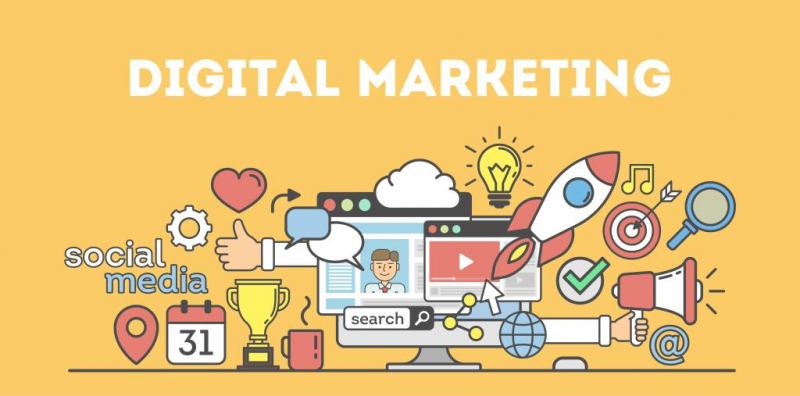 So, what is the simple way to overcome this issue? Well, you can bookmark a few blogs that consistently come up with the latest updates and trends in digital marketing. Here is a comprehensive list of digital marketing blogs you can consider.
The Moz Blog
The Moz tops the list as this is the most followed blog for the best SEO content. You can count on the SEO articles for all the bits of advice, research, how-tos, and insights, which are practically useful in search engine optimization.
All the articles on Moz are the personal experiences of the industry's top wizards and experts. Above all, each piece is selected after a quality check. So what you get to read is an impeccable piece of content. Besides, you can also get the latest news on SEO to keep up with the marketing updates. Readers love this site mostly for the top-notch how-to SEO guides.
Neil Patel Digital
Whether you are a new bee or a proficient, Neil Patel Digital is an all-in-one destination to learn new strategies and tips on digital marketing. There are times when you want to learn everything about marketing – this is the place to hit.
Just enter the domain you are interested in and you will get an array of valuable articles to enhance your knowledge. Each article is a fine piece of information integrated blog content and therefore many of them are extremely lengthy. This is one of the highly-trafficked sites for learning content marketing, conversion rate optimization, ecommerce, email marketing, online marketing, SEO, paid ads, and social media.
SEO Sandwitch Blog
One of the huge sources of digital marketing articles, SEO Sandwitch stands out of all the similar blog sites. It features all the trending topics and aspects of digital marketing like SEO, content marketing, PPC, ecommerce, and social media, covering a broad spectrum of topics. While it is consistent with the high frequency of published articles, it also maintains the quality of content. If you are looking for actionable insights in the blogs, SEO Sandwitch is the best SEO blog site to bookmark.
Search Engine Journal
As the name suggests, it is a lot more about news and the latest updates on search engine optimization. However, the perimeter of topic coverage is greater than just SEO. You can get several detailed articles on PPC, social media, advertisement, and more. Plus, each topic covers separate sub-topics discussing advanced tips.
Search Engine Journal is unique in terms of its source of news and articles, as the news items are mostly sourced directly from Google. This is one of the most sought after blog sites for its authentic and latest news on search engine algorithms and SEO.
Omniconvert
Omniconvert blog is perfect for people looking to implement the latest digital marketing strategies to increase traffic to their website. Each article published by Omniconvert focuses on improving your revenue using digital marketing.
From customer segmentation to content marketing and improving user experience, Omniconvert covers all the topics related to digital marketing. Most marketers follow Omniconvert for ecommerce marketing and increasing sales.
HubSpot
If there is any blog site where you can get the top articles on marketing, it is HubSpot. Being a marketing automation company, HubSpot excels in all the nitty-gritty of marketing and therefore you can expect valuable articles on marketing and related aspects like sales, services, and websites.
Highly experienced marketers share their ideas and tips through blog content, which is extremely useful for professionals. You also learn the latest strategies through Ebooks and guides. HubSpot is a choice of millions for reading articles on marketing.
The Ahrefs Blogs
This is also the place where you can uplift your skills in SEO and digital marketing with detailed tutorials, case studies, and opinion pieces offered by marketing practitioners and industry experts. Each article adds value to the readers of both beginners and expert levels. They can get benefited from in-depth articles on various topics like keyword research, link building, website traffic, SEO basics, and more.
Marketers mostly follow this blog site for tips and guides for link building, competitive research, and backlinking analysis.
Search Engine Roundtable
The best way to stay in touch with the latest news on SEO is to bookmark this comprehensive news blog. You will get well-rounded latest news and tips from the search engine marketing community, all focused on organic search and SEO (search engine optimization). Every news and update on search engines like Google, Yahoo, and Bing are covered separately.
Other than that many other important and expert level topics have been covered like web promotion, legal search issues, search pulses, affiliate marketing, and a lot more. The vast majority of readers bookmark Search Engine Roundtable for SEO news and Google marketing.
Content Marketing Institute
Finding the right guidance on content marketing is not easy, especially when the competition is so extensive. The Content Marketing Institute shows the way to follow the correct form of content marketing through its high-quality articles on content strategies.
The CMI is known for its global content marketing education and training. Obviously, they are masters in creating compelling and industry-standard content. The site is rich in topics like building your audience, visitor retention, and digital industry news. Readers label this site as a hub of the industry's best advice strategies offered by some of the greatest content marketers across the world.
Search Engine Land
Search Engine Land is the place where you can get comprehensive information on digital marketing. It covers a vast segment of which major portion is covered by recent news on social media and technology promotion. A large pool of content including tables, guides, tips, and articles are available for marketers to improve their skills and knowledge. The best part is it thoroughly covers each information and news of search engines like Google and Bing.
The blogs published here are offered by the industry veterans and they are meant for experts of high degree. Intentions of Search Engine Land to satisfy every reader with high quality and valuable news/blogs is what makes it one of the most popular sites among marketers.