Wonder when your audience react the same, looking to a lackluster website? I am sure you won't expect such reaction? A website is the mirror image of your company personality and environment you have in your office.
I am sure you are aware about the fact that on average it takes only few seconds to decide whether your audience wants to explore your website or leave your website, i.e. you either get a sale or you loss one customer.  It all depends on the structure of your website and how interesting and creative you make it to, so that your audience can easily connect to your aim.
A website is comprehensive forms of many blur aspects like web design, SEO, UI, Content, and UX. We all know that on site activities like reducing bounce rates and increasing time on site as well as off site factors like social sharing and links are all important if not crucial to your online success. There are various aspects you need to work, sometimes with very little effort.
To make your site link worthy, you need to work on the "I" factor of a website. The I here is INTEREST. The interest is depends on many things, the content, creative designs and logo's, your services, your website flow, navigation and many other things.
The part of your plan should also focus on the wise designing of your website. So there may be a need to hire web designer to meet your designing goals.
This article will help you in your aim to reduce the phishing scams, malware and make it more interesting, less confusing and thus resulting into a more click worthy website.
Improvise your Typical Website Pages
Creative liven up people pages that consists unique insights for each site rather than the typical professional build content and picture, will attract more people. You can use a cartoon whenever the point rollovers on the picture or using typical pictures but in a quirky way, just as displayed in picture. It becomes addictive and develops an interest to see what each one is doing, and that increases time of user on site.
Privacy and Terms & Conditions pages
The privacy and terms pages doesn't need to be controversial, but you can always present the terms and privacy using a character with images and build trust by abandoning all the legal jargon and using honest, reassuring promises in plain language for your users.
Using a funny character along with a humor line can help you to maintain your audience interest on website. We can even promote a featured product, or a team member and recent done project of company values with your dead space.
Further, you can even connect your users with an game on your dead page, instead of sending them back.
On about us page you can combine company history, your aim and achievements, your history till now using a infographic or characters resembling your company identity. This helps to demonstrate the key people and products, personality of company in one go.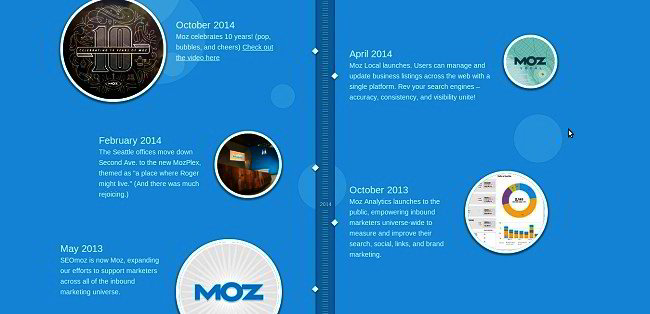 Source: https://moz.com/about
You can add any creativity in your Contact us relevant to that particular industry. One of the company Fixel swapped the faces of the designers with that of a giraffe.  If you scroll down, the designers are then represented with silhouetted facial hair along with their contact details. You can even represent your contact page as shown below: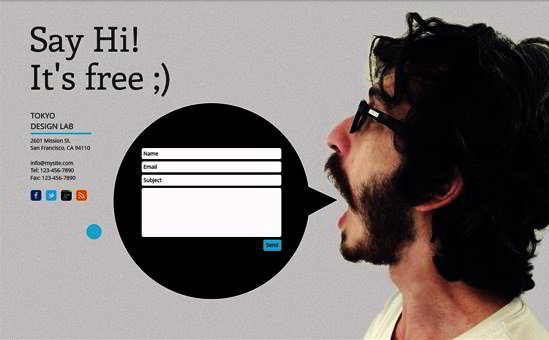 Source: Wix Web Template
Your footer contains boring copyright and legal information or may be social links, right? But why not use custom footers for the users who are bothered to scroll right through your page, with advertisements of your products or services through designing.
Overall Improvements
Clear and Unambiguous Copy Writing
Headlines are the attention seeker of any user and yes crucial for website's success. Ensure your headlines are specific and ambiguous. Ask question to you, if they could mean something else in another context. If they, then its too vague.
Avoid "buzz words and even don't use words like strategic or innovative, when you can tell the same thing like "We sell X to people who love Z". Further, start using verbs as much as possible and add call to actions like "Hang on for Free Advice", "Get a free quote", "Sign up to get a SmartPhone".
Make your SERP Snippet Click Worthy
"Meta Titles" one of the most ignored SEO strategy, but believe, one who exactly knows what these things mean, won't dare to commit this blunder crime with their websites.
I am confident if you use all these secrets while working for your portal, you will be on the verge of boosting your Clicks.
Author Bio:
Jerry Mitchall is the marketing strategist at Kodematix. He really likes to shares his views and knowledge about Website marketing as here in this post he acknolwdges us some of the best methods to be implemented on website to make it more trusthworthy.