Getting More Blog Traffic: An Introduction
Let's not beat around the bush–if you're taking the time to write and provide web hosting for a blog, you need traffic. High quality traffic is a necessity before you can even think about monetizing your blog.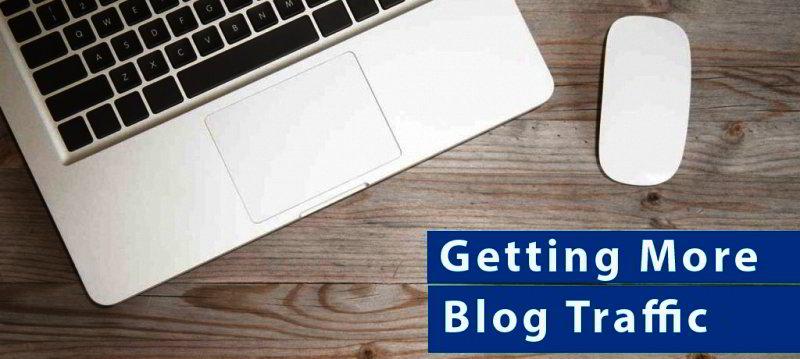 Whether your blog is a standalone project or a tool for your business to attract more inbound links and better search engine results, you need more than just great content to drive high quality traffic to your blog: you need a strategy.
Don't let that scare you off, we don't mean that you have to obsess over your blog day and night; rather, when you focus on choosing the right aspects of marketing and SEO tools, you can get more results from less effort.
Sounds too good to be true? It's not! We invite you to look through the following tips to boost your blog's traffic.
Create Helpful Titles for Your Posts
The old saying goes that you should "never judge a book by its cover", but we judge things by their covers or titles every day. If you were trying to find, say, the best bottle of red wine under twenty dollars, would you be more inclined to read a blog post called "The 10 Best Bottles of Wine Under $20" or one called something generic like "Budged Wine Information"?
99 times out of 100, readers are going to go with the former blog. It can be hard to "dress up" certain topics, especially if you operate in a specialized niche, but adding a list is an easy way to let readers know what they're in for when they visit your blog.
Most readers want two things:
1 Simplicity
2 Helpful or Interesting Information
Simply put, your title should assure the readers that those are exactly the things your post will provide.
Below are a few ideas to get you started:
• 3 Myths About ______
• The 10 Best _____ For the Summer
• 7 Incredible Facts About ________
Vary the Length of Posts
It can be hard to determine the right length for your blog posts; if an article is too short, it probably doesn't contain much valuable or shareable information; if an article is too long, it's unlikely that it will be read and shared widely.
It's also important to consider the length of your paragraphs. People don't like large chunks of text. Be sure to break up your page with proper spacing and eye-catching graphics. It can be useful to check out popular blogs and emulate (but not copy) their format.
Many bloggers have found their "sweet spot" to be around the 850-1,000-word mark. Test it out and see which posts are more popular (keep in mind, however, that the length is far from the only aspect that will determine your content's potential to go viral).
Pay Attention to the Competition
While you shouldn't copy popular content, you should be aware of the kinds of blogs that people are sharing widely. A Google or Quora search for "popular blog topics" can provide you with some useful metrics.
Steps 3 & 4: Find and Understand Your Audience
If you're writing a blog for college students, it wouldn't make sense to write in an ornate, formal style. Conversely, if you're writing for a wealthier, older group of people, you'd be ill-advised to throw in a lot of vulgarity or questionable jokes. The point is simple: know your audience.
Unfortunately, you often have to know them before you find them. This might sound like a Catch-22, but it can be as simple as using the following thought experiment:
• What topics is my audience interested in?
Are you going for an all-over approach, or are you tapping into a more specific market? Broad and popular subjects (animal pictures, heart-warming "human interest" stories) can be great for a site like Buzzfeed, but if you were writing a blog about Star Trek, for example, you'd obviously need some pretty specific content to keep your readers happy.
• How can I convey expertise?
It might sound a little dishonest, but even if you're not an expert, you should probably be framing yourself as an extremely knowledgeable individual when it comes to the topic at hand. (One way to accomplish this is with the proper title, as we mentioned above).
• What brands and companies "Match Up" with my audience?
While you might not be ready to think about advertising yet, thinking about your audience's preferred brands can provide some unexpected insights into how your readers think; and, yes, down the road, a knowledge of their preferred products and brand loyalties can give you a leg up with advertisers.
Moving Forward with Your New Strategy
All of the steps we've mentioned so far are free; they only take your time and effort. However, if you're truly serious about blogging, eventually you should own your domain name. Buying a domain name and paying for a website can be somewhat of a hassle, but ultimately, people will view a website like "YourName.com" more than a blog hosted at "YourName.FreeBlogsForEveryone.com".
If this all sounds a little bit daunting, it might not hurt to consult with some professionals; we can hardly blame you–it's tough enough just to write great content, let alone worry about a website. Thankfully, web designers are more common than they've ever been (and they're less costly, too). They can walk you through the whole process and recommend their favorite web hosting platform.
We hope you've found our blogging tips useful–now it's time to get writing!