Recently I was checking my client's Google Search Console stats and noticed a noticeable uptick in traffic.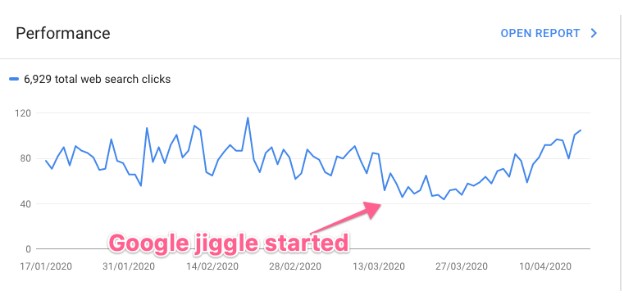 Now – there are a number of reasons why organic traffic can go up and down for a client – but one thing I noted was that I had not done any SEO work on the client's site – and yet the traffic had climbed in the highest it's been in a month.
As I thought about what I did for the client one thing came to mind.
It was this Corona notification:

It was added to every page to let clients know about how this particular business was handling and dealing with the Corona epidemic and how their business hours would change to fix it. I won't go into what each button did but the point to take away from this is that this header was placed into every page on the site using a plugin which I'll discuss later.
So It Got Me Thinking… Should we All Start Doing the Google "Jiggle"
Think about it – Google has confirmed that "freshness" is a ranking factor – but who has time – I mean imagine you have a site with 400+ pages – who has time to update each of those pages every day. But what if you were to change one thing on all those pages. Would this not contribute to the freshness rating?
This could be something like updating the footer – or in this case adding a Corona header. But the point is when a Google bot comes to your site they're going to see the code has changed – and they're going to give you credit for that. 
Yes – I realize this is not a strategy
When I shared this in an SEO Facebook group – I got comments about how I should focus on getting godo links, writing great content etc. for my traffic. So let me just be very clear – this is not a stand alone strategy – but if you could create this kind of growth with just a single jiggle – wouldn't it be worth it to do a jiggle now and again? 
Even if it means an extra 10% of traffic – it would only take a couple of minutes to do.
So how do you do the Google jiggle and get an additioanl 10-25% traffic.
Here are a couple of options:
Google Jiggle Strategy #1: Fresh Notification Bars with Thrive Leads
As in my client's example – just put up a notification on your site – perhaps some news that is relevant – maybe just a link to the latest blog post or even Facebook post. Doesn't matter. You can do this very easily with a plugin called Thrive Leads. 
With the Thrive Leads you can create a ribbon at the top of the site with whatever information you like – and then just update it.
Since Thrive Leads is a paid plugin – you could look at using something like 'Easy Notification Bar' plugin – which will generally do the same thing.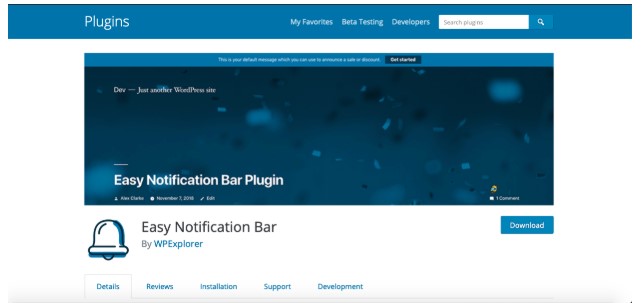 Then just "jiggle" the site with an update to the notification bar which will update across the entire site.
Google Jiggle Strategy #2: Dynamic Footer
The other idea is to have either a dynamic footer or a constantly updating posts struture. If you constantly update your posts – by adding new ones – and your footer shows the 5 most recent posts then all your pages would be updated.
Alternatively you could fetch 5 random posts in the footer as a way to keep the site fresh also. It's up to you.
Let's all do the Google Jiggle (Are You With Me?)
So I implore you to try the Google jiggle for yourself – freshen up your content with these simple tricks – even if it only means an extra 10% traffic per month – it's easy to do and worth a shot right?
Get Jiggling!
If you have any questions about this post or any other WordPress topic simply head over to my website – I'm a WooCommerce developer in sydney – and fill out the contact form and I can get back to you. I work with clients such as criminal lawyers in sydney and others in the cosmetic industry. Thanks for reading!