TECHURLs.com is a super neat site that collects technology news titles from the top 30 tech news websites and blogs. It is not only an aggregator but it's also a tiny Google-like search engine for all your tech queries. If you're a technologist, then you'll fall in love with it and use it as your daily driver for getting your morning dose of technology news.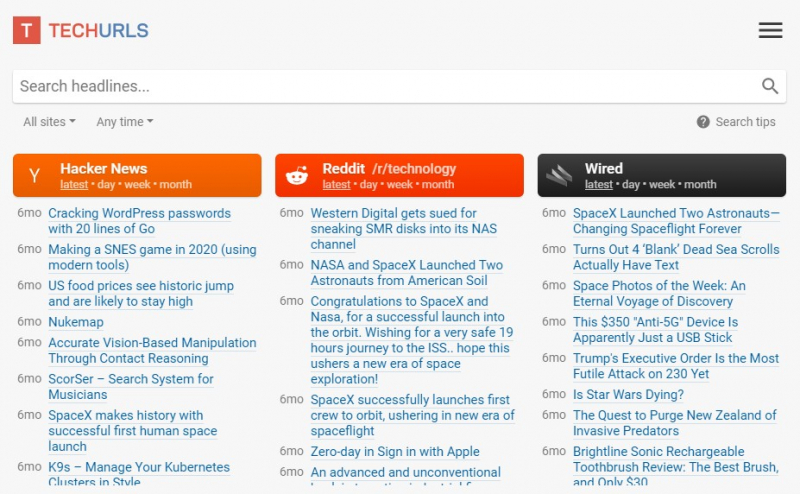 TECHURLS.com (a site of great interest)
The reasons TechURLs is so great can be summarized in this list:
High quality modern design
Curated list of top 30 technology websites and blogs
Feeds are updated every hour
You don't need any other sites anymore to get the latest tech news
Website loads faster than fast
Search engine offers quick access to articles
You can search titles and URLs
You can hide feeds that you don't like
Moreover, as there are unlimited other sites and blogs that provide tech information, it takes a lot of time to go through them. None of them match the contents of TechURLs as it's easily visually scannable, searchable, and highly accurate. The real benefit of TechURLs is that you don't need to go to different sites anymore as it aggregates all the best tech in one place and it saves your time.
SITES WHICH DOES TECHURLS COVER?
TechURLs uses an advanced scraper to get the news titles from the world's best technology websites. These are the most amazing tech sites that you could visit on your own but that would take a lot of time. The sites that it aggregates are:
HACKER NEWS, REDDIT, WIRED, SLASHDOT, DIGG, THE VERGE, MEDIUM, TECH CRUNCH, MASHABLE, ENGADGET, READ WRITE WEB, THE NEXT WEB, ARS TECHNICA, RECODE, MAKEUSEOF, TECHMEME, TECHRADAR, BUZZFEED NEWS, INQUISITR, BUSINESS INSIDER, NEW YORK TIMES, TIME MAGAZINE, CNET, AND BBC NEWS.

These sites cover close to 90% of world technology news and if you want a particular topic or particular site, with a couple of clicks you can change the order of sites and use the search bar to find topics in microseconds.
SEARCH FEATURE
The killer feature of TechURLs is the search feature. It includes article archive from many years ago and it can reveal the historic news for any topic. All the search results from the selected websites are placed in a single pop-up card that is sorted from the newest to the oldest. Users can scroll through them or select a topic and immediately open the news post. The search is clean and speedy and provides Google-quality search results. One more simple way to search from a browser bookmark is to use the "?q" search query argument. For example, if u want a GitHub article you can pull up techurls.com/?q=github URL in your browser and you'll immediately get all GitHub news.



ACCESS TO OLD CONTENT
This site not only provides the latest content, updated once per hour but it also keeps a tab on old data also. By default, it shows the latest 20 news entries but if you click daily, weekly, monthly menu items, it shows more and more older posts.


USER-FRIENDLY SITE
TechURLs provides one of nicest and user-friendliest interfaces on the web. It's optimized for desktops and mobile devices. On desktop you get 3 sites per row but on mobile you get 2 or 1 row. You can select the "Rearrange" item from the site hamburger menu to change the order of sites so that even on smaller screen you get exactly the sites you want.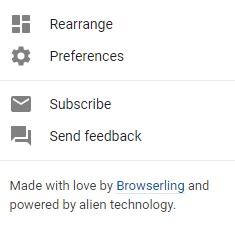 Via this menu, you can also change preferences (such as highlight keywords) and subscribe to latest site news. You can also send feedback. If you are satisfied with this tech site, please send the developers a friendly thank you message. If you have suggestions, you can also use the feedback form to ask the developers to add new sites or make improvements.
ENDING THOUGHTS
The ending thoughts in this post are that the site makes accessing technology news a breeze. The site is free and it's not a premium service like other news aggregators. The developers made it with love and it's powered by alien technology from the future. They have truly revolutionized the area of news scrapers. The site is used even by students and simple technology enthusiasts. Everyone we know likes this site.