Anyone who tells you they have the formula for the perfect landing page is lying, but there are certainly some techniques and principles that have consistently provided a lift in conversions when strategically deployed.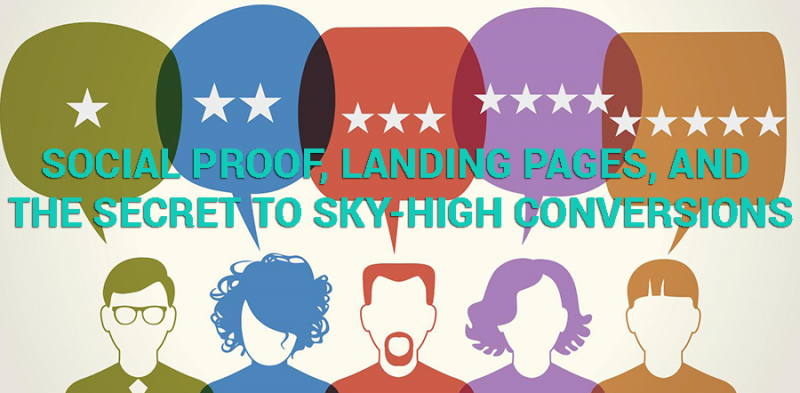 3 Ways to Utilize Social Proof
Ask a dozen marketers for landing page tips and techniques and you'll get a dozen different answers. Ask them about social proof and they'll all agree. No matter who you are, what you're selling, or who your target audience is, social proof is incredibly valuable (particularly as it pertains to driving conversions).
"Social proof is immensely important for landing pages, to the point that it's one of very few elements I've never seen reduce conversion rates in my own tests," copywriter Joel Klettke says. "Third party proof does so much at the same time – sets expectations, gives leads a comparison party to weigh themselves against, reinforces your messaging and substantiates your claims."
There are dozens of ways you can utilize social proof, but if you're looking for some extremely applicable techniques, try the following:
Customer Reviews and Testimonials
If you really want to grab a visitor's attention, customer reviews and testimonials are a wonderful place to start.
"Today's average consumer reads a lot of product reviews before making a purchase," points out Arash Asli, CEO of Yocale. "When it comes to conversions, use product reviews to your advantage as they create trust in the product or service. Interestingly enough, studies continue to show that product reviews are just as trusted as a recommendation from a friend."
As with any social proof element, customer reviews are most effective when they're incorporated above the fold. This maximizes exposure and ensures they don't get overlooked. It's also helpful to include a real headshot of the individual giving the review. This keeps people from assuming the review is fake.
Trust Seals
There's always some degree of hesitancy and distrust present when a customer interacts with a brand online for the first time. The fact that there's no face-to-face connection means the customer has to verify that you are who you say you are. One way you can speed up this process is by including trust seals on your landing pages.
As IM Creator's Erez Zundy explains, "'Trust seals' usually come in the form of symbols or 'badges' that show users you are a legitimate business. A third-party security entity, such as an anti-virus or encryption service, provides individual websites with trust seals once it has been determined that the website lives up to their standards."
A trust seal might look like an SSL certificate, anti-virus badge, or icon from an accrediting institution like the Better Business Bureau (BBB). The more you can include, the quicker you'll establish trust with your audience.
Data and Numbers
If there's one thing people like when vetting a product or analyzing different options, it's data. There's something very concrete and objective about data, which allows customers to compare results and understand how a product actually performs.
Data and numbers are especially important for B2B companies that have highly-educated target audiences. As research from EY and Forbes Insights shows, data is viewed as an integral tool for attracting new customers and fostering trust.
Give Visitors a Reason to Believe
When someone clicks on your landing page, they need to be convinced that your product is worth their time/money/etc. While strategic copywriting, high-resolution images, and a clever layout can all help, they can't do everything. You have to give your audience a reason to believe – and social proof is the answer. In a world of subjective claims and selfish advertising, social proof provides a degree of objectivity that's impossible to obtain otherwise.