Prior to delving deeper into how to choose a template for email, let us find out what an email layout actually is. Also, known as email template, it is basically a layout that is "pre-determined".
In fact, it might also contain images and text when it comes to content. The main advantage is that instead of creating a template for email right from scratch, you can use this layout as a "base".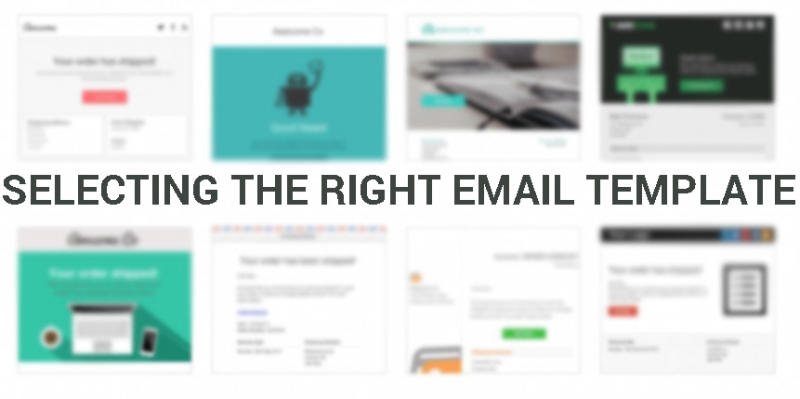 Most importantly, you can adhere to the guidelines that govern the designing of templates for emails. So, when you are using a pre-determined email template, you know that these templates have already been designed keeping in mind the requisites of building a template.
In this write up let us find out how you can select one so that you are able to connect better with the audience and also enable clients to make use of this platform for better communication. Check out the following points-
Identify email campaign
When you are trying to launch a marketing strategy, you have to be ready to include variety that include different types of campaigns revolving around email, one of the most effective modes of communication-
Announcement cards – There are times when you need to send an announcement card to your existing as well as new clients to convey the message that you are about to launch a product or maybe you are trying to help them recall that there is an event around the corner.
Newsletter – An email newsletter aids in staying connected with your audience by keeping them informed about new developments.
Aside from the above two, the other email marketing campaign avenues include-
Business letter
Reviews
Feedback
Events
Press Release
Sales
Promotional events
Select best mode of communication
Once you have decided upon the type of email campaign you want to opt for, the next step is to find out which mode of communication will be best suited for your clients and your business goals.
It may be mentioned here that email templates can be customized and most importantly, they are built and designed in such a manner that will adhere to best content layout in mind. This can be better understood with a few examples-
If you are planning to use newsletter, the template in this case will be developed in such a manner that will accommodate multiple articles alongside offering provision for incorporating images and text.
If you are using Press Release for conveying your message, the email template will be designed in a manner that will support the incorporation of logo as well as space for other details that need to be included.
For the purpose of promotional events and emails, you will be allowed to incorporate text of different sizes.
Most importantly, you have to plan out your content ahead of finalizing your template for email.
Opt for your own marketing strategy
Just as no two organizations will require the same email template always, the marketing strategies have to be different too. In order that the marketing strategy will work to your advantage, you can seek assistance of your marketing team and get the figures so that you know how you have to rework your plan so that the output is even better.
Using an email builder
This is one of the tools that will enable you to use the template effectively. All you have to do is simply "drag" and "drop" the content and apply it to the marketing campaign that you want use. It is very simple to use and most importantly, it allows for plenty of customization.
Importing custom code for email template
You have another option of building a template in the HTML editor followed by importing it. Alternatively, you can also make use of language templates that allow you to experiment with working out marketing strategies in different languages depending on your target audience.
An email editor can also be used in the event you want to make certain alteration depending on your organizational and email requirement.
You can approach a designer that can help you to select the template for your email, the one that will serve the best for your business.