Decades ago creating a website  was a difficult process. Business owners had to hire an overpaid specialist or, if they had enough knowledge and experience, they had to spend many days for creating codes. Nowadays, if it wasn't for website builders, we would still struggle to build a simple website.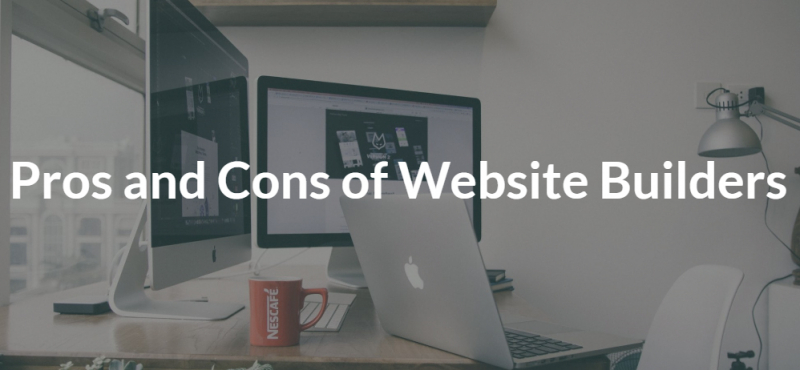 The best website builders for small business and personal needs are Weblium and Wix that provide clients with platforms where they can build a site using an interactive platform. One of the best ecommerce website builder in UK according to reviews in 2018 includes Wix and Squarespace too.
Wix website builder include:
low prices,

online shopping integration,

ready-made design templates,

web hosting and domain service,

support,

customer friendly platforms.
Website builder like Squarespace even offers a separate portfolio builder. However, there are some pitfalls users should know about.
CONS of website builders
LACK OF PROFESSIONAL DESIGN
Users build trust with the company judging from the visual aesthetics of the site. The first impression plays here a very important part here. In some cases you may still need to hire a professional web designer for serious business.
PROBLEM WITH SEARCH ENGINES
If page ranking is important to you, you need to remember that search engines like organized, well-structured codes and hierarchy, while in many cases with website builders you can control only the design of your site.
Unless you are subscribed for more expensive premium packages, you can be very limited as to number of pages and other features you may need to add to the site.
Website builders usually use similar layouts. If you need a more structured one, you will have to call a specialist. Besides, in many cases such websites won't be mobile friendly.
PROS of website builders
The first advantage already mentioned in the beginning is absolutely no need in knowledge of coding which saves huge amounts of your time.
Website builders usually provide attractive designs, moreover, you upload the images and videos you like and add up to making your own design.
When you need a rebranding or domain change, you easily export your website/separate pages to other platforms, however, not all website builders allow this feature.
Website builders will cost you money as well as an experienced web designer, but with website builders your costs will be much lower.  
So, the decision on whether to use a website builder or a professional web designer mostly depends on your requirements if it is a simple personal blog or a website for serious worldwide businesses. We strongly recommend to look at both options before making a final choice. There are some unique website builders that don't have typical cons of those kind.
The best web builder known in the sphere is Weblium. How is it better from others? To see the opportunities you will have there, just follow the link https://weblium.com/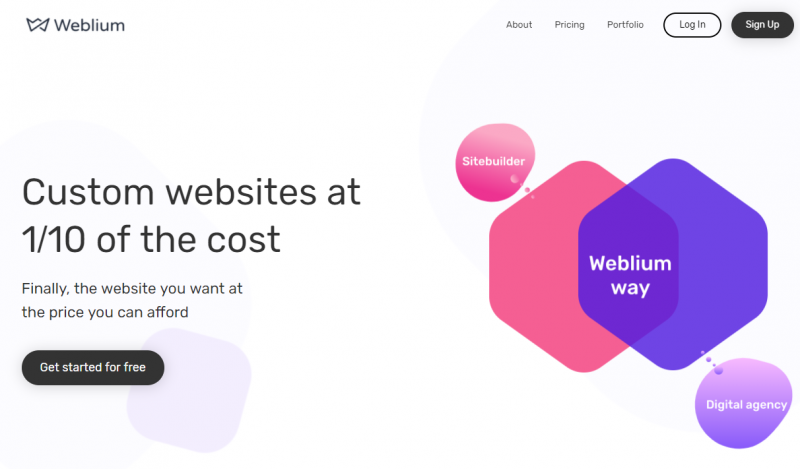 Best drag and drop building software
As you can see this website builder is suitable for all purposes and it's the best drag and drop website builder, i.e. if you need to put text, images and alike to another location on the web page you just drag and drop it to its new place. This is a life saving feature for those who need to make changes to the site frequently.  
Building a site structure is a challenge for beginners. Weblium offers a draft service where you have access to site blocks, fonts types, interactive prototypes, free icon and photo stock and many other services. This draft service builds the structure of your site for free!
Copyrighting offers and refund  
Writing a quality content is necessary to optimize sites for search engines. If you don't have time for this, you can order this service at a reasonable price. Also, you will get 100% refund if you don't like the site you created.
Responsive design, and access to codes
Web design can be frustrating when you open it on the mobile and it doesn't correspond to the screen size. With Weblium your site will be responsive on mobile too. And good news – you own your website. Unlike many other site builders, you can download codes anytime.
Support team at Weblium is at your service 24/7 so you won't need to read endless forums seeking for an answer whenever you have questions or technical issues.
So, a website builder like Weblium combines all advantages of modern site builders and it can be used for both serious businesses and personal small websites.