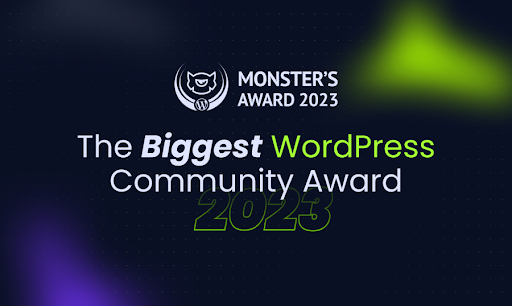 Are you trying to make your WordPress product world-class? Fortunately, the Monster's Award 2023 is here to help. An annual tournament for innovative plugins, themes, and services with great prizes and global recognition. Compete against other talented creators from September 11 to December 11, 2023. It's time to speak up!
What Draws Developers to It?
Attend Monster's Awards 2023 to experience something special. Submit your best innovations to win prizes and recognition in 22 categories.
Check out the complete list of categories with 400+ nominees:
Maintenance tools—to keep your WordPress site in good working order.
WooCommerce features—for enhancing eCommerce sites.
Dynamic plugins—to add functionality effortlessly.
Backup & migration solutions—to safeguard data while migrating between platforms.
Blog tools—for elevating blogging content.
Booking and appointment add-ons—to streamline scheduling and make reservations efficiently.
Forms—for creating stunning contact forms and newsletter signups in minutes.
Website builders—for powerful page editing without the need for coding knowledge or technical experience.
Elementor plugins—to provide additional features and styles.
Free WP themes—to create professional designs at no cost.
Hosting options—to make valuable projects safe when they're stored on servers.
Marketing packages—for complete control over advertising campaigns.
Social media plugins—to manage your social media profiles effectively.
Newsletters—for creating engaging email campaigns and communities.
Optimization resources—for site speed and performance.
Security solutions—to protect from online threats.
Translation plug-ins—to make content accessible globally.
Resources on YouTube channels—for learning about WP best practices and trends.
AI plugins—for maximum efficiency.
SEO products—to increase visibility in search engines.
Membership plugins—to easily create and maintain an online community.
Design plugins—for a professional web look.
Podcasts—to stay up-to-date with WordPress trends.
Are you offering anything from above? Join the nomination contest and help select the leading players in each category. Fill out our form today for a chance to see your favorite product emerge victorious as we crown this year's best WordPress products.
Fair Voting for the Best Monster
Fairness is the Monster's Award's priority. This means that:
To level the playing field, no TemplateMonster brands are nominated.
Every vote counts for registered users in the contest.
To showcase every product, no paid promotions are accepted.
To maintain integrity, a dedicated team meticulously verifies each vote during the contest's two-week break. Thus, the results reflect WordPress community preferences.
Voting stats are real-time, ensuring transparency.
Why WP Product Creators Need This
With TemplateMonster's Creative Challenge, anyone has a unique chance to make their work stand out and get additional recognition.
Participants will showcase their talent and receive praise from an audience of millions of members of the online community.
Winners will get the coveted branded badge of honor. With its help, successful entrants can grab the attention they deserve!
Here's your chance; don't let it pass you by. With no downside risk, sign up now and make a splash at this prestigious event.