Online logo makers are becoming very popular on the web today. Company owners are becoming aware that you don't have to spend huge amounts of money and time to design logos. These days entrepreneurs are choosing the online logo design method. It's easy, allows you to keep full control over your design and is very economical. There a three basic ways you can get your logo designed. Before we get started, let's have a look at the pros and cons of these 3 methods.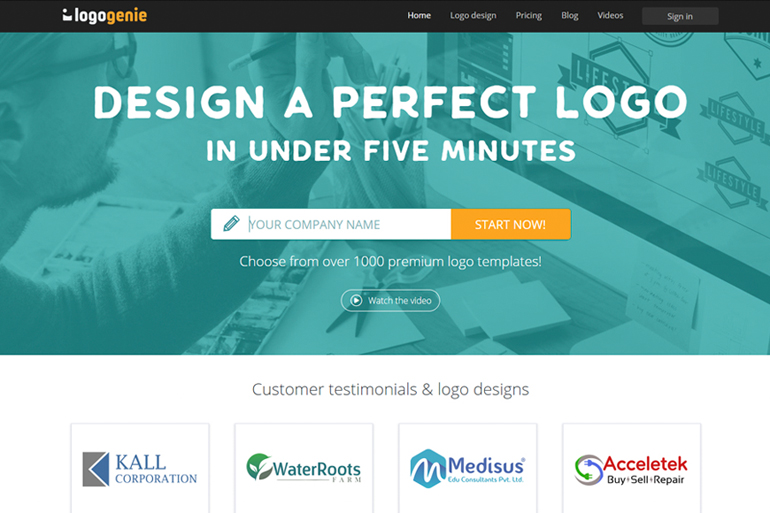 1. Contracting a web agency or freelance designer
Contracting a web agency or freelance designer means that you will have to provide the designer with a detailed logo brief. If you're not familiar with how that works, check out this link for more information. Once you've provided a detailed brief, the designer will elaborate 2-3 logo drafts which will then be sent to you. You will be able to make several adjustments and revisions to the logo if necessary. This logo design method is quite time consuming. The design process takes around 2-3 weeks to complete. There is also a big price tag difference compared to other methods.
2. Designing your logo with a logo contest
This method allows you to benefit from a community of designers that are members of a logo design platform. The process is simple. The site will ask you to provide information about your company: company name, industry, what style logo you want. After submitting the information, designers from the plateform will be able to submit a logo draft for you to see. You will than be able to pick a logo and work with the designer for the details and adjustments. This method is still quite expensive and also takes a lot of time.
3. Designing your own logo with a logo maker
Logo makers are becoming very popular amongst small and medium companies because of their flexibility, price and time efficiency. Designing a logo with a logo maker is very simple. You simply enter your company name and slogan. The logo maker will then use AI to show you several logo templates that are adapted to your domain. Using the online tools, you can customize the logo and create something original.
Logogenie is an online logo maker that is taking the web by storm. It is one of the easiest and most creative logo makers on the web and enables you to design original logos online, with its state of the art online design tools. Choose from a range of quality logo templates and customize your logo by adapting colors, shapes, fonts and icons. The process is very fast and only takes around 5-10 minutes to complete. Once you finalize your logo, you will directly be able to download you HD graphic files. You will also be able to manage your logo from your user account and make modifications and create different versions of your logo if required.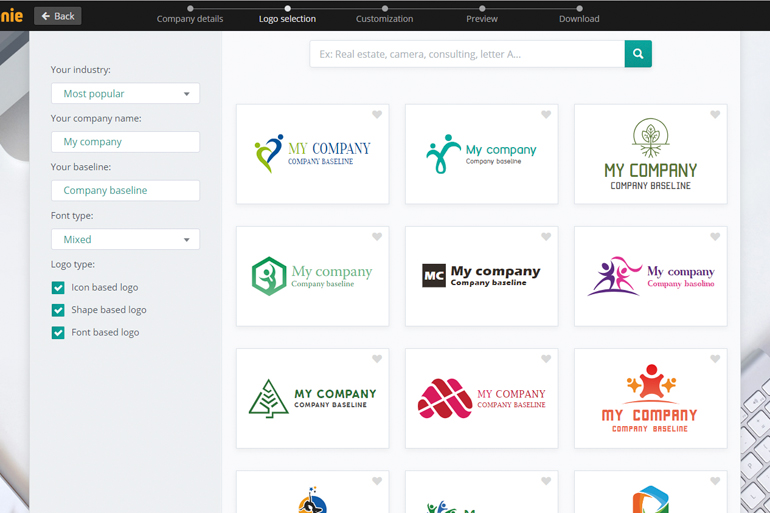 Let's talk about all the benefits of creating a logo with Logogenie's online logo maker
Saving time
When using logogenie's logo maker, you will save loads of time! Designing a logo only takes around 5-10 minutes and you will be able to make as many modifications to your logo as you want. Downloading the graphic files is quick and easy, just log onto your user account and download instantly.
Keeping control over your logo
Having full control over your logo is important. It means that you are independent and won't need to contact your freelance designer or agency everytime you need a logo modification. It means that you can quickly make adjustments to your logo if needs be and download the graphic files instantly from your account. There is no down time with online logo design which means that you can get things done quick and get on with the important stuff: marketing, social network profiles, etc.
Staying flexible
By designing a logo with Logogenie's online logo maker, you will be able to download your logo anywhere, anytime. Your files are accessible 24/7 on your user account. Making quick adjustments is easy and will only take a second for you to do. If you need social network formats of your logo, we've got exactly what you need. Just download the social network package and start branding your profile pages right away. Other interesting formats such as the black and white, vector format and stationary products are available on the site for you to download instantly.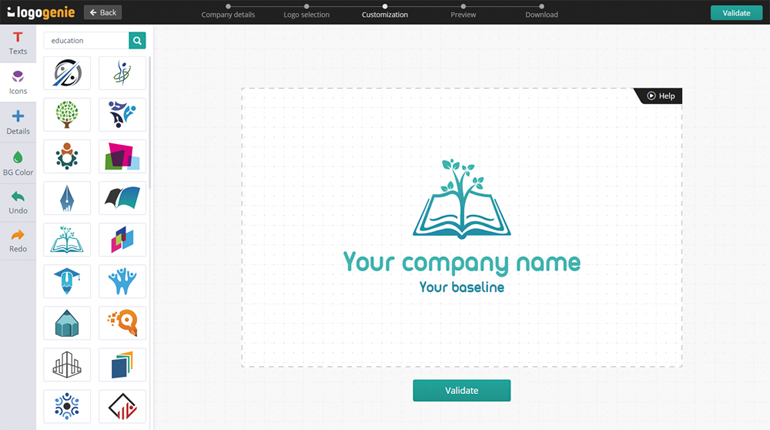 Wrapping up
In conclusion, online logo design is very interesting for companies who are in a hurry to grow and get things done! The online tools are very simple to use, and you don't need a degree in graphics design to design your logo. Logogenie's logo maker offers guidance during each step of the logo design process in order to insure a smooth experience. Now it's time for you to pick up your mouse and start designing a logo online. Try logogenie's Online logo design tools today.