Everyone knows that in order for a brand to have a strong online presence, it must present its audience with quality content that attracts their attention. Content needs to be original and relevant to what the brand's audience is looking for. To keep things fresh and to maintain the devoted attention of the public, sometimes a brand needs to utilize outside sources, often in the form of social influencers.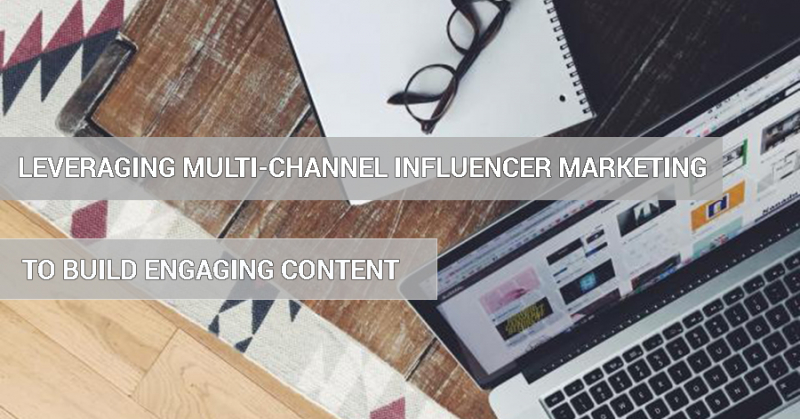 Social influencers come in the form of travel and lifestyle bloggers, YouTube comedians, online beauty experts, and pretty much everything in between. These influencers, though they may use one online media channel primarily, span multiple channels in order to gain more exposure and followers, as well as to engage more people and build up their communities.
Teaming up with multi-channel influencers to market your brand can enable it to engage new people and/or to better engage those who have already been following it. Using a face not typically associated with your brand, but that many people know and recognize, to market your brand prompts people to check out what is being communicated through this guest influencer and to engage with the content they produce. Content created and shared for your brand by a multi-channel influencer can help get your brand's name out to a larger market.
Types of Content
When it comes to the types of content that a multi-channel influencer can come up with for your brand, there are certainly options. The influencer could produce one piece of content to be broadcast to your audience. They could post from your brand's social media account(s) for a day. They could even run a sort of mini-campaign for you by generating a series of content pertaining to a particular theme.
Decide which form of content would best serve its purpose of reaching your audience and beyond, then go on to have your influencer make it happen and engage the public with it.
Account Takeover
To build community engagement on your brand's social media channels, have the influencer of your choosing take over one or more of your social media accounts for a day.
On Instagram, they could post photos and videos and share more candid content via Instagram Stories or Instagram Live. With Facebook, they could post content to your brand's timeline or live stream an event they are attending that day. On Twitter, the influencer could tweet thoughts and photos relating to how they interact with your brand during a normal day in their life.
The possibilities are seemingly endless. Get new social media followers and more engagement for your brand on the day of an influencer's account takeover that will last well after that particular day.
Video
A video produced by and featuring a multi-channel influencer has the lasting ability to put the influencer's real personality on display — which is often the element of these influencers' personal brands that gets them noticed in the first place!
The influencer can make a video showing how they use a product or service offered by your brand, or something fun like them visiting the company's office or crashing a product photo shoot. The video can be posted online whenever your brand strategically selects as the best time, then live on the web to continue to be seen for as long as your brand so chooses.
Product Images
Use the popular, recognizable image of your influencer to promote your product. Feature them in a shoot for a new offering from your brand. By showing off what your brand has to offer in conjunction with the face of a multi-channel influencer, you are providing your audience with engaging content that will be of interest and entice them to share.
How to Repurpose Content
Once you have had new content created by an influencer for your brand, you do not want it to die out and never be seen again as soon as the influencer goes back on their merry way, no longer tied to generating content for your brand. Make the content last by sharing it across various channels and working to get it picked up and shared by outside parties.
Utilize your brand's website.
Even if the content the influencer helps make for your brand is originally intended for social media, make sure it gets included on your website as well. You work hard to make the domain name of your website something that will be memorable and drive traffic there. When you are successful in doing so and web users show up to your site, you need to present them with any opportunities you can that will engage them with your brand.
Share across all social media channels.
This point may sound obvious, but do not forgo any of your brand's social media channels when sharing social content. The influencer may only do a takeover for one of your brand's accounts, but the content that is created should still end up being shared by you across all platforms. Do not do your brand the disservice of passing up opportunities for engagement. Different people can be reached from different social networking sites.
Write and distribute a press release.
Once the influencer has built content with which to engage your brand's audience, do what you are able to get it picked up by others' websites, blogs, or even news stations when relevant. Write up a press release about the campaign or whatever it was that the influencer did in connection with your brand and building content.
Send the press release to various third parties that may be interested, as well as posting it to your brand's site or blog. Use it to generate even more coverage for and interest in the content that the multi-channel influencer was able to develop for your brand.
Leverage the abilities and popularity of multi-channel influencers to better market your own brand. By teaming up with them to create engaging, original content, your brand is able to be exposed to a broader audience and overall be able to better market itself and all that it has to offer.