It's not enough that you understand the value that email marketing brings to the table. In fact, it doesn't matter if you developed an email marketing strategy with the goal of generating higher sales. If the strategy doesn't yield your desired goal, then there's something wrong with your approach!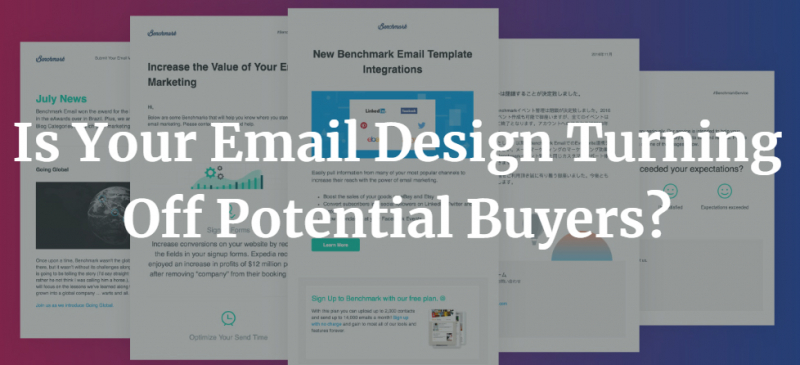 A comprehensive look at your strategy is in order. The message you have crafted for each email and the kind of subscribers you have are just some of the many complex factors that you need to take a good look at.
Sometimes, however, you need to look at the simple factors first to determine the issue.
Not to say that your email design as a factor is anything to scoff at because it plays a cosmetic but crucial role in how subscribers perceive your emails.
To make sure that your email design is not the cause of the problem, read the tips below that you need to implement when designing your emails.
Consistency is key
Your emails are part of your marketing mix. Therefore, they are extensions of your brand. By maintaining a consistent format of your brand across all your marketing materials, you can develop a stronger and more prominent brand that stands above the rest.
If anything, you need to design your emails like you would your website. Use the same colors, fonts, and design elements from your website to your email. It should go without saying, but your logo should be in all of your emails. Through consistency, you make it easier for people to associate the elements with your brand.
Make it easy for subscribers to read
First impressions are always important. According to research, the first eight seconds will make up most of your first impression. Therefore, you need to put your best foot forward for people to stick around even after eight seconds.
It doesn't mean that you have to cram all the information above the fold of your email. What you need is to compel them through persuasive copywriting and well-placed calls to action. Both elements work best when used in the inverted pyramid model. It helps you visualize how to present your information to make sure that subscribers understand what your email is about and hopefully commit to your CTA sooner than later.
Always provide value to your audience
Even though your business caters to a particular audience, you need to know that they can be broken into smaller segments. Each group shares the same characteristics that bind them and has distinct qualities that make them different from the others.
Therefore, you can't simply create a blanket email campaign that is sent to all your subscribers. Since they are nuances among each group, you can't be sensitive to each of their needs with just a single campaign. As a result, your email won't be able to effectively communicate your message because it doesn't talk to each of your audience.
To design better emails, you need to segment groups and send specific campaigns to each. Each campaign needs to offer something relevant to each segment to help raise your engagement and keep them as subscribers.
While all these sound like a lot of work, it is nonetheless an important task to do if you want to mobilize your subscribers and keep them as leads and/or customers.
Adapt to the changes
As mentioned above, your email needs to be responsive to the needs of your audience. At the same time, its design needs to be literally responsive as well.
As mobile usage keeps on growing, it is important that your email design adapts to the screen size of the device where the user is viewing your email. If your email doesn't look great on their mobile devices, then you may drive your subscribers away and cause them to unsubscribe to your list.
It is important to deliver the goods to your audience, even if it means bending your backs to give them what they want. Most email marketing platforms offer responsive email designs so this shouldn't be much of a problem. However, responsive design is just a recent chance among many more to come. It is your responsibility to keep abreast of the changes that will keep consumer behavior and apply those relevant changes to your business in order to maintain your relevance.
Conclusion
Design, in general, is more just an appearance. As seen from the factors above, your email design dictates readability and usability. With an insufficient email design, you can't achieve the goal you've set for your email marketing strategy. By taking heed of the tips above, you can create beautiful emails that your subscribers will love so you can keep them engaged and make sales much easier.