Yes, is the short answer. Believe it or not, Drupal is a very popular CMS, with more than 630,000 live websites in 2019. And its user base is actually expected to grow in 2020 with the release of Drupal 9 later in the year. So whether you're looking to speed up your Drupal site, choosing a CMS, or unhappy with your current platform, Drupal is actually worth your consideration.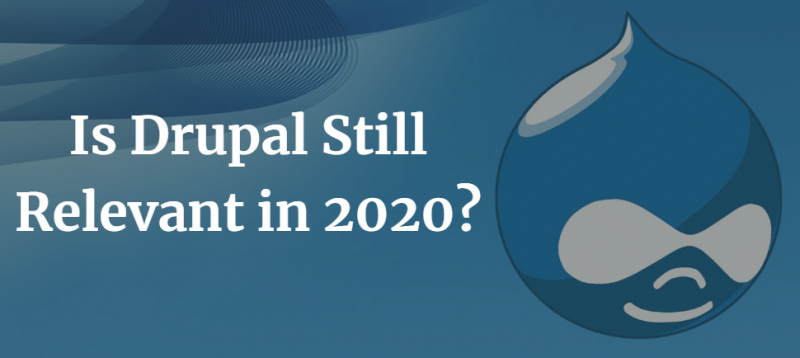 Perhaps unfairly, Drupal has a pretty terrible reputation for such a popular platform. Throughout its history, Drupal has been plagued with complaints that it's too complicated or difficult for the average webmaster to use. There is a bit of truth to this, in the sense that Drupal isn't really designed to be accessible to absolute beginners. You do need a bit of programming or web design know-how to use Drupal successfully, and even with that knowledge, the platform is so complex that it's going to take you a while to learn how to use all of its functions.
However, the trade-off for all that complexity is an unprecedented level of design freedom. It's not a stretch to say that you can do whatever you want with a Drupal site – you just have to figure out how to do it. Of all of the CMSs that have more users, Drupal easily has the most freedom when it comes to designing, editing, and expanding its websites. In the past, this hasn't always been enough to justify the complexity of Drupal's programming, but that's quickly changing. As people become more comfortable with internet technology, people are also becoming more comfortable with complex functionality. Users in 2020 expect more personalized experiences, greater connectivity between devices, and more interactive elements than they ever have in the past. And while other CMSs are quickly updating their user functionality to accommodate those expectations, Drupal 7 already had those capabilities, nevermind Drupal 9.
So while Drupal's advanced functionality hasn't been prized in the past, it's going to be worth it in the coming decade to have a website that's more efficiently programmed. In the past, the average user wouldn't necessarily be able to tell if your website is simple or complex, but today the average user can. So the more sophisticated your site, the more satisfied your users will be. If you're already a Drupal user, this gives you a distinct edge heading into 2020, and if you're not a Drupal user, this means that tackling its complex programming is well worth the time and effort.
Better still, Drupal is open source, which means it's free to use and download. Because of its popularity and controversial reputation, it also has a dedicated online community of users that are committed to making its complex programming easier to navigate. At this point, Drupal has been around long enough for people to figure out how to easily get around some of it's nastier problems. No matter what questions you have, especially in the beginning, you'll probably be able to find help online from someone who already encountered (and solved) the same problem.
Drupal's flexibility also makes it extremely easy to integrate third-party tools into your site. So while you can't install Drupal modules into your WordPress site, you can (at least in theory) install WordPress plug-ins in your Drupal site. Because Drupal is designed for nearly infinite customizability, independent users have the ability to design their own modules, many of which they make available for other users to download and install. Now in 2020, you have access to thousands of free modules that have already been designed by other users, so you don't have to take the time to build your own modules if you don't want to.
Last, but certainly not least, Drupal 9 is dropping sometime in 2020, and it promises to be the most user-friendly version of Drupal to date. While it will still offer the full customizability that Drupal is known for, the newest version is advertising itself to be much easier to learn than previous Drupal versions. Whether you're going to be upgrading or downloading Drupal for the first time, 2020 promises to be Drupal's easiest year yet.