Starting a successful and profitable blog is the biggest dream for content creators and bloggers online today. However, not all bloggers can find success in blogging, as they are often lacking the skills and knowledge in how to properly create content and market their site.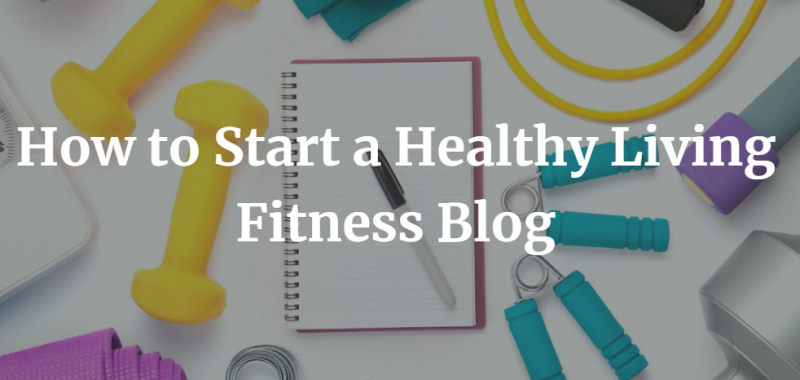 In addition to creating a place where visitors can come and read your content, blogging is also one of the most common methods of earning money online through paid ads or affiliate marketing. This can become quite a challenging process, as you will need to know what type of content to create and how to start making money from it. In short, you will need to cater to the needs of your audience and then offer them something of value in the process.
As more people become very health-conscious, it often leads them to looking for resources and content online in reference to staying fit and healthy. In this case, they will often read through some of the most popular health and fitness blogs from the internet. While this is taking place, the site owner is also likely earning some money from this process as well.
If this sounds like something you'd be interested in and are a writer with a love for health and fitness, then starting a blog is probably for you. You also don't need to be a great writer or need to know how to master the art of blog writing. Thanks to the use of blog outline templates, anyone can get started with the blog set up and content creation process step by step.
Lastly, if you are facing the dilemma of not knowing how to get started with a blog, we are going to be helping with that today as well. All you need is a few minutes of time, a web host and the effort and focus to create an amazing blog.
Let's get started with the process.
Step 1: Choose the right name
Choosing the name is the first and foremost step that you should consider while making a blog. While selecting the name for your blog, you should ensure that it must suit your niche, easy to remember, and SEO friendly. You can also have an idea from the other bloggers and learn about their names.
Try to be creative and make sure that from your blog name, your readers will have an instant idea about your blog. For example, when you are writing about fitness, then try to add health to your blog name so that it will look more catchy.
Points to remember while choosing a blog name
Always add small words.
Try to add dashes between the words.
After choosing the domain name, check whether your selected domain name is present or not. Make sure that you should choose the right and the genuine website for purchasing the domain. After buying a domain, you have to focus on hosting your website.
Step 2: Get your website online with WordPress
WordPress is one of the best platforms, where a blogger can make or design their blog. Whether you are looking to build a free blog or paid one, it is the best and user-friendly for you. Adding or publishing blogs on this website is quite easy.
Most of the healthy living fitness blog writer uses this platform to start their blogging
Why is WordPress beneficial for you?
It offers 24/7 customer support.
You can also get a 30-day money-back guarantee if you are not satisfied with the services of WordPress.
It is the only website, which has currently hosted thousands of blogs.
Installing WordPress on your blog is also very much easy.
Step 3: Customize your blog.
After you have selected your website building platform, now it is the right time to customize your blog. While you customize your blog, then you have to choose the theme, pages, and other things into your post.
As we have discussed, the customizing blog on WordPress is very much easy. So, you can customize your blog on WordPress while saving your time. The significant pages that you should add to your website are about us, disclaimer, about us, privacy policy, and contact us.
Make sure that you should choose such a theme which is user-friendly, and SEO friendly.
Step 4: Choose the right topic to add
After installing the WordPress into your website, choose the topic to add. Before adding the topic, you have to research for the topic, select the keywords, images, and do competitive research for the topic.
Points to remember while adding topic into your WordPress website
Always choose the post with having relative searches
Make sure that you should add keywords into your content, and they must be placed on the right position
Always use an engaging title for your post and make your post SEO friendly.
Step 5: Focus on SEO
While you are writing posts on your healthy living and fitness blog, you will see that the journey of ranking your blog content at the top of the search engine is a very difficult process. With millions of sites already out there within your niche, this can be only possible while focusing a lot of time and effort on SEO or search engine optimization.
If you have an idea about how to do SEO, then you can do so easily, but if you do not have that, then you will need to hire an SEO expert who will do so. We know, it is costly to get the SEO services, so, it will be better for you to choose this when you get some results.
In addition to focusing on the content of your site and the SEO, there are also plenty of solutions and tools in place to help with the actual site creation process.
Benefits of focusing on SEO
Helps you in promoting your health fitness blog
Helpful in gaining credibility
Helpful in getting traffic
Useful in making the website in getting top-most position on the search engine
Step 6: Use Social media to gain credibility
Exactly like SEO, social media is also very much beneficial in boosting the credibility of the business. There are many social media websites like Pinterest, Facebook, Twitter, Linkedin, and many more, where you can promote your website, so it's important to choose which is best for your site, audience and content.
For lifestyle and healthy living blogs, Facebook and Pinterest would likely be two of the best audiences and most effective ways to build social followings while also redirecting that traffic back to your site. If you are using a lot of visual content and images, Instagram would likely make for a nice fit as well.
Things to keep in mind while working on social media
Do catch what your competitors are doing to get likes and followers
Follow others and ask them to follow you back; it will improve your post engagement.
Make use of hashtags, to boost your reach, likes, and engagement
Step 7: Start doing guest posting
Getting visitors or traffic on a new fitness blog is very much difficult, and guest posting is the only way using which you can get traffic easily. Moreover, it will help you in getting backlinks for your website.
Things to should keep in mind while working on guest posting
Always check PA and DA of a particular website before posting any blog into it
Learn about the spam score of your website
Do check and ensure that the particular website must be the same as that of your niche
Conclusion
In summary, we hope that you now have a much better idea on the concept of how to start a healthy living fitness blog. If you follow the above tips and tricks, then you can easily start your journey towards successful blogging, while also potentially earning some money from your blog in the process.