You may have recently decided to start your own bootstrap web design business in the near future. Perhaps you already operate your own business, but you are looking for better ways to manage your finances and to boost profitability. As a business owner, your financial management practices can play a major role in your overall level of success and profitability. There are numerous financial tips you can begin implementing today that can help you to run a lean, profitable web design business. By exploring these tips in greater detail, you can more easily accomplish your financial goals when you apply them to your business in practical ways.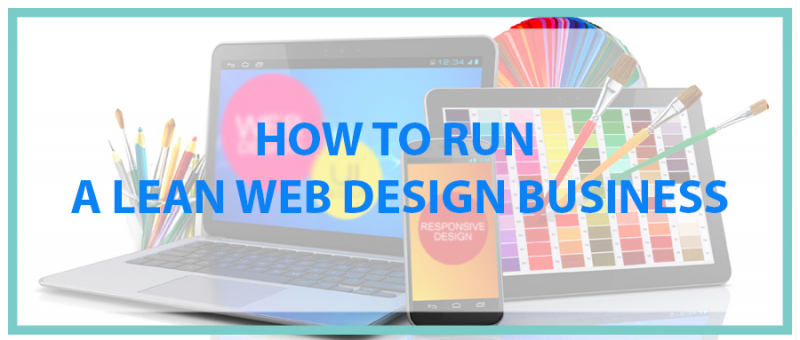 Invest Your Own Funds into the Business
Many new and small businesses require an infusion of capital from time to time. This may be to invest in new equipment and machines, to expand into a larger office space, to hire employees and more. Growing pains are typically eased when you have access to more funds, and there are various options available for raising capital. Some business owners will borrow money, such as through a small business loan. Others will bring on a silent partner. However, a better idea may be to invest your own funds into the business, if possible. Business loans and other sources of capital often eat away at your profits. For example, a loan will come with regular loan payments that become a regular expense in your budget. Only take on debt when it is absolutely necessary to do so.
Create a Realistic Budget
Budgeting properly is one of the best things a small business owner can do to run a lean business. This practice may sound easy enough, but the reality is that most business owners do not do this effectively. An effective budget is one that is purely realistic rather than hopeful. It has actual expenses down to the penny for recurring bills and estimates on the higher end for non-recurring expenses. It also projects into the future for several months or even years. You should also plan for unexpected situations and unlikely events so that you are financially prepared for a worst-case situation.
Trim the Fat
Your budget can be used for several purposes when it is realistic. For example, you can begin by using it as a guiding post to help you make financial decisions and to ensure that you do not overspend from month to month. It can also be used to help you identify ways to save money. Look for expenditures that may easily be reduced or eliminated. For example, your business insurance cost may be reduced by shopping around. Bank fees may be eliminated if you switch to a more affordable account type or to a new financial institution. Looking for small areas to save can add up to significant savings over time. A smart idea is to regularly review your budget every quarter to look for ways to cut back on spending. Budgets have a tendency of getting bloated with unnecessary expenses over time.
Wear Multiple Hats
Another way to run a lean web design business is to do as much work as possible on your own. It may be easier to outsource some tasks, such as your accounting tasks, to a trained professional. You may also be thinking about hiring part-time or full-time help in-house. However, professional services cost money, and most small business owners have the financial aptitude to manage their finances perfectly well on their own. This is especially true when the business is still small. When you invest your own sweat equity into the business, you will have more funds available to re-invest in marketing, new technology and other beneficial things that can help your company grow.
Choose the Right Accounting Software Program
Because managing your finances can seem complicated and may be time-consuming, you can benefit from investing in the right accounting software program. There are several software programs that you can choose to use, and it can help you to save time and effort with financial management tasks. This program has everything from invoice and expense tracking features to time tracking and project management features. You can explore this and other programs to find the right accounting program that will work well with your business structure and unique needs. Take time to fully learn how to use your new program so that you can incorporate all of its features more beneficially into your work schedule.
Select Effective Invoice Templates
You may not realize it, but your invoicing system plays a key role in running a lean web design business. This is because your invoices should be easy for you to generate with speed and accuracy. They also should be clear and easy for your customers to understand, and details regarding late payments should be visible. You can choose an invoice template from an invoice template gallery today that may be more effective than what you are currently using. While searching for the right template to use, consider how easy the template is for you to use and for your customers to understand.
Be Realistic About Incoming Payments
Having an effective invoice template can go a long way toward promoting prompt payment from your clients. However, most customers and clients will not pay their invoices as soon as they are received. Instead, they may work the payment into their own budget for payment within the next month. Perhaps they may place the invoice in a stack of bills that they will look at in a week or two. Each client has their own unique financial management strategy, and you should factor in invoice payment delay when preparing your budget. This can help you to avoid having to deal with a cash flow issue later.
Have a Backup Plan for Cash Flow Issues
The last thing you want to deal with as a business owner is a cash flow issue. However, there are many reasons why this may happen to your business. Perhaps you failed to budget properly for all expenses, or perhaps you had unexpected expenses. A project may have taken longer to complete than you planned and budgeted for, and this means that your entire flow of income may have been delayed. These and other cash flow issues can and do happen, and when they do, you need a way to cover yourself financially for them. Some business owners will use a business credit card to cover their expenses in a time of financial need. However, taking on debt can be expensive and is not advisable. A better idea may be to fund a business savings account with regular monthly contributions. This can work in the same way as your personal rainy day savings account does, and it can help you to avoid taking on debt unnecessarily.
Running a lean bootstrap website design firm can seem difficult at first glance. However, you can see that there are realistic and rather simple steps that you can take to improve your cash flow and financial management processes. A smart idea is to carefully review these tips individually to determine how they can be applied to your business. When you make this effort today, you may begin to benefit from operating a lean business in the coming weeks.