Your website says a lot about your company, and you want to ensure that you are giving off the right impression. Poorly formatted websites will immediately give potential customers the vibe that your company is unprofessional. It makes them think that they are unlikely to get their money's worth.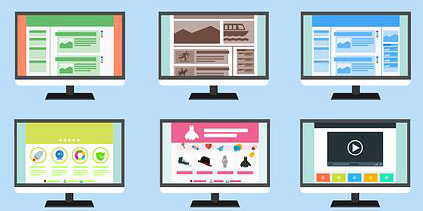 However, expertly designed websites can entice customers to make a purchase and patronize your organization. If you aren't sure how to go about putting together your website, then you may want to consider using a template. Here are some tips to think about when evaluating different website templates.
1. Understand What You Are Paying For
The old adage "you get what you pay for" still rings true in the realm of website templates. It is not always prudent to choose the cheapest template because they generally are the most bare-bones and will require the most work on your part.
If you need a mostly completed template so you can spend time running your business, then it may be in your best interest to splurge on a higher-end template. However, if you like to do things yourself and have extra time to dedicate to this project, then a more basic template may be perfect for you. Keep price point in mind, but don't let it force you to downgrade.
2. Consider Customization Options
One of the downsides of using a template is that it will be more difficult for your website to stand out from those of other companies. However, this won't be an issue if the template you choose has a high degree of customization.
With so much competition in the marketplace today, it is imperative that you can differentiate your business from their competitors. Therefore, customization should be a significant consideration in your search for a website template.
3. Evaluate your Style and Aesthetic
Make sure that the template you choose will fit in with your company's brand. If your website cannot integrate with your other marketing graphics, then there will be a lack of brand recognition.
If you are running a paint supply company but your website template features exclusively sleek, straight lines and muted colors, then it may not be the best fit. You would likely be better off with a more artistic and unpredictable layout that hosts many of bright colors.
4. Ensure Needed Functionality
Most importantly you need to ensure that your template will allow your site to perform all the necessary functions for your business. If your website does not sufficiently help your company to increase profits, then it is doing its job.
For instance, if a certain template does not allow you to link to social media and that is where most of your business is generated, then it is definitely not the right choice for you. There is no point in investing in a website template if it will reduce your website's functionality.
If you have difficulty meeting any of the above criteria for a website template, then you may want to try going with a website design company. Firms like Forge Web Design will ensure that you get every feature you need with a completely individualized layout. The company will also assist with other aspects of digital marketing to help your business to be as successful as possible. If you have the extra capital, then it is recommended to work with a professional design company. It takes the burden off of you to choose the perfect template.
Whether you end up going with a template or not, you should put a lot of thought into your website's design. A website will help convert potential customers into lifelong fans – don't take it for granted!