Most designers are extremely detail oriented. While this is a great trait to have when it comes to design, it isn't quite as useful when it comes to teaching someone how to set up their first website. People who are trying to figure out how to build a website for the first time can easily get overwhelmed with too much information.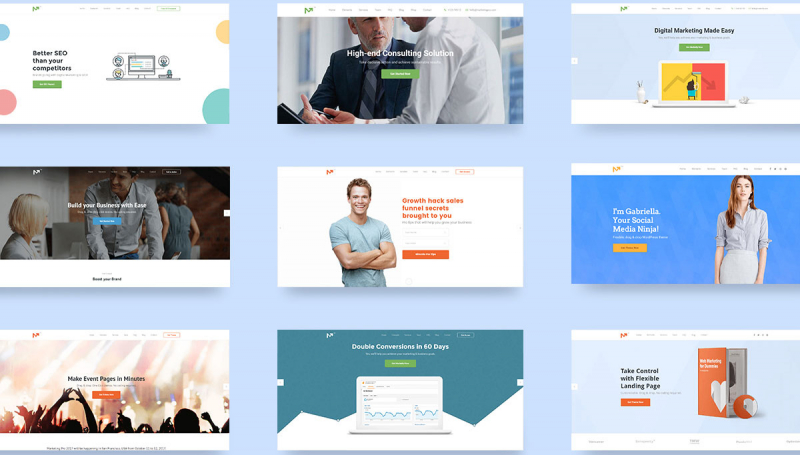 Usually, it is best to start with more of a big-picture approach. In this case, the "big picture" part of the design process involves choosing the right template. When you are building websites, the right template can provide your site with a solid foundation that you can build on, customizing it to meet your needs.
Regardless of whether you are using WordPress, Joomla, or one of the many other platforms that are available, the process of choosing a template is the same. By asking yourself a specific set of questions before choosing a template, you can select a design that will not only make your site easier to manage on the backend but will also provide your visitors with a fantastic experience.
Try working your way through the following list of questions. Your answers should help guide you to the right template.
Are the features of the template well suited to your needs?
Think about how you plan to use your website. For instance, if you plan on selling products online, you should look for a template that is specifically geared toward e-commerce. Similarly, if you want to include a featured video at the top of your homepage, you should look for a template with that functionality built-in.
Ultimately, the template's features should be a good fit for the types of activities that you plan to do online. For example, if you are a real estate agent, choosing a template that is specific to the real estate niche is probably a good option since it will be easier for you to populate it with listings from the MLS.
Does the design fit with your business?
Certain types of businesses can get by using a basic template that is relatively generic in terms of its design. Other businesses require a template that is a bit more industry-specific. For instance, a restaurant may want to choose a food-themed template while a cosmetic surgeon may want to choose a template that has more of a medical-inspired look.
Is the template made by a reputable designer?
Although there are a lot of templates available online, not all of them are worth downloading. Ideally, you should only use templates that are published by reputable designers or that are available through well-established template repositories suggests internet entrepreneur David Sessford of Ready Steady Sell.
If you choose a random template without knowing anything about how it was designed, you could be taking a big risk. Not only could the template fail to live up to your expectations but it could even wind up exposing your company to security risks.
Is the template well suited to your posting habits?
Make sure that template you choose has the functionality that you need. If you are putting together a relatively static website, you may be able to get by with a template that has a basic design that features just a few simple pages. On the other hand, if you are going to be blogging, you should look for a template that has a blog already built in.
Can you customize the template?
Some templates offer very little in the way of customization while others allow you to change everything from the logo to the color scheme. Make sure to look for a template that can be customized to your needs.
Are the colors a good fit for your business?
From a branding standpoint, the colors of your website should be the same as your company colors. Many templates allow you to customize the color scheme. If you choose a template that can't be customized, however, you should make sure that it is a good match for the existing colors of your business.
By following these suggestions, you can quickly and easily find a template that is perfect for your website.