There's one common characteristic among nearly every high growth company; their business plan. Below you'll learn what the right business plan can do for your company and how to create one.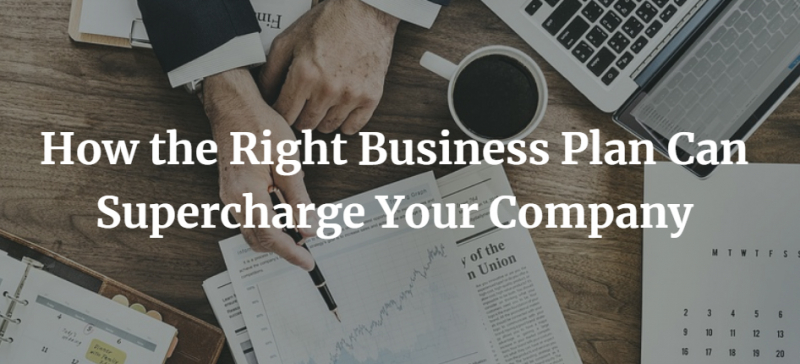 Business plans serve two main purposes: funding and strategy. With regards to funding, nearly every bank, angel investor and venture capitalist will require a business plan before writing you a check. Likewise, your business plan forces you to create and document your growth strategy. Doing so gives you an infinitely better chance of achieving your goals than just hoping for the best.
Fortunately, creating a business plan is fairly straightforward, particularly if you use a quality business plan template. Before sitting down to document your business plan, you should think creatively about what you'd like your business to look like in five or more years. What will your revenues be then? How many clients will you be serving? How many employees will you have? And so forth.
Once you determine the vision for the company you'd like to build, use your business plan to identify how to achieve it. Below are the key sections of your plan you will use to do this.
Products and Services
Here you will identify the products and services you now offer or will offer in the future. Document the core features of each. Importantly identify what is unique about each of your products and services. Are they more convenient than competitive offerings? Do they work faster or easier?
You will see below that this theme of uniqueness is key to each section of your business plan. If you are not unique, you can never achieve massive success. So you should always be brainstorming how you can be more uniquely qualified to succeed than your competitors.
Promotions Plan
In this section of your business plan, you will brainstorm and document how you will reach new clients. Will you use referral marketing, pay-per-click ads, radio advertising, etc.?
Figuring out which promotional methods to use is a complex yet critical task. On one hand, you need to figure out which method best reaches your target audience. For instance, trade journals aren't appropriate for consumer audiences just like social media marketing probably wouldn't prove effective if targeting the elderly.
On the other hand, you need to assess the cost-to-potential-profit ratio. For instance, while direct mail may be a great way to reach your target customers, it may prove too expensive to earn a positive return.
Management Team
Very few great companies have just one member on their management team. Rather, a great team has expertise in all the key areas of running a company: sales, marketing, finance, operations (and possible others like R&D depending on your business). 
Ideally you will have uniquely qualified people heading each of these areas. If you currently don't have the right management team, treat your business plan like a job advertisement. That is, document the characteristics of your ideal future team members.
For example, you might say you will eventually hire a VP of Marketing. That person will have 10+ years experience in marketing at a B2B company. They will have strong expertise in direct response and performance marketing. And the candidate you hire will have vast experience creating and optimizing multi-channel campaigns via paid acquisition, organic social, SEO, and email.
Financial Plan
The Financial Plan details the financial possibilities of your company. If your company requires funding to achieve its growth goals, you must document how much money you need and for what uses. 
Next, you will create a financial model that estimates your sales and expenses over the next five years. This financial model will help you judge new opportunities. For instance, a new product idea might have great revenue potential, but if the fulfillment costs are too high, it may not be worth pursuing. Your financial projections also provide benchmarks for your performance. For instance, you'll know the amount of sales you should hit this year. Having documented goals will help your company achieve the success you want.
Other Sections of Your Business Plan
There are several other sections to include in your business plan such as your Customer Analysis, Competitive Analysis and Operations Plan. The primary goal of these sections is to confirm you truly understand your market and your action plan. This gives confidence to both you and your team, and outside investors if applicable.
If seeking outside capital, make sure there is a marketing bent to each section of your plan. For example, rather than just stating the size of your market in the Industry Analysis section, explain how the market's size bodes well for your company. Investors want to see you have a strong grasp on your company and market, but don't want to read a boring research report. They want to read reasons why they should invest in your company instead of others.
Use the business plan outline above to organize your thoughts and document your business plan. While this exercise might take several days or weeks, the work you do on your business plan can become the foundation to a thriving business.