Launching your online store needs as much planning and capital as starting your own business, you can't rush it or get into it half ready. And while there's a long list of all of the items you need to get right before launching, you often find yourself stuck in the first phase.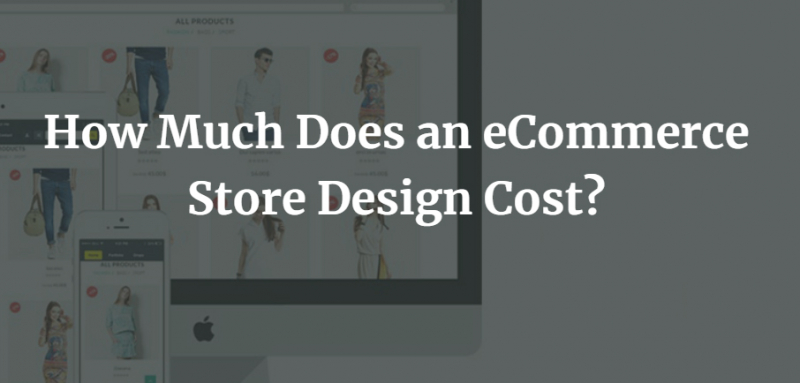 What will your ecommerce platform look like? How can you optimize it for user experience? You've already done your research and found dozens of ecommerce platforms, selling themselves as the best for you. So, out of all of these platforms, which one is really the best fit? Or is it better to build a custom store from scratch? But then comes perhaps the most critical question: how much will each of these options cost?
How Much Does an eCommerce Store Design Cost?
The answer to that is, well… there isn't just one answer. In fact, there are so many factors that come into play that make even estimating an average too wide of a range. You could design your ecommerce store for $3,000, or spend millions to get it done. It all comes down to the vision you have for your ecommerce store.
Your business, its size and how established it is, your target of sales, the features you want, whether you'll hire an agency, go for freelancers, or hire in-house employees to do the job – you see, many many factors. Let's break everything down a bit, shall we?
Deciding Factors That Affect the Total Cost
When it comes to calculating how much budget to need to put aside for designing your ecommerce store, there are some points you need to settle in first.
1- Building Your Own Ecommerce Platform Vs. Using Software as a Service (SaaS)
The first question you'll find yourself asking, is whether to build your own store from scratch, or choose one of the already existing service providers.
We've already mentioned that there's no one-size-fits-all when it comes to launching your online business, so we're going to ask you some more questions. Do you already have an established business, perhaps a brick-and-mortar store, that you want to launch online too? What size is your established business? What's the sale target that you already have and you're expecting the online revenues to be closer to it, if not larger? Are you launching your products for the first time? Do you already have an ecommerce store but looking to reach a higher target of demographics?
Depending on the size of your business, there are many plans you can follow. If you're a blooming startup looking to compete in the market, it might not make much sense to start building your own customized ecommerce from scratch. In this case, you might find easy to use existing services that take away that hassle from you. While creating your own ecommerce store might feel like it will give you a bigger competitive edge, when it comes to practical life, these are a lot of costs you'd better utilize somewhere else. You'll be able to find many suitable plans, most of which can be completely for free, or they'll require minimum subscription, such as $29/month for the basic Shopify plan. All of those options will give you both the functionality and design you want, with minimum technical expertise needed.
If you're a middle-sized or large-sized business looking to expand, this is when the options start to become more varied. For instance, Magento pricing as a total cost will vary greatly depending on the features you want to add, and all of the development costs required to get it up and running.Out of the most widely-known ecommerce stores, you'll find more advanced plans that offer premium services.
As for building your own ecommerce store, that will depend on whether you'll outsource the task or hire an in-house team. We'll get to that in a bit.
2- Front End Development
After settling on the platform, you'll start designing the layout, the different pages, and every single aspect of the store, always keeping in mind two main factors: the User Interface (UI) and User Experience (UX). While you can choose from existing templates (that will cost you $0 – $250), more customized designs are going to cost more. Depending on your web design and whichever category it falls into (Simple – Moderately Stylized – High-End – World-Class), it can cost you anywhere from $250 and upto $20,000+.
3- Back End Development
This where you test the functionality of your designs and the features you're using. For most stores, there are features that can't be excluded such as:
Catalog management

Content Management

Checkout System

SEO

Promo Codes and Discounts Tools

Analytics Tools

Email Marketing

Different Payment Options
Besides these basic features, your back end development costs can increase greatly. If you're opting for using an existing SaaS, you'll find this phase to be cut much shorter in both effort and money. On the contrary, if you're building it from scratch, you'll need to invest much more time, effort, and costs in the development and testing phases.
4- Outsource or In-house?
If you're going to outsource the whole project, you'll be looking at the development costs in total. However, if you're going for in-house development, you'll need to find a well experienced person for the job. Keep in mind though that finding one person who is experienced in both UX and Back-End Development is very rare, if almost impossible. That's when you start weighing the options of outsourcing the project to an agency as a whole, hiring a skilled freelancer, or hiring a full in-house team in your IT department. In case of large and established businesses, a full team can seem like the best cost-effective solution to provide regular maintenance even after developing the store. If you're a startup and you've chosen a plan that needs minimum technical expertise, you won't have trouble finding the required qualifications in one employee either.
In case you're outsourcing the project as a whole, you'll find that the most common way to be charged is by the hourly rate. Hourly rates can start from overseas outsourcing of $8, and up to $200 for more advanced requirements.
Designing Your eCommerce Store
With so many factors to consider, it's necessary to plan ahead and decide on every aspect of your ecommerce store, long before you jump into creating it. Everything has an impact, and a little change in plans can affect the design of your store greatly. That's why you can only start exploring the options you have when you have a clear list of what you need. At the end, when all options are considered, you know you'll need to properly invest in your online store to be able to compete in the market.