These days, all businesses are online businesses. It's not just the e-commerce giants that rely on internet sales to make ends meet–even brick-and-mortar businesses now rely on the internet to generate sales leads and in-person visits.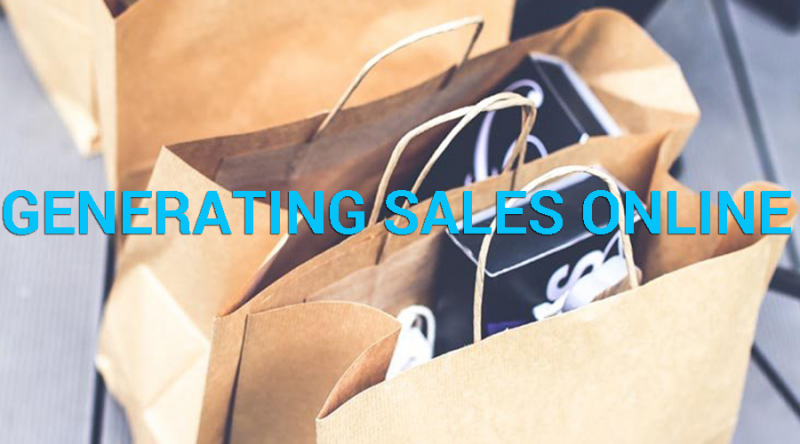 e-commerce
The role of the internet in creating sales is most obvious in the case of e-commerce companies, which execute all of their business online. For these companies, the internet is their neighborhood and their websites are their storefronts. That's why the key to generating online sales in e-commerce is great web design. A clean, easy-to-use website that includes ways to search for products, sort results, and pay online is essential for any company hoping to do well in this space. An attractive aesthetic design will make shoppers subliminally enjoy their shopping experience more, and it may even help them trust the company to produce and deliver quality goods and services. And a happy customer will become a return customer!
Of course, even the best website is only useful if customers can find it. That's why the other part of the e-commerce equation is search engine optimization ("SEO" for short). Search engine optimization means making a website as appealing as possible to search engines like Google, Yahoo!, and Bing. Good SEO means a more prominent place on the search engine results page ("SERP") and more clicks–which, hopefully, will mean more sales. Making use of SEO often requires employing a third-party or outside company, but it is a good long-term investment and will help generate internet traffic and visibility.
In-person sales begin online
It's not just e-commerce companies that need good SEO. Brick-and-mortar businesses have to have it, too! That's because most potential customers look for businesses online. The days of phone book and newspaper ads are fading, and the days of Google's dominance are here. From restaurants to used bookstores, every business needs to rank well for relevant search terms in its region. A well-ranked and highly-frequented business will show up in the top three or four suggestions from a Google search, which greatly increases the business flow.
And, yes, search engine results vary by region. Google uses user location data to provide relevant results, and uses its Google Maps application to show users where their options are. So business owners need to make sure that their business shows up in Google Maps. It's also wise to monitor your business' reputation on online review sites. A Google search will bring up a business' location and reviews, so potential customers immediately see what other people think of the company. Businesses that sell through a service like Amazon are also rated on their delivery satisfaction rate.
Advertising and marketing happen online, too. The internet is where customers turn to find their coupons and deals, so make sure that your deals are on couponing websites like CouponToPay. Discounts and sales can definitely up a business' traffic, so don't be stingy on offering those deals!  Look for other ways to get the digital word out, too: your website is a great start, but what about social media pages and email newsletters? Your presence online is a great way to generate sales.