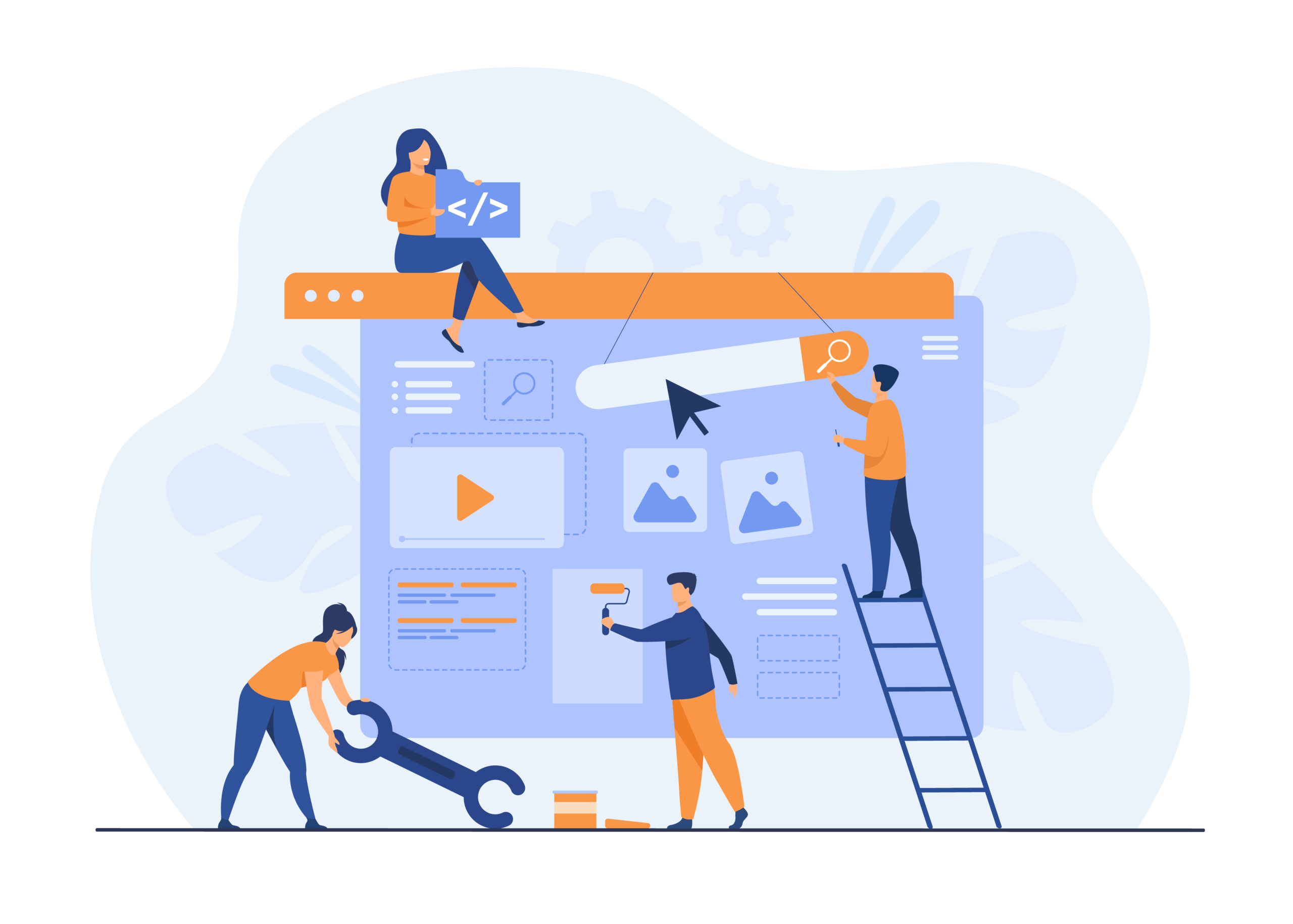 Introduction
Every business or individual, however big or small, wants to make a name for themselves on the internet, and the best way possible is through a website. But not everyone has the skills or experience to create a new website or customize an older one. That's where CMSs come in.
A CMS or content management system is a platform that helps create, update, customize, and maintain a website. With more than 65% market share, WordPress is arguably the biggest, most popular CMS and powers more than 43% of all websites on the internet. 
One of the biggest reasons for the popularity of WordPress for all kinds of websites is the integration and use of page builders.
Page builders are the plugins and extensions used in WordPress to create, edit, and even customize the pages and layout of a website without writing an ounce of code. With page builders, you can design and create the most complex pages for your website without any prior technical skills and expertise whatsoever.
One of the most common queries among website owners and developers is, "Are page builders beneficial for website development?".
First off, with page builders, anyone can make customizations and even create a whole website without the need for any coding skills. Speaking of customizations, any web page can be customized with respect to layouts, fonts, colors, and other design elements with the help of page builders. These customizations can also help improve the UI/UX of the website, getting it a higher ranking and better user engagement.
Then, since you don't have to write extensive pieces of coding when using page builders, a lot of time will be saved, which you can spend on other aspects of web development and marketing.
That's why page builders can be excellent tools for designing, developing, customizing, and updating websites with ease.
So in this blog, we'll see the best options for page builders and discuss one of the most popular options, Elementor. In this article, we will compare Elementor with other popular page builders and explore its unique features. 
What Is Elementor?
Elementor is one of the frequently-used WordPress page builder plugins and helps design and create customized websites without an ounce of technical knowledge and expertise. With a drag-and-drop interface, it will be easier to design, create, customize, and update the different pages, widgets, and sections of a website. This page builder comes with a variety of templates so that the users can do the desired customizations with ease.
Let's check out a few of the best features of Elementor page builder:
Drag-and-drop functionality: With Elementor's user-friendly drag-and-drop interface allows users to create and customize pages without needing to know how to code.
Pre-designed templates and widgets: This drag-and-drop page builder has a range of in-built templates and widgets that can help with customized designs for websites.
Responsive design: With Elementor, you can create responsive designs for every device, from PCs to mobiles.
Live editing: Elementor has a live editing feature that lets you see every change to the website designs in real time, making fine-tuned designing more effortless.
Animation effects: Elementor provides a range of animation effects that can be applied to different elements on the page, adding visual interest and interactivity to the design.
WooCommerce integration: For those looking to create eCommerce websites for their product-based businesses, Elementor offers seamless integration with WooCommerce, the popular eCommerce platform. With Elementor, you can easily design unique product pages, shopping carts, and checkout pages that are customized to your specific needs. To learn more about how to integrate Elementor with WooCommerce, there are various woocommerce tutorials available online that can guide you through the process. Additionally, it's important to research and consult with top WooCommerce development companies for additional functionality and support.
Elementor offers several other enterprising features that help design, create, and customize the website with little to no coding knowledge and expertise.
When it comes to page builders, Elementor is a popular choice due to its ease of use and extensive customization options. However, other page builders like Divi and Beaver Builder may be better for more complex designs.
Pros & Cons Of Elementor
Let's see what makes Elementor one of the most popular page builders for WordPress websites:
User-friendly: Elementor has a user-friendly interface. So anyone, regardless of their coding skills and experience, can easily create custom web pages without any coding experience. Moreover, the users can check out the editing changes in the website through its visual editing tool.
Customizable: With Elementor, you can choose from an extensive range of templates, widgets, and design options to create completely personalized websites with fonts, colors, backgrounds, and more customized to the brand preferences.
Saves time: Elementor can help users save time and effort by allowing them to create web pages quickly and easily. Users can choose from pre-built templates or create their own designs using the drag-and-drop interface.
Integrations: Elementor can be integrated with a variety of other tools and plugins, such as WooCommerce or Mailchimp, to enhance its functionality and capabilities. That allows users to create more powerful and dynamic websites.
Developer-friendly: Elementor provides developers with a powerful API that can be used to create custom widgets and extensions. That allows them to extend Elementor's functionality and create more complex websites or applications.
Like any other software, Elementor has some drawbacks as well:
Speed: Elementor can generate a large amount of code that may slow down the website's performance. That can lead to longer load times, which can be frustrating for users and negatively impact SEO.
Learning curve: While Elementor is relatively easy to use, there is still a learning curve for beginners who may need to spend some time getting familiar with its interface and features. Some users may find it overwhelming or confusing at first.
Limited functionality: While Elementor offers a wide range of design options, it may not be suitable for creating more complex websites or applications. Users may need to rely on additional tools or plugins to achieve the necessary functionality.
Plugin conflicts: Some users have reported issues with Elementor conflicting with other plugins installed on their WordPress site. That can cause compatibility issues and may require troubleshooting to resolve.
Subscription model: While Elementor offers a free version, some of its more advanced features require a subscription. That may be a turn-off for users who don't want to pay for a premium tool or who prefer to use open-source solutions.
These pros and cons might be enough to evaluate whether Elementor is the most suitable page builder for your requirements and expectations. But to make a well-informed decision, check out the other options as well.  Additionally, comparing the pricing, compatibility with themes and plugins, and customer support can help make a decision. It's recommended to consult with experienced WordPress plugin development companies for guidance in selecting the best page builder.
Popular Page Builders & Elementor Alternatives
Although Elementor is one of the most frequently-used page builders for WordPress websites, there are other alternatives as well. So here are a few of the most popular page builders for creating WordPress websites without the need for any technical skills and expertise:
Divi Builder
Divi Builder is a popular WordPress page builder plugin for creating customized and unique designs and layouts for your website without any coding skills or expertise.
Here are the features offered by Divi Builder:
Wide range of pre-built templates, from landing pages to blog layouts.
Several customization options like font styles, colors, spacing, and background colors.
Divi Builder offers advanced design controls to adjust the spacing, size, and position of different modules and other elements on their web pages.
With the built-in drag-and-drop interface, Divi Builder allows the users to create and arrange the different modules on the web pages more effortlessly.
With real-time visual editing of Divi Builder, you can see if the alterations are working on the page with respect to what you expected and make the changes accordingly.
Divi Builder has a responsive design, which means any page you create with this plugin will be responsive to different devices.
Now, let's check out the pros and cons of Divi Builder:
Pros:
A clean user interface for website design
Massive library of built-in modules (inc. dynamic modules)
Robust website design and customization settings
It is a fast, responsive page builder
Several high-quality templates
Excellent customer support channels
Cons:
You may encounter some bugs, especially when creating complex layouts
Using Divi Builder on your website can slow down its loading time
Columns can be a little too tricky to work with sometimes
Live chat is only available for pre-sales support
These features and pros and cons might be enough to evaluate if this page builder is suitable for your WordPress website.
Beaver Builder
Beaver Builder is another prevalent page builder to create customized page layouts and designs for WordPress websites without coding experience.
Here are the significant features of Beaver Builder:
Beaver Builder has a visual editor that lets you look at the page you are editing and check the impact your alterations are having.
Beaver Builder's clutter-free user interface lets you create and edit the pages without any distractions.
There are several built-in modules with which you can make customizations to your website more effortlessly.
This page builder is compatible with a variety of WordPress themes for optimum results. You can always consult WordPress theme design & development company for any customization or development of theme.
Beaver Builder offers column-based layouts that you can use to organize the vital information on a page more effectively.
Now let's check out the pros and cons of Beaver Builder.
Pros:
Perceptive user interface (excellent for beginners)
Reasonable range of in-built templates
It lets you save the templates, modules, and content sections for future use
Genuine support channel options are available
Use even the cheapest, most basic plan on unlimited websites
Cons:
There's no unique feature that can help it stand out amongst the crowd.
More expensive than most other page builder options.
Despite these drawbacks, Beaver Builder is a popular page builder thanks to its features and benefits.
Thrive Architect
Thrive Architect is an excellent page builder for creating customized landing pages, sales pages, opt-in pages, and other types of web pages. Here are a few significant features of Thrive Architect:
Thrive Architect's perceptive drag-and-drop interface allows you to easily integrate and arrange various elements on their pages.
This page builder has several pre-designed templates that can help quickly create high-quality landing pages and other types of content.
With Thrive Architect, you can customize the different elements, including images, text, forms, buttons, etc., on the web pages.
It comes with a variety of conversion-focused features like A/B testing, lead generation forms, countdown timers, etc., to increase the conversion rates of the websites.
Thrive Architect helps design and develop websites that are responsive on every type of device, whether it's a mobile, tablet, or PC.
Now, let's check out the pros and cons of Thrive Architect.
Pros:
Intuitive user interface (UI)
Reliable HTML and CSS editors
Shortcuts for fast actions
Responsive design and device-specific styling
Flexible layout options
Good content templates management
Cons:
Minimal elements compared to other page builders
Some bugs still need to be figured out
One of the biggest reasons to opt for this page builder is that it focuses on speed. With this page builder plugin, you will be able to create a new web page for your website more easily and quickly. 
WP Bakery
WP Bakery, formerly known as Visual Composer, is a widely-used page builder for WordPress. It provides both front-end and back-end editing options, allowing users to choose their preferred editing experience.
WP Bakery offers a user-friendly interface, making it easy for both beginners and experienced users to build custom page layouts.
It provides both front-end and back-end editing options, allowing users to choose their preferred editing experience.
The page builder boasts a large library of content elements and templates, enabling users to create diverse and visually appealing websites.
WP Bakery is compatible with most WordPress themes, ensuring seamless integration with your existing website.
It offers extensive third-party integrations, making it easy to add various functionalities and features to your website.
Pros:
Both front-end and back-end editing options
Large library of content elements and templates
Compatible with most WordPress themes
Extensive third-party integrations
Cons:
Slower performance compared to Elementor and Beaver Builder
The interface is less intuitive than its competitors
All three of these page builders are more than competent in helping you develop creative yet feature-rich web pages for your WordPress website. But choosing amongst them, including Elementor, depends on what type of website you want to create or the type of features you want.
Elementor vs Gutenberg: A Snapshot
When comparing Elementor with other page builders, it's essential to consider Gutenberg, the default block editor introduced in WordPress 5.0. While both tools aim to simplify the website creation process, they cater to different user needs and preferences.
Ease of Use
Elementor's intuitive drag-and-drop interface makes it easy for users, even those with little to no coding experience, to design and build custom layouts for their WordPress site. Gutenberg, on the other hand, uses a block-based approach, which may be more familiar to users accustomed to the native WordPress editor. However, Elementor provides a more extensive range of design options and customization features.
Customization and Design
Elementor offers a vast selection of pre-built elements, widgets, and templates, allowing users to create visually appealing and fully responsive websites. Gutenberg, being a core part of WordPress, focuses on providing a simpler editing experience with a limited number of blocks for essential content elements.
Performance
Gutenberg is a lightweight editor that typically has minimal impact on page load times. Elementor, with its feature-rich functionality, may add some extra weight to your site. However, when used optimally, Elementor's impact on performance can be minimal.
Price
Gutenberg is a free, open-source editor that comes built into WordPress. Elementor offers a free version with basic features, while the Pro version unlocks additional tools, widgets, and templates for a fee.
Conclusion
Are you looking to create a new website but don't have any coding skills or experience? In that case, whether you want just a simple static website or a full-blown interactive website like Netflix, page builders would be of help.
As mentioned earlier, Elementor is one of the most popular page builders for WordPress websites. But there are more page builder options as well, including Divi Builder, Beaver Builder, and Thrive Architect, among others.
Elementor tends to be an excellent option for both beginners and advanced developers. With its wide range of customization options, Divi Builder has a steeper learning curve. So it is more suited to advanced developers. Then, Beaver Builder is an excellent choice for creating high-performance websites, thanks to it being fast and lightweight. And last but not least, Thrive Architect is a great option for making landing pages and sales pages for better conversion rates.
Ultimately, choosing between them would depend on the type of features you need on the website. Although they are paid platforms, all these page builders offer free trials for a limited period. So with the free trial, you can try and create pages through each of them and test the features and ease of use. Based on that, you can see if buying the premium version for developing the website would be worth the price you pay.