Are you ready to resign from your current job or position? If yes you are at the right destination. It is a short letter that formally advise your employer regarding your resignation. However, a resignation letter plays an important role because it can help you maintain a good relationship with your old employer even after leaving a job. It will create a positive final impression when it comes to writing a resignation letter it is important to keep some primary aspects in your mind.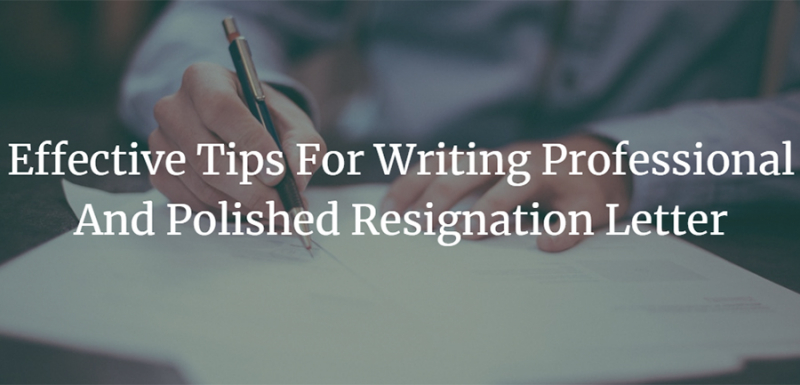 Why Your Needs To Write A Resignation Letter?
A resignation letter is must when you decide you leave your current job and it is mainly written to announce to the employer and co-workers your intent to leave your job. It is necessary to send resignation letter out well in advance like you need to send it two weeks before. To makes sense it is important to write a professional resignation letter because it provides official notice that you're terminating your current position in the organization or company. Now you can easily write a perfect and polished letter by taking resignation letter sample through online.
Tips For Writing Resignation Letter
In general, a letter of resignation not only describe the employee's intent to terminate their current position at the same time provide information and details about the last day worked this factor will ease the transition for both employees as well as the employer.
Resignation letter plays important role in the transition, whether it be training or recruiting it takes primary part so you must review the tips and guidelines for writing a perfect resignation letter. In addition to this, you must consider some common resignation letter formats, these allow you to get ideas for writing your own letter.
To maintain a positive exit, you need to write a perfect letter of resignation and often thanks to the employer for opportunities provided at the same time it is important to mention experiences gained at the organization in addition to this you need to highlight how you are enjoyed your time there.
What To Write In A Letter Of Resignation?
Your resignation letter should include below-mentioned factors
First, it includes a detailed purpose that you will be leaving your current job
Appreciation to your employer for the opportunities
Wishes for the future of the respective company
An offer to train replacement
After that, you need to mention the exact name of your official position in the respective company or organization
Mention the date of your last day on the company
Contact info
Your signature
Topics To Avoid
Here are some important factors that should not be included in your letter.
Try to avoid emotional statements, you must keep professional tone in your letter, the emotional statement will affect the positive sentiment of gratitude.
You must avoid mentioning why you are leaving, instead of that, you must explain relocation. Avoid writing what you hated about your current position or job. It is important to maintain a good relationship with your boss after leaving a job.
Author Bio
Shruti Gupta is a writer, marketer and outreaching expert works for Rankmebest.com. She writes about technology, startups & other niches. She has contributed to a number of famous websites like Thenextweb, Deccanchronicle and Crazyegg. Stay tuned with her at:@shruti_gupta01 or via Skype : shrutigupta2811