In today's world, we all seek instant results, meaning we want our foods prepared fast, we prefer easy communication, and we're often impatient when a webpage takes longer than usual to load. For someone who is looking to start an eCommerce business, chances are they want success overnight. However, that's not how the world of eCommerce works; you must work for it.
The first step to eCommerce is creating a solid strategy for your business. Once you know how to implement them carefully, the rest is a piece of cake.
You cannot run an eCommerce business without a robust website. By robust we mean an SEO optimized store that will drive traffic and generate more sales. But it's not only SEO that matters; you must consider some additional factors, too.
Today, we're going to help you set up your eCommerce website in five easy steps. Each step mentioned below is designed to boost conversions and reduce the bounce rate. So, without further ado, let's get started!
Step 1: Build a Simple Yet Attractive Homepage
As you already know, your homepage is the first thing visitors will see. So, you need to make sure it's built and designed in a way that attracts your target audience.
While this may sound a bit strange, but you're better off showing fewer products on the homepage. A recent study found that offering fewer items in one place with more copy describing those items always translates into higher sales.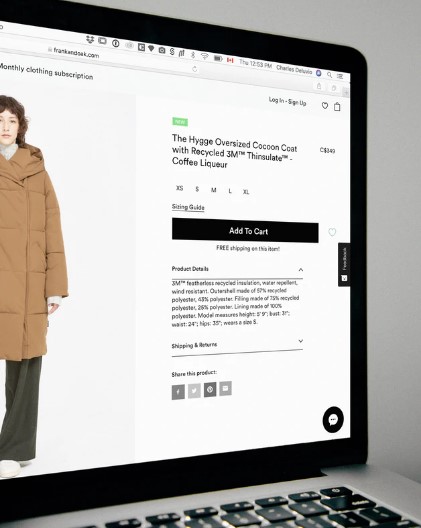 Remember, it's all about focus. Instead of pleasing all your visitors by offering a ton of items with little to no detail about each one, you can focus on your bestseller(s) and provide all the key information so the visitors have a better understanding of your business. Once they are hooked, they will want to learn more—this is where you offer your other products. It's a win-win situation.
Step 2: Content Marketing Is Key
Too many eCommerce business owners ignore the significance of content marketing, and it's sad. However, the truth is, every other traffic-generating activity you do will work better if you have a solid content marketing strategy. 
Basically, content marketing indicates the creation of content in several different formats, such as written articles, infographics, tutorial videos, and the sharing of that content to your target audience with the intention of driving more leads, establishing your brand and generating more sales.
Remember, driving more traffic to your eCommerce store is the first and foremost step to growing your business. While there are plenty of amazing marketing hacks that will help you boost your traffic, a well-crafted content marketing strategy beats them all.
Step 3: Capture Email Addresses
In 2021, over 2.14 billion people worldwide are expected to buy products online. With all this heavy traffic, it's easy to assume that capturing these online shoppers' email addresses will be an effortless job. Well, hold that thought.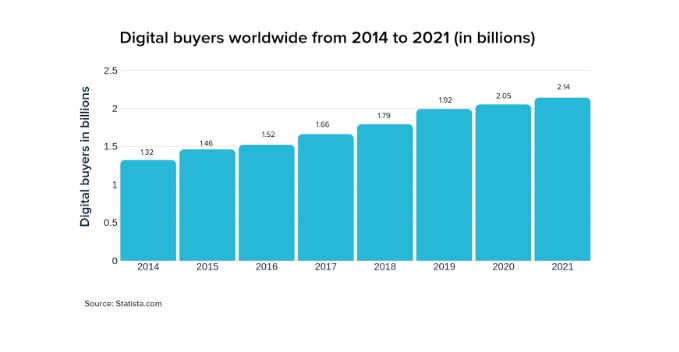 During the first quarter of 2019,  online shopper conversion rates amounted to 2.88% in the US. This low conversion rate indicates you are missing out on email capture and potential sales.
Here's how you can fix it.
Create a Landing Page:
Now, the key purpose of creating a landing page is to capture the email address of your visitor. Unlike other web pages on your site (e.g., homepage, product pages, etc.), landing pages focus on one key message. 
A landing page should include the following fields:
A compelling heading

An offer summary—this will explain what your leads will receive once they submit their email addresses

A call-to-action (CTA) button
So, if you're selling eBooks, for example, the landing page should only mention what's included in the eBook, as well as the benefits of downloading it. Try not to clutter your landing pages with product information.
Another way to boost your email subscribers is to use a powerful plugin like OptinMonster. It lets you design eye-catching popups that will turn your visitors into subscribers. The plugin is easy to use and doesn't require any coding knowledge. 
With this nifty, user-friendly lead generation tool, you're able to create attractive popups from scratch using OptinMonster's drag-and-drop builder or use any of its pre-built templates.
Step 4: Create Loyalty and Trust Using Testimonials
92% of customers read testimonials and online reviews before buying a product. 
88% of customers trust online reviews just as much as personal recommendations, and 72% of them say positive reviews make them trust an online business more.
So, if you haven't already found a way to promote customer loyalty on your website, you are missing out on plenty of amazing rewards. Don't worry; we got your back!
No matter how reliable your eCommerce business is, your audience will almost always rely on other customers more than your brand. Luckily, you can use your audience's trust of other consumers to your advantage by publishing testimonials and reviews on your website.
If you have an eCommerce website, for instance, encourage consumers to leave positive reviews so you can add them to your product pages. Similarly, if you have a service-based website, ask your customers if they are willing to share their experiences with your brand, and then use those responses to create an attractive testimonials page.
Step 5: Perform A/B Testing
Different strategies work for different eCommerce businesses. A/B testing allows you to identify what works best for your online store.
A/B testing is a data-based approach to make sure you understand the impact of the changes you make to your eCommerce website, ads, or emails.
A/B testing is usually done in 4 steps:
Determine your hypothesis

Design the whole experiment (impacting factors, sample size, participants, run time, goal)

Collect data

Analyze data
As you start with A/B testing, the list of ideas you have gets long pretty quickly; after a while, that enthusiasm to test and incorporate ideas gets lost. Thus, we've included the most crucial ideas in the following table to help you keep the momentum going.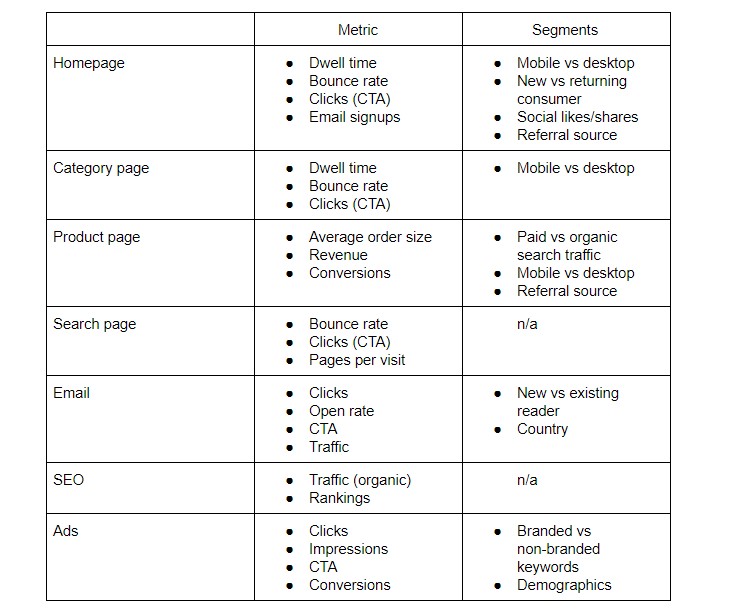 Testing various segments is necessary because not all visitors behave alike. You'll find differences based on what device they use or what channel they came through. The goal is to determine the impact of various devices, channels, and user profiles on the revenue to make great business decisions.
Wrapping Up
When starting your eCommerce business for the first time, you'll face many challenges like low traffic, almost no sales, and server issues. In such cases, it's always best to consult with an experienced store owner who can pinpoint some eCommerce optimization mistakes you should avoid.
The eCommerce website optimization tips mentioned above are a no-brainer. Even if you're a not-so-tech-savvy business owner, you should be able to implement them effortlessly.
Once you get your store up and ready, success is inevitable. You just have to be patient and keep your strategies up-to-date to stay relevant in the market. 
The best thing about eCommerce is that you can either continue to grow your business or sell it. And as it turns out, for most eCommerce sites, a few small changes can mean significant boosts in potential value. 
If you made it this far, it's safe to say that your eCommerce website is—or will soon be—optimized and ready for sale. Make sure to consult a reliable eCommerce business broker for a free market-ready assessment on the value of your business.
Did we miss anything?
Feel free to share your thoughts and suggestions in the comments below.