As an owner of an ecommerce store, you definitely want a lot of conversions on your site. But, doing that is not easy, especially when there is extreme competition from bigger brands like Amazon.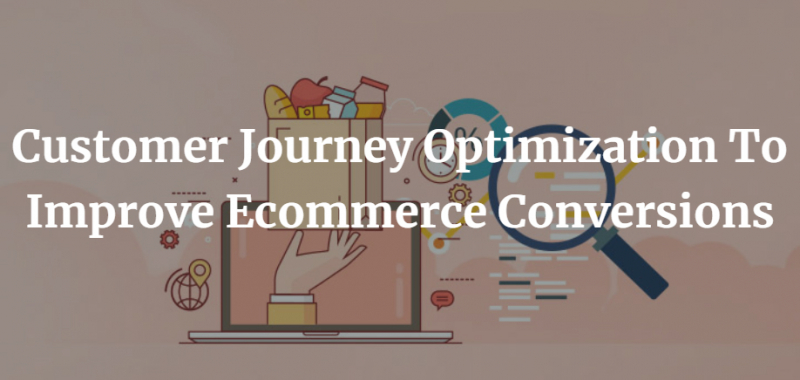 There is one easy way to generate a good number of conversions for your site and that is by optimizing your customer journey.
What is Customer Journey?
The customer journey is the sum of all interactions that happens when your customer becomes aware of your brand, takes interest in it and ultimately purchase the product from you.
A customer journey has the following 6 stages:
Awareness – This is the phase when the customer becomes aware about your brand through PR.
Interest – In this phase, the customer starts to take interest in your brand by sources like PPC, email, retargeting ads etc.
Consideration – In this phase, customers tries to know more about the product and reads online reviews or knows more about the company through their blog.
Purchase – In this phase, customers visit the website and starts exploring the products. Ultimately, the customer purchases the product.
Retention – The customer journey does not stops after they purchase the product. The next phase is customer retention. In this phase, the company takes care of all the queries of the customers and sends them relevant offers from time to time for repeat purchases.
Advocacy – This is the most difficult stage for the business owner to achieve. At this stage, the customer converts into a brand loyalist.
Optimizing For The Customer Touchpoints
In order to optimize your business for the entire customer journey, you need to follow the below steps:
1- Design a Great Website 
A website is the first requirement for a great customer experience. Identify the pain points of your customer and decide the theme of your site. It should compliment the user experience. Your website must follow the below essentials:
It should be simple and easy to use.
It must follow the principle of simplicity in terms of visual hierarchy.
People must find it easy to navigate.
There should be consistency in design.
It should be user-centric and credible.
It must address the needs of the users.
2- Leverage The Power of SEO
SEO is the fulcrum around which your entire online marketing strategy revolves. Perfecting your SEO can help you to provide an exceptional user experience because it optimizes your entire website.
SEO helps to guide the user when he/she searches for your business on search engines like Google. It is the primary source of traffic to your website and it also helps to build credibility to your website.
SEO helps to increase customer engagement, traffic and conversions. It identifies the buying cycle and brings new opportunities to life.
3- Take Conversion Optimization Seriously
People come to your site looking for solutions. This is where conversion optimization comes in. With the help of CRO, you can persuade visitors to take action on your website so that they become your customers.
Mercato, the online groceries store does a great job with conversion optimization. It asks the user to enter the zip code using a large search bar. Customers can start shopping immediately. The store helps to find the customer exactly what they need without wasting any time.
4- Use Email Marketing To Your Advantage
Email marketing still remains one of the most ROI friendly ways to generate leads for your business. People love to remain informed and be pampered. Email marketing helps with both of them.
It is important to send emails to your subscribers when they register for your store and continue sending them emails related to different offers. Besides, you must send emails to them when they purchase a product and obtain feedback. When you regularly remain in touch with your customers using emails then it contributes to an excellent user experience.
5- Think About Customer Retention and Convert Your Customers Into Brand Advocates
Once you are able to convert the visitors into customers, the next step is retaining them for a longer period of time. This is where most of the businesses make a mistake. They concentrate all their efforts in making a customer but put zero efforts in retaining them.
Here are some tips for retaining customers:
Provide support to them when they need it.
Survey each and every customer and identify their needs, suggestions and problems.
Offer special discounts to them on their birthdays or special occasions.
Communicate with your customers frequently.
Final Thoughts
Everything lies in providing the best experience to your customers. You can definitely increase your conversions if you are able to satisfy the needs of your customers and offer a better USP than your competitors. Customer service plays an extremely role in this regard. Besides, SEO, email marketing and CRO are essential to drive growth.