Change is the only thing that doesn't change. And in this changing world, the way we interact, communicate, and engage has changed as well. Now, the world is working online and so are the businesses marketing products and services all over the internet. Internet has worldwide coverage and provides businesses an upper edge on marketing goods and services at a lower cost. But with the benefits stated, online advertising has various risks as well, of which the major one is risk of invalid clicks. These clicks act a hindrance in your journey towards success and impact your revenue big time. Hence, it is an important factor that needs to be protected to filter our valid clicks and helps you to achieve your advertising campaign goals.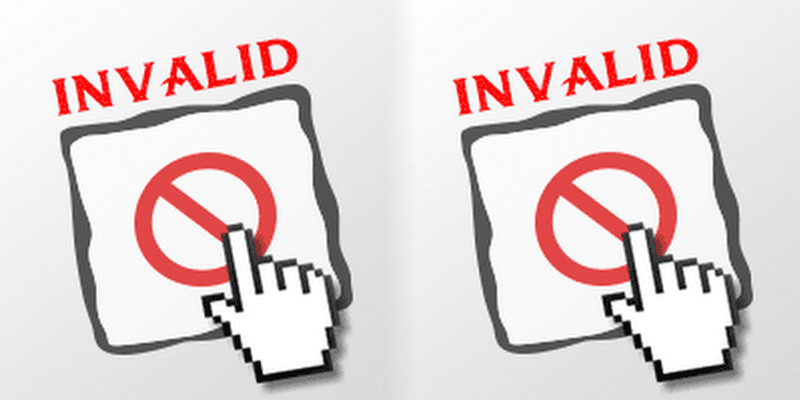 Invalid Clicks
Clicks that are generated by using some malware or clicks that are generated unintentionally are called invalid clicks. These clicks could be invalid on account of click farms, bot farms, competitor clicks, etc. These clicks are usually associated with Google advertising where Google identifies clicks to be valid or invalid.
As per the guideline of Google, it considers the following instances as invalid clicks-
1. Manual clicks intended to raise advertising costs of the company whose advertise is being displayed.
2. Clicks by automated tools, robots, or other kinds of bots.
3. Extra clicks that provide no additional value to the customer (double clicking on the same advertise in case the ad is not opening.)
Once you wish to get protected, all you need to do is to create an account and link in your account with Google ads. This will help you to save upon the advertising costs on invalid clicks. Invalid clicks cost a lot for the advertising company without any generation of leads for the company. This makes the part of the advertising company miserable. Hence, connecting your ClickGUARD account with Google Ads is important.
Safeguarding invalid clicks
ClickGUARD is a market leader which has been blocking all kinds of invalid clicks by a specially designed tool. It has programs that can help you invest your advertising costs only for genuine clicks on the ad. Following are the prominent features of ClickGUARD to safeguard your interests:
1. One Click Block
ClickGUARD has advanced technology systems which keeps monitoring all the activities that take place on the ads. In case, the system identifies a threat or a potential threat in terms of a fraudulent activity being conducted, by just 1 click, ClickGUARD can initiate blocking actions on the invalid clicks that take place on the ads. This is how it protects your ad campaign from being accessed from abusive sources.
2. Stops fraudulent clicks
Any threat that is identified as invalid activity is immediately blocked from further activities. The IP ranges, devices and even the entire service providers are analysed and blocked if they are found to be engaged in invalid activities. This helps the customers to save on their advertising costs that could be wasted on invalid clicks.
3. Saves your resources
ClickGUARD provides the customers with a tracking report that is automated on a real time basis. It helps you monitor and react to individual attacks. However, analysing each individual attack would take away a lot of time with limited benefits. By a specialised service that ClickGUARD offers, you need not worry about analysing each activity. This would be taken care by ClickGUARD.
4. Proactive Filters
It contains various filters that help you filter out the valid clicks from the total clicks generated. It automatically blocks all the impressions from the source that had been earlier identified as invalid. Most of the clicks are identified in the proactive filters phase itself. In rare case, where there seems an invalid activity, that gets covered in the post click investigation phase.
5. Logical algorithm
The algorithm on which ClickGUARD operates is maintained in such a way that it learns from each click. Though you would be protected from the first click, with every subsequent click, it adapts to better decision making.
Monitoring and Reporting
Monitoring is the most effective exercise that helps to cover most of your invalid activities through various tools that are provided by ClickGUARD. It helps you to understand the source of clicks and validates its authenticity of the transactions.
ClickGUARD provides a dedicated report that is focussed to provide insights about the clicks, the device used, location of the click, etc. This information can help a business to understand the demographics of its prospective customers and aids in decision making regarding the strategies to be used to capture different geographical locations. Also, it provides an analytical report that portrays the potential problems that could be experienced based on the past trend of clicks. This analysis communicates the potential threats so that the customer is ready with solutions and can adjust its existing campaign considering the threats.
Safeguard your ad budgets from invalid clicks
In a usual scenario, one gets clicks from valid and invalid sources. Invalid clicks eat away most of the advertising budget without providing any major revenue leads. Protection from invalid clicks helps to save dollars from your ad budgets and moreover provides you better reach to your target audience.
ClickGUARD is a pioneer in segregating and blocking invalid clicks and allowing valid and genuine clicks from your target audience. ClickGUARD is one such guardian of your ads that protects your ads from fraudulent and invalid clicks. Its adaptive system and robust structure are backed by strong coded programs that proficiently blocks bot farms, fraud clicks, invalid clicks and other unethical clicks and takes care of your revenue and savings.
Final Words
Once your ClickGUARD account is linked with Google ads, your life will change positively. Your revenues are destined to grow smartly. The analytical reports and documents provided by ClickGUARD gives you the proper insights about your target audience and provide leads to sustainable revenue. This provides ultimate protection and acts as a progressive partner that cares for your revenue.