SEO ranking has moved ahead of what it used to be in the past decade or so. In fact, it has become extremely important to focus on providing an excellent quality regarding the content than it used to be in the past. In fact, the best long-term technique in ensuring high-quality links and traffic is providing a high-end content on your blog. And this applies to your videos as well. So, what strategies would we recommend for a better SEO performance?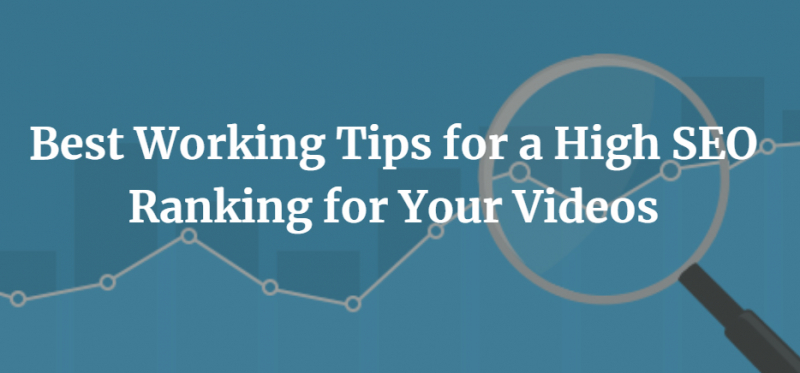 Best Working Strategies for a High SEO Ranking for Your Videos
A video is undoubtedly one of the content types that has received a lower level of importance. SEO experts so far have never been involved in focussing on quality video content. Apart from quality, there are a few things you would need to take care to ensure better SEO performance.
#1 Ensure High Production Values
A good performance of your videos would be pivoted on the quality that you offer to the clients. Opt for quality equipment for creating your videos.
In case you are shooting the videos yourself, you can give a thought to invest in quality equipment. Cameras are one of the important hardware you need to care for. Give an equal weight to the production techniques as well. Explainer videos tend to be high earners and evoke more interest. You can shoot interesting videos using free green screen software options. In fact, the green screen technology can also be the best option to explain technical or scientific features.
#2 Use Keyword rich Titles
The video title is what will guide your visitors to the content of your video. Ensure that the title exactly matches the level of your content. It should also conform to the right kind of YouTube algorithm for SEO.
One of the best techniques that can be helpful enough in addressing the concern can be to check autocomplete functionality on your Google and YouTube searches. These would provide you with a good insight into what your potential customers or visitors are searching for. Use the resultant keywords to create a unique title for your videos.
#3 The video description that works as the best explainer
The video description would definitely play a major role in the description of your search engine ranking. A couple of lines in your video description will play a definite role in bettering the search ranking of your video.
Once again the auto complete functionality on Google should come to your rescue. Check the auto-suggestion and use those words for a better video description. Using long variants of your keywords will give you better options for creating perfect video description.
#4 Give a proper name to Your Video
Your video has been created and ready to be uploaded. But most of us do not pay any attention to the name of the video. We just tend to think that since we will be creating a video title and description, the filename of the video does not matter.
But you need to change the filename and include your keywords into your filename. This helps the search engine to understand the context of your video and what it consists of. The search engine cannot look inside the file; a random filename can not let the search engine understand what does your video focus on.
#5 Opt for Closed caption Functionality
The Closed caption functionality available on your video can be yet another advantageous factor for a better SEO performance. This will help your viewers find more information about your videos. Also, the video can be translated into multiple languages and thereby brings in more traffic.
Make sure your keyword is written in your Closed captions. This can be beneficial in a proper propagation of your videos which will further transform into better chances of getting indexed. You can also use the tagging feature for a better reach and thus a better option to get a better ranking. Ensure that you are using both principal keywords and matching keywords in your tags.
The Concluding Thoughts
Well, those were a few important points that would help you get better results regarding SEO performance of your Videos. Yet another best tip would be to use the embedding techniques. You can implement the strategy of adding your YouTube videos into your website. This can help you get more views for an enhanced performance.
For the efficient results, ensure that you indulge in follow the SEO tips for videos. If you are aware of any tricks for an efficient SEO performance of your videos, share them with us.