Graphic designing is one of the skills that will never go out of demand. Designs appeal to humans and appeal is important for every business. The best part is, no software can replace graphic designers. Ours is a creative job – one thing even the most intelligent computers can't do. Today, there is no industry that doesn't need graphic designing services. Our demand only keeps increasing with every new profession, company, service, and event.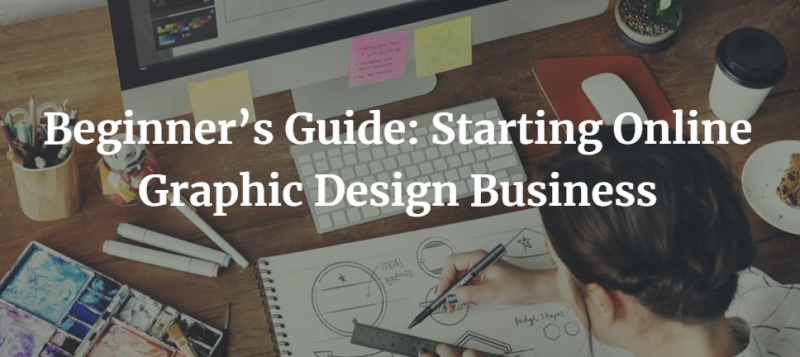 Honestly speaking, it isn't very difficult to learn designing tools. The difficult and important part is bringing innovation in your work. If you have it, there is no way your graphic designing business will fail. Starting this business, however, is a different story. This is a complete guide for graphic designers to help them build an online business from scratch.
Research the Market
Before starting any business, you should conduct detailed research of the market. It will help you understand your potential customers and competitors. You will see what others are doing and what you need to do. You should try to find a market gap that can become a strong entry point. A lot of things will become easier for you if you managed to find a market gap that becomes your unique selling point.
Make a List of Skills and Services
There are a number of services you can offer as a graphic designer. You would know your specialties and what you need to provide as a service. One thing you shouldn't do is offer a service that you aren't very good at. Instead of offering everything you have seen, start small only with your strongest suit. For example, if your main domain is logo designing, stick to it. It takes time to become an expert in a new service, and you should become an expert first before offering it professionally.
Build a Website
A website is a great way to build a personal brand and attract customers. It isn't as difficult and expensive as it used to be. Today you can build a great website within $100 if you know what you are doing. Here are a few things you need to consider when you create a website for your graphic designing business.
Business or Personal?
Are you representing yourself as an individual or as a company? A personal website is like an online portfolio, but you can create a business on your name. For example, Neil Patel is one of the leading digital marketers with several companies and has a website on his own name and where he attracts potential clients.
Find Good Hosting
Many beginners don't take it seriously, but a good hosting is almost as important as the website design. Hosting is an online computer where your website is stored. If the hosting isn't good, you and your potential customers will have trouble accessing the website. Make sure you do your research and find the best hosting for web designers.
Keep it User-Friendly
You should try to design your own website. Consider it an opportunity to show your skills. If you are a UX/UI designer, you might already know that the website has to be attractive to your audience and light to load; otherwise, your client won't be impressed.
Run an Active Blog
A blog helps you connect with your potential customers, increase website traffic, and show off your skills. If you have good writing skills, share your experience and milestones on the blog or hire a professional writer to help you do it.
Know Your Skills When Deciding Prices
Some people underestimate themselves, and some overestimate. The first might somewhat work, but the latter is very bad for your business. You can provide great service at a low price; however, if you overestimated yourself and charged a big amount that was not up to the client's expectation, you will be in trouble. It's important to have knowledge of the market to execute this step properly. If you conduct market research right, you will be able to decide the right prices for each service you offer. If you have a lot to learn and you know that your skills aren't up to mark, then you might want to wait a little longer before starting the business or target only low paying clients.
Have Work Samples to Show
No one will take your word when you say your services are excellent. Every client will first ask for samples. You need to have a few great samples of every service you offer. Make sure they are your own. Finding some online or borrowing from a friend will mislead your client. If you don't provide better than samples, the client will be disappointed; I say it with experience. If you are offering UX/UI design, make sure you have at least six different samples that show your skills. It is based on these samples that your skills will be judged.
Create a Profile on Freelance Platforms
Upwork, Fiverr, Freelancer, People per Hour; they may be called freelancing platforms, but almost every business has a profile on them. They provide a great opportunity to help build a business. You will find all types of high and low paying clients there. Take time to build strong profiles on these platforms and make clients that will work long term with you.
Designing is Just a Part of Your Job
You might be a great designer, but it isn't enough to run a business. Most of your time will be consumed in finding clients and providing customer service. It isn't something you can ignore; otherwise, you will have no client or they won't return to you. Develop management skills and build a reliable team to divide responsibilities.
Acquire Digital Marketing Services
Digital marketing helps you reach out to prospects and share your message. I would suggest you start with freelancing platforms and go for clients outside the platforms once you are stable. A professional digital marketer will help you rank your website on search engines like Google and build brand awareness on social media and other platforms.